Stylish kitchen design in a modern London home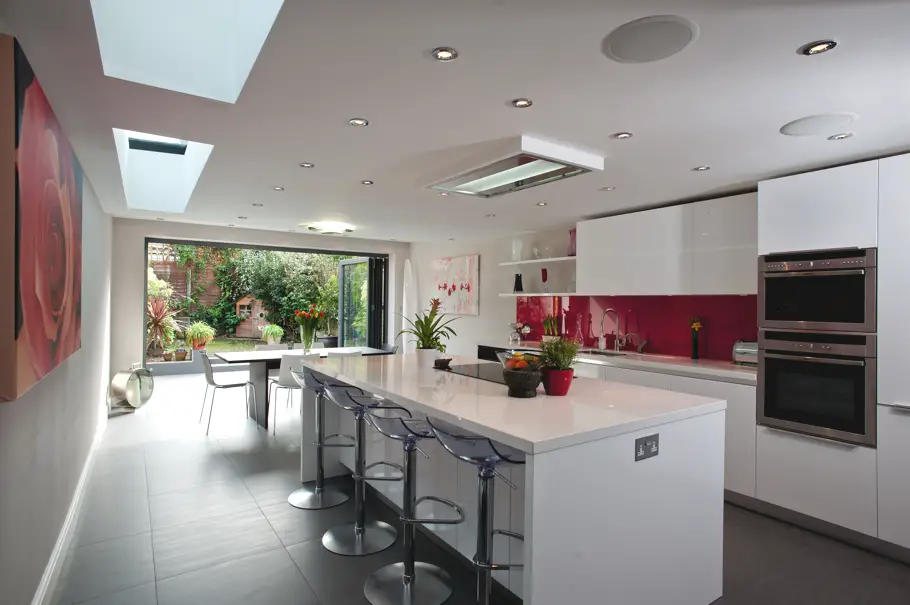 UK-based architects Holland and Green, have created this beautiful contemporary kitchen extension project in London.
The extension was completed in June 2011 in South West London. The project brief was based on their clients, a couple wanting a little more space for their growing family. A Holland and Green side return extension was just the ticket. Thus they extended their kitchen outwards and their loft upwards to satisfy the needs of the owners.
The contemporary kitchen design now offers some stunning and exciting features to this property. A quirky contrast of pink and white colour scheme is apparent in the extension. Floral artwork symbolises a new life in this fresh extension and captures the blossoming
beauty it now provides. Contrastingly the white surfaces and appliances are of contemporary and chic proportions to offer a blend of naturalistic and modern elements. Parallel to the pink flower artwork, is the long bright pink strip above the sink, adhering to the flamboyant and fresh colour scheme. Other features such as the dark brown table also provides this desirable kitchen with a chic look. One of the highlights of this room is the large luxurious window that opens up like a door to the exquisite garden offering a view into paradise from the spectacular kitchen.
Overall this extension offers a marvellous assortment of luxury, contemporary furniture, symbolic artwork, stunning views and chic essence as well as gracefully meeting up with the original requirements from the owners.
What's your view on this contemporary kitchen design?  Reply in the comments area below or join the conversation on Twitter: we're @Adelto or why not share some of our pins on Pinterest with us.
Love Interior Design & Exotic Travel? Follow us..
February 2, 2013 | Kitchen | View comments