Luxury kitchen designs unveiled at Milan design week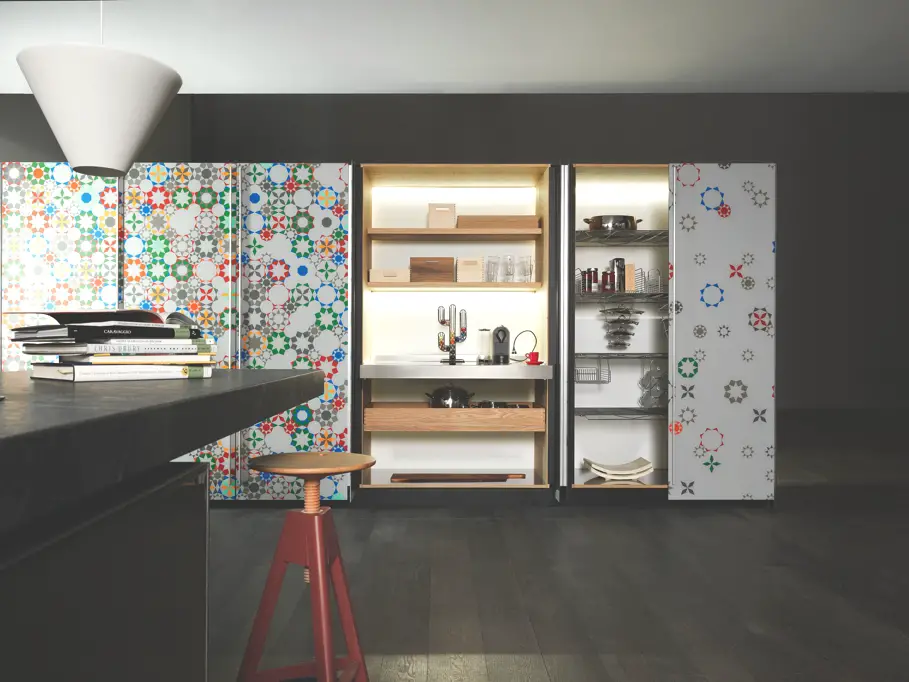 Valcucine, one of Italy's leading kitchen manufacturers, has launched a new range of stylish designs for its kitchen collection during Salone Internazionale del Mobile 2014.
New designs include a special technique used to create various inlaid decors on glass for Artematica Vitrum – a very high-tech process that is deeply rooted in handicraft tradition.
Patterns of Middle Eastern mosaics represent the inspiration for Artematica Vitrum Arte. The drawings are cut out of coloured film and applied to tempered glass panels by hand. These panels will then become the kitchen's doors, worktops and side panels.
New mosaic details are available for Sine Tempore customisations, inspired by Mediterranean tradition, at the crossroads of various cultures, from the gold of Venice and Byzantium to the motifs and colours of Arabian and Norman Sicily. The mosaic inserts play with elm wood and the gold used in this mosaic (made in the ancient Venetian furnaces) is very difficult to make: a very thin sheet of gold (from 6 to 24 carats) is placed between two layers of glass. The bottom layer is thicker, while the top one is very thin and can be transparent or in various colours.
Valcucine has also launched a new option for a cantilevered kitchen worktop in Cardoso stone, which offers excellent physical and mechanical wear resistance. Moreover, the special cutting technique, using a blade and stone and steel dust, creates a very textural surface. Cardoso stone is quarried in Italy, in the mountain chain of the Apuan Alps.
All Valcucine products are designed to have a low impact on the environment and respect the four basic principles of environmental-friendliness: durability, recyclability, non-toxic finishes and the minimum consumption of energy and raw materials.
Valcucine London at Forza with Barzaghistore,  143-149 Great Portland Street,  London W1W 6QN,  london.valcucine.com
Love Interior Design & Exotic Travel? Follow us..
July 1, 2014 | Kitchen | View comments