Michelin star chef, Regis Crepy's luxurious kitchen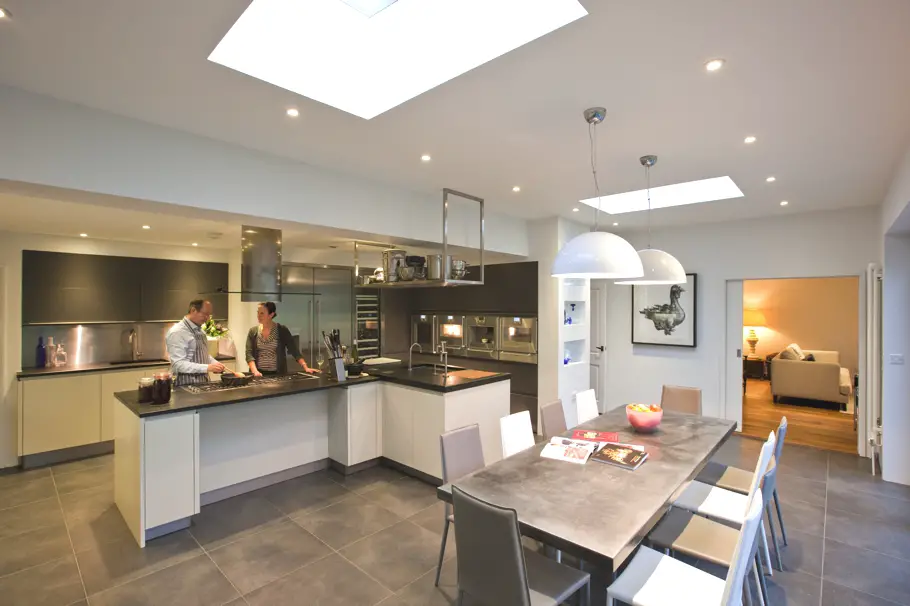 UK-based roof light company Sunsquare has worked with Micheln star chef Régis Crepy to design his high-specification kitchen where he can create more mouth-watering recipes.
Régis and his wife, Martine, moved over to the United Kingdom from Lille, France in the early 1980s and initially anticipated spending only 12 months in the country to learn English before moving to the United States.
However, the couple fell in love with the country and after working in London and Hertfordshire, Régis began working at The Great House at Lavenham in rural Suffolk and bought it just eight years later.
Régis was looking to revitalise his own home kitchen for his family, which is also occasionally used for cookery demonstrations.
Sunsquare Skylights, was appointed by architects, Brown and Scarlett, to design and manufacture two skylights to be fitted above the kitchen; improving levels of natural daylight for home cooking and professional demos.
Régis was keen to create a closer relationship between his kitchen and garden area, whilst revamping the living space for his family and enhancing his multifunctional kitchen.
"I was recommended the skylights by our architect, who informed me that our new construction would suit these structures, and bring an enormous amount of natural light. I wanted a feeling of space and light, with a kitchen where the outside world would come in.
"My architect liaised with Sunsquare who came up with a proposal for two flat roof skylights and on the day of installation they were fitted within the hour. The result is there – the architect and Sunsquare worked together to design a product that completely transformed the environment of the room."
Love Interior Design & Exotic Travel? Follow us..
July 13, 2014 | Kitchen | View comments