A living space in which you swim, cook and eat by Johnny Grey
Johnny Grey is one of the world's most influential kitchen experts and has produced more than 500 kitchens, and his company, in Hampshire, England, recently completed a stylish a pool house with kitchen in Cambridge, England.
In a secret wood at the heart of the city lies a collection of wooden houses set in an old quarry. The pool house is connected by a wooden walkway to the main kitchen house.
The recreational kitchen, bar and interior is designed for long evenings to spent by the pool, in the Jacuzzi or garden and regular exercise at breakfast time.
"There were three houses in an old quarry that had been there about 40 years. They had been crafted in California to a Japanese farmhouse design, shipped here in kit form and built out of Douglas fir",  said Grey in an interview with the New York Times.
He adds: "When my clients wanted to add a pool house, they went back to the same company and ordered another building. They asked me to do all the interior design. I had the idea of putting in some kind of kitchen."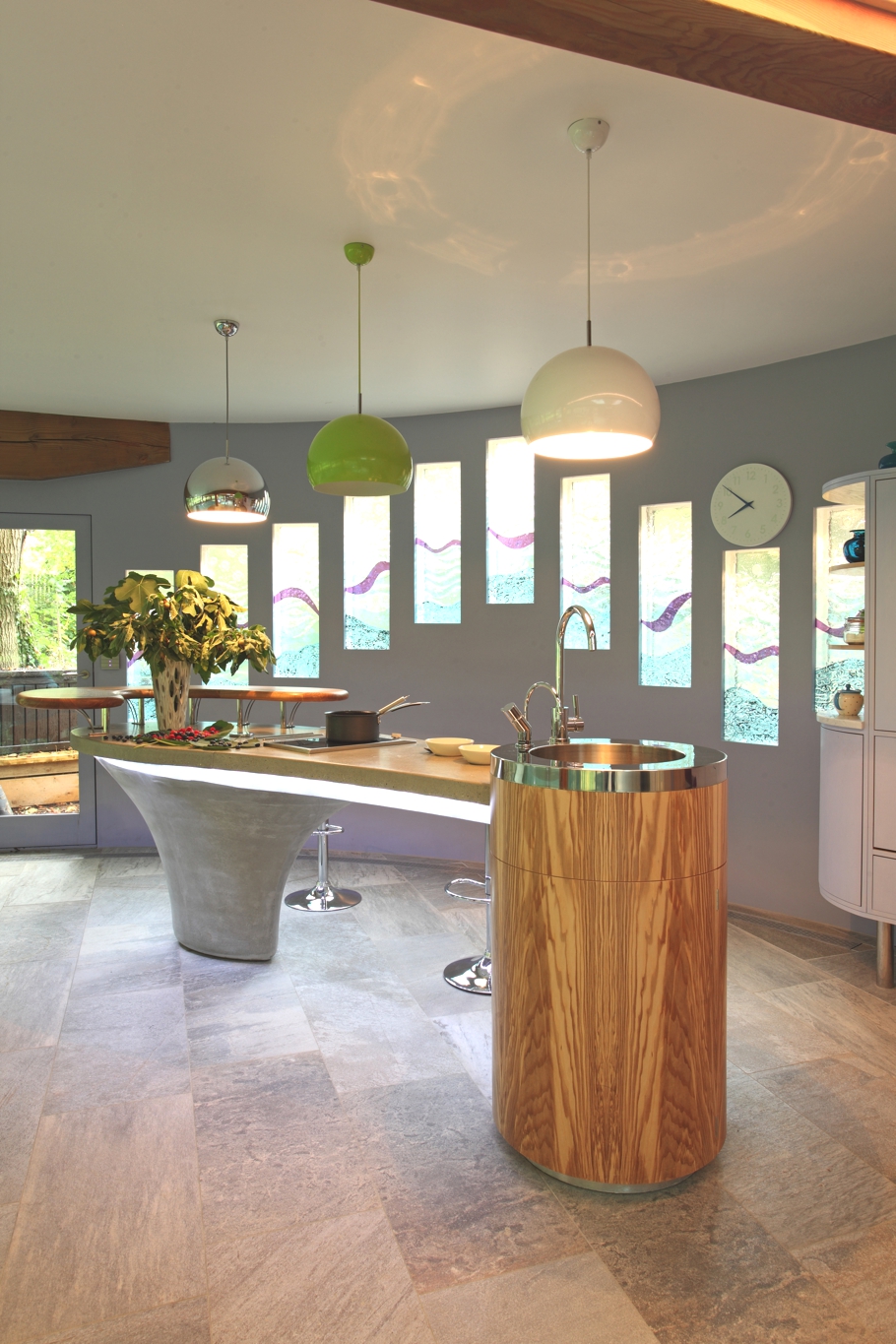 The organic shape of the island was inspired by woodland mushrooms. The concrete island arises from the floor and is cantilevered out to form a small kitchen with induction hob, sink and raised height bar. And waterproof iPad controls allow music, heat level and light levels and colour intensity to be adjusted whilst in the Jacuzzi or swimming pool!
Corian light benches were designed to provide ambient light whilst being waterproof for use when bathers want to change from wet clothes.
The layered oak modesty screen provide privacy but also a view into the pool area whilst changing.
"We wanted curves for objects people would come into contact with. If you only have a bathing suit on, you are particularly vulnerable to sharp edges. In the cabinet, there's a dishwasher drawer and a fridge. The benches are Corian and provide ambient light," he says.

Love Interior Design & Exotic Travel? Follow us..
October 28, 2014 | Kitchen | View comments