Roco London Gallery by Zaha Hadid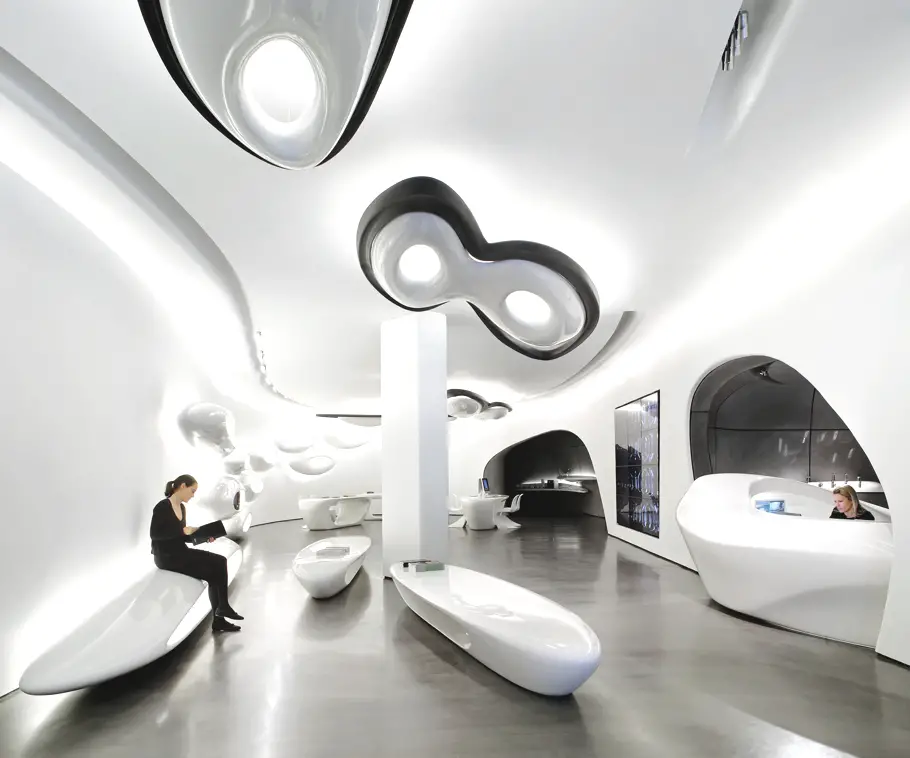 Zaha Hadid Architects and Roca have announced the opening of a brand new flagship space, the Roca London Gallery, at Imperial Wharf close to Chelsea Harbour. Zaha Hadid Architects were commissioned to create this unique concept which takes its inspiration from the power of water as a transforming element and which will bring the Roca London Gallery to life.
Zaha Hadid and her team have created a design that is not just purely visual, it also uses the art of precision and control to help the visitor understand the relationship between the architecture of the space and the design of Roca bathroom products.
The Roca London Gallery consists of a single floor measuring 1,100m2, where, as the Zaha Hadid studio intended, it appears that water has sculptured and defined each and every detail of the space.
Roca's commitment to design and innovation is clearly visible in the exterior of the building with its distinctive and unique façade which gives the Roca London Gallery its identity. Three almost organic portals which appear to have been shaped by water erosion open up this space to the city.
The movement of water is the overriding theme in the Roca London Gallery – flowing and merging exterior and interior spaces. The interior is sculptured white concrete and its state of the art lighting connects each of the different areas whilst serving as a central axis around which the Roca London Gallery revolves.
The interior is fabulous, functional and flexible, featuring cutting-edge, modern, audiovisual, sound and lighting equipment. This technology provides interaction with the brand and the opportunity to discover the company"s history, its landmark achievements and the values on which all of Roca"s work is based: the commitment to sustainability and particularly to innovation, design, wellness and saving water.
The Roca London Gallery is intended to be much more than just a display space. Available to an extensive audience that will include everyone from design-savvy architects to design-hungry students, it will become a London hub hosting a wide range of activities such as exhibitions produced in-house or externally, meetings, presentations, seminars and debates, the criteria being a celebration of design in keeping with the Roca brand and company values.
Images courtesy of Hufton+Crow and Roca
Love Interior Design & Exotic Travel? Follow us..
July 28, 2013 | Design | View comments