Exploring conversations between mankind & nature at Design Miami/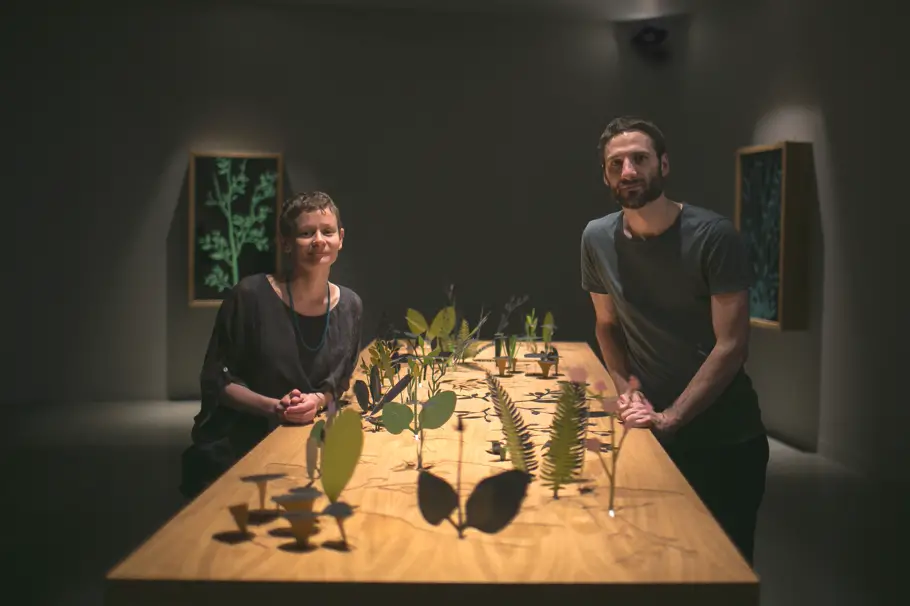 Champagne house Perrier-Jouët's latest commissioned design work, Ephemerā' by design studio mischer'traxler, was revealed at this year's Design Miami/ 2014.
Exploring traditional craftsmanship, modern technology, the ephemerality  of nature, and the Art Nouveau movement, mischer'traxler have tried to capture the very essence of Perrier-Jouët with its own unique interpretation.
'Ephemerā' is the opening work of a new, year-long artistic residency with the Vienna-based duo and the historic champagne house, entitled 'small discoveries'. The collaboration has been designed to stimulate curiosity, exploring the magical dialogue between mankind and nature.
Comprising a room with a large oak table and two mirrors, the elegant furniture pieces come alive with colourful metal plants and insects that represent current, extinct and rediscovered species. Representing nature's lively, deferential relationship with mankind, plants rise up and move to their own choreography, if they 'feel' they are not being watched. When someone approaches, they 'hide' and fold back into the table, reinventing a kinetic form of traditional marquetry. Similarly, digital leaves grow across the mirrors extending into 3D forms, but only as long as people are not too close. Otherwise they retract, leaving just a normal, reflective mirror.
Axelle de Buffévent, style director for Perrier-Jouët, said: "We chose mischer'traxler for our first, year-long residency as we felt there was a natural synergy between us. Katharina and Thomas' work brings this essence to life. 'Ephemerā' is made with integrity, and is thought-provoking. For us it also marks a return to the decorative object, which is something really close to our hearts."
"We are really excited about the opportunity to create Ephemerā, and to experience Design Miami/. It has been wonderful to work with such an open commission. We have pushed our practice and done completely new things, but also it is an honest work for us, and we are very happy. But seeing everyone's reaction to Ephemerā is the best bit so far. That's when it really comes alive!," add mischer'traxler.
Images courtesy of Gesi Schilling
Love Interior Design & Exotic Travel? Follow us..
December 24, 2014 | Design | View comments