London Design Festival highlights: Habitat Graphic Africa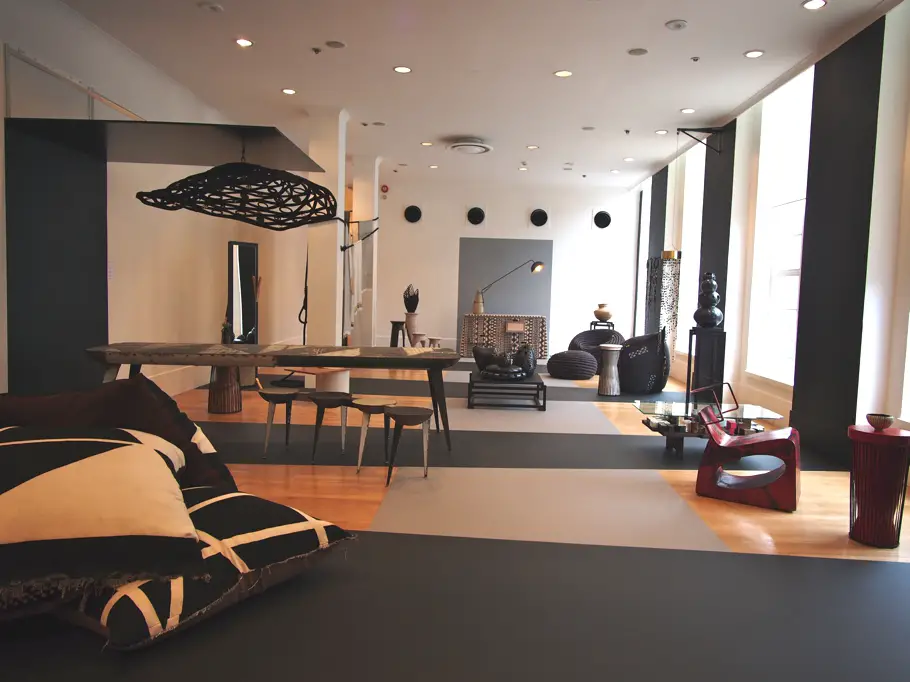 Based on the top floor of design store Habitat's Chelsea premises in London, the Platform gallery plays host during the London Design Festival to a comprehensive exhibition of contemporary furniture, lighting, textiles and ceramics from leading designers on the African continent, says Karen Sear Shimali.
The exhibition taps into the current energy and vitality of the contemporary design and craft world in Africa.  On display are hand-strung furniture by Cheick Diallo from Mali, crafted recycled metal furniture from Hamed Ouattara from Burkina Faso, lighting from Johannesburg-based Dokter & Misses, art ceramics from Imiso from Cape Town and textiles by Boubacar Doumbia's studio in Mali.  All the work has a strong graphic presence, and a distinctly African quality reinterpreted with a contemporary aesthetic.
A limited edition of exclusive cushions, throws and textiles created using the traditional bogolan 'mud cloth' technique were launched and are available to purchase at the show.  West Africa-based textile designer Boubacar Doumbia worked closely with Habitat's senior designer, Rebecca Hoyes, to create the graphic black and white textiles.  The spirit of collaboration is central to the exhibition – each of the designers spent time with one another, sharing specific techniques and knowledge which is usually limited to their own region.  This, as well as collaborations with external influences like Habitat, has allowed the 16 designers of Graphic Africa to explore new directions.  "International collaborations as well as improved networks within Africa itself mean new design and production perspectives are emerging on a global scale", says Hoyes.
Graphic Africa is curated by Trevyn and Julian McGowan.  Trevyn established Source in 2003, a company committed to promoting South African design to the global marketplace, and supplies many of the world's leading homeware stores.  The couple also founded the Southern Guild in 2008, with the aim of promoting limited edition and collectable design from South Africa.
Graphic Africa runs until 20 October 2013 at Habitat's Platform Gallery, 208 King's Road, London SW3 5XP
Karen Sear Shimali writes a regular blog Stitch by Stitch, focusing on sustainable design, and the fusion of global artisan skills and contemporary design.
Love Interior Design & Exotic Travel? Follow us..
September 19, 2013 | Design Fairs | View comments