London Design Festival highlights: Bocci lighting
During this year's London Design Festival eleventh  edition, the Canadian design brand Bocci presented a lighting installation at the festival's hub venue, the Victoria & Albert Museum.
Entitled 28.280 and designed by Omer Arbel, the installation is a massive vertically punctuated light installation located in the main atrium of the Victoria and Albert Museum in London. The installation, featuring Bocci's celebrated 28, descends through the large existing void cutting through the entire length of the V&A building, with an astonishing height of more than 30 meters. The intent of the installation is twofold; on the one hand, it is a pure celebration of the monumental open height of the building, which uses light to crystallize a powerful phenomenological experience for the viewer. On the other hand, it is the most ambitious exploration to date of a novel glass blowing technique.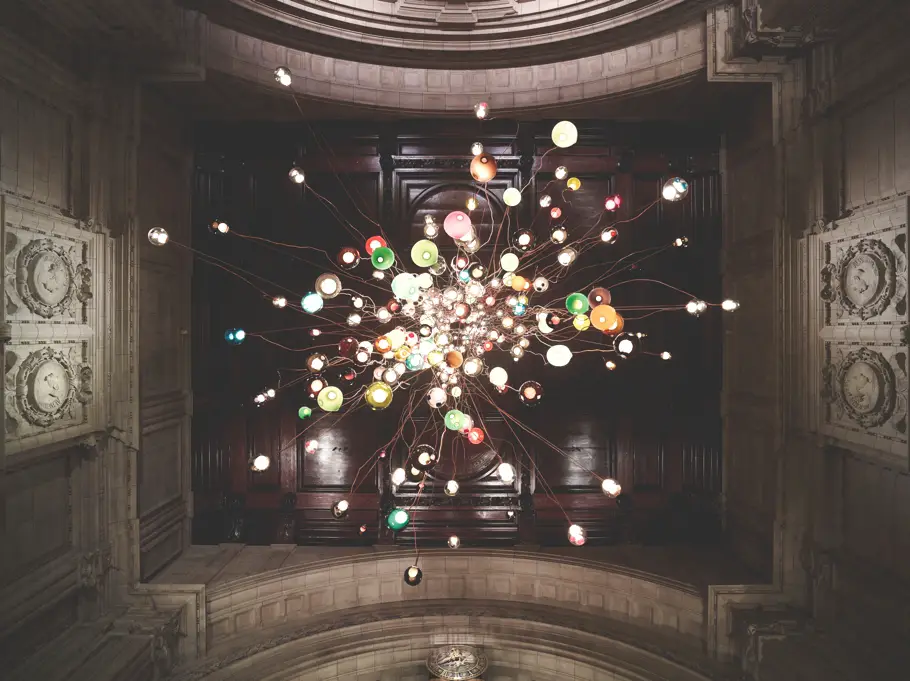 28 is an exploration of a fabrication process – part of Arbel's and Bocci's quest for specificity. Instead of designing form itself, here the intent was to design a system that haphazardly yields form, almost as a byproduct. 28 pendants result from a complex glass blowing technique whereby air pressure is introduced into and then removed from a glass matrix which is intermittently heated and then rapidly cooled. The result is a distorted spherical shape with a composed collection of inner shapes, one of which is made of opaque milk glass and houses a light source.
280 of these discreet 28 units will be hung within a 30 meter vertical drop, suspended by a novel, perhaps awkward and heavy copper suspension system, that promises to have as much presence or more than the glass it supports. The installation continues Omer's personal research into the process of making, and documents Arbel's remarkable journey as an articulator of form.
The installation can be viewed as part of the public museum visits during the duration of the London Design Festival and will remain
until the end of the year.
Images courtesy of Nick Barr
Love Interior Design & Exotic Travel? Follow us..
September 23, 2013 | Design Fairs | View comments