London Design Festival highlights: Endless Stair
The Endless Stair, a huge structure inspired by MC Escher's surreal staircase was a landmark project initiated by the London Design Festival.
Designed by London-based dRMM, the piece is constructed from a series of  giant interlocking staircases formed out of American tulip wood and sponsored by the American Hardwood Export Council (AHEC).
The staircase has a total of 187 steps and can accommodate up to 93 people. The shortest route to the top is only 48 steps. In the evenings it will be lit with lighting, evolving into an intriguing piece of art for passers-by to enjoy.
Another interesting fact is that the total length of all the panels in the endless stairs is 436m – equivalent to 4.5 times the
height of Big Ben.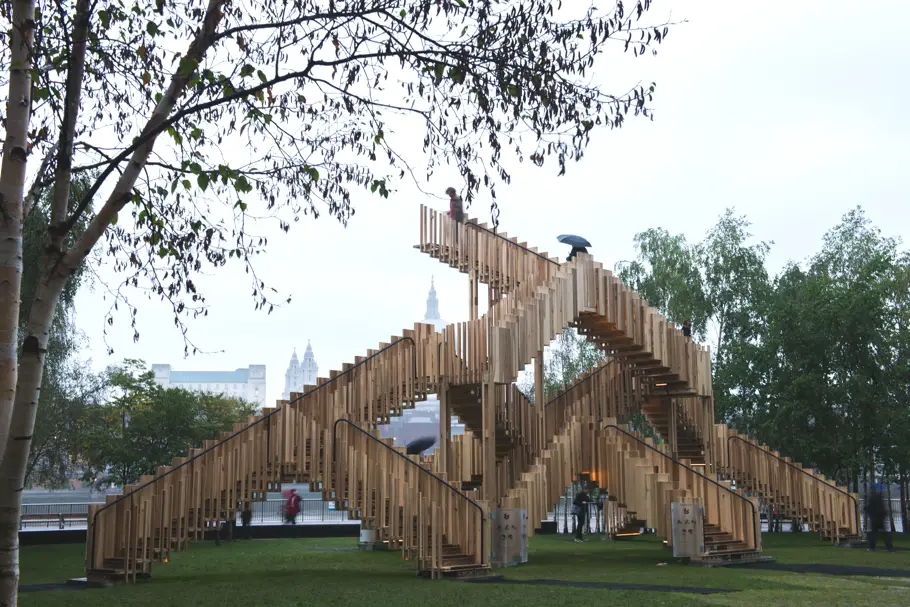 The project, which was conceived in January 2013, pushes boundaries of hardwood in construction. Starting from a fantasy Escher-inspired drawing utilsing, for the first time, tulip wood cross-laminated timber, dRMM and the engineering team at Arup have worked with specialist teams in Italy and Switzerland to research and test the strength of the material and develop the design to allow public access to the structures at The London Design Festival.
Endless Stair is open from now until 10 October, located on the riverside of Tate Modern, Bankside, SE1 9TG, London
 Images courtesy of Susan Smart, Ed Reeve and The London Design Festival
Love Interior Design & Exotic Travel? Follow us..
September 20, 2013 | Design Fairs | View comments