David Rockwell designs Lucky Guy & Kinky Boots Broadway sets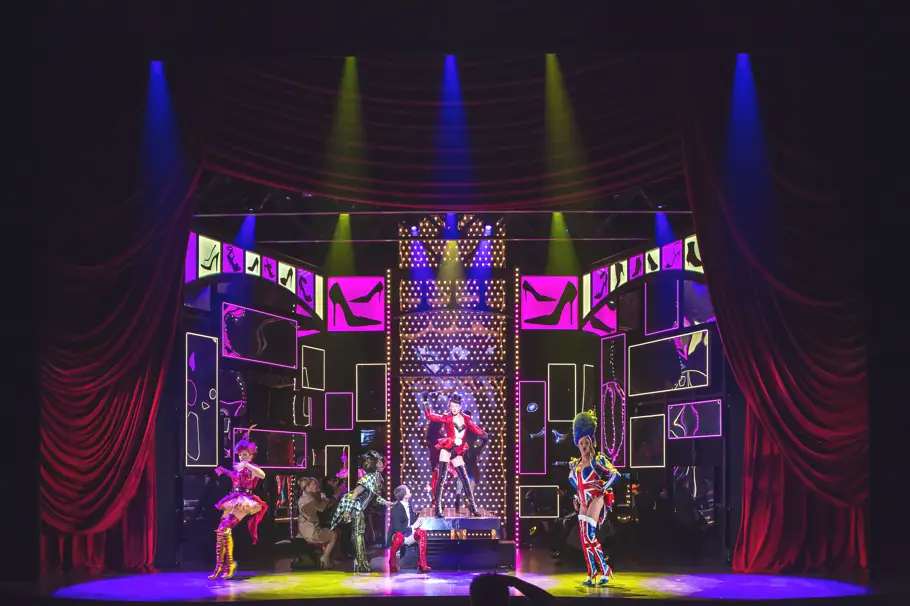 The New York based architect David Rockwell is perhaps best known for his design work for high end hospitality clients such as W Hotels, Morgan Hotels and Nobu. However, David Rockwell has long held a passion for theater set design and has designed the sets for two new Broadway shows: new musical – Kinky Boots – featuring original songs by Cyndi Lauper and Lucky Guy, staring Hollywood actor Tom Hanks. 
This brings the total number of stage sets David has designed over the years to 16. In addition he has also twice created the sets for the Oscar's ceremony.
In an interview with Adelto's Assif Majid. Here is what David had to say:

What did you find the most challenging when designing the set for Kinky Boots and Lucky Guy?
Kinky Boots was the sixth show I worked on with director and choreographer, Jerry Mitchell. We collaborated on Hairspray, Catch Me If You Can, and Legally Blonde, so I was thrilled to be reunited with him in Kinky Boots as set designer. We created an abstracted collage of a factory in which light shifts and actors manipulate different parts of the scenery revealing peripheral scenes from pubs to drag clubs.
For Lucky Guy, it was Nora Ephron's final piece, and I knew and loved Nora. So there had to be an immediacy to the storytelling. There were 40 scenes that had to be done in a way that engaged the audience in moving forward. We designed a hovering grid of the newsroom ceiling that also served as a projection surface for many of the scenes. This ceiling is not a static element, so it had to be designed to be able to pivot down and forward. It compresses the space in yet another dimension, while also serving as an unexpected projected backdrop for some crucial scenes.

What do you prefer set design or architecture?
That's a tough question as even though my work revolves around design and architecture, theater has been an enormous influence in my life and work, since a very young age. It started when I was 6 or 7 years-old, my family lived in Deal, New Jersey and my mother ran a community theatre there.
These productions really opened my eyes to the power of design to create compelling narratives and emotional connections between people and their environment. But I really don't think I can say I prefer one or the other. Both share the potential to connect people through live experiences. Rockwell Group is about the intersection of theater and architecture.We love to push the boundaries of where design ends and experience begins. This underpins all my architecture and design work, be it buildings, products, events, and interiors.

How do you start the design set process? How do you start your research/what's involved?
The primary demand of set design is to serve the script and to help tell the story. For each project, we place emphasis on choreographing movement through a space, investigating the poetry of lighting and how it can affect environment, and understanding the all-encompassing power of a shared real-time experience. We plan our spaces much like theater, where the environment supports the experience being created and not the other way around.

Kinky Boots
Kinky Boots is a Broadway musical based on the 2005 British film and is playing at The Al Hirschfeld Theatre, New York. Directed and choreographed by Jerry Mitchell, Kinky Boots features music and lyrics by Cyndi Lauper and a book by Harvey Fierstein. Set primarily in a shoe factory in modern-day Northampton, England, the story follows Charlie Price as he attempts to save his family's shoe factory with the help of Lola, a vivacious drag queen.
The objective for Rockwell Group was to create a single physical environment that could transform over the course of the show from the gritty, industrial world of Northampton to a final climatic scene at the International Milan Shoe Fair. Rockwell Group created an abstract collage of the Price & Son shoe factory in which light shifts and actor-manipulated set pieces reveal peripheral scenes from pubs and drag clubs to the cutting-edge fashion runways in Milan.
Rockwell Group was inspired by the heavy, utilitarian factories of the late 19th and early 20th centuries. Three curved iron trusses receding in perspective are suspended above the stage. The factory walls are composed of fragments of iron work, brick, and tinted glass windows that might have come from different parts of the building. Racks of shoes, supplies, replicas of old equipment and four custom-designed working conveyor belts complete the purposely cluttered picture.

Lucky Guy
Lucky Guy, which is showing at the Broadhurst Theatre in New York is a play by the late Nora Ephron, directed by George C. Wolfe, and starring Tom Hanks. The play tells the story of the late Pulitzer Prize-winning tabloid columnist Mike McAlary in the grittier days of New York City during the 1980s and 90s.
Rockwell Group designed a minimal set, recreating the feel of New York City in the late 20th century. In addition to assuming the various character roles throughout the show, the fluid cast also manipulates the fragments of scenery and bits of furniture that suggest the variety of place locations required by the story. Video and projected images complete the visual structure of the show.
The primary defining element of the space is the hovering grid of the newsroom ceiling. Designed in stark perspective, the ceiling compresses the space and also serves as a projection surface for images that become a touchstone for many of the scenes. However, this ceiling piece is not a static element, but has been designed to be able to hinge along its downstage edge. Pivoting down and forward, it is able to dynamically compress the space in yet another dimension, while also serving as an unexpected projected backdrop for some crucial scenes.
Images courtesy of David Rockwell Group, Paul Warchol, AMPAS
Love Interior Design & Exotic Travel? Follow us..
July 30, 2013 | Design | View comments