Virgin Atlantic's Upper Class Clubhouse, JFK New York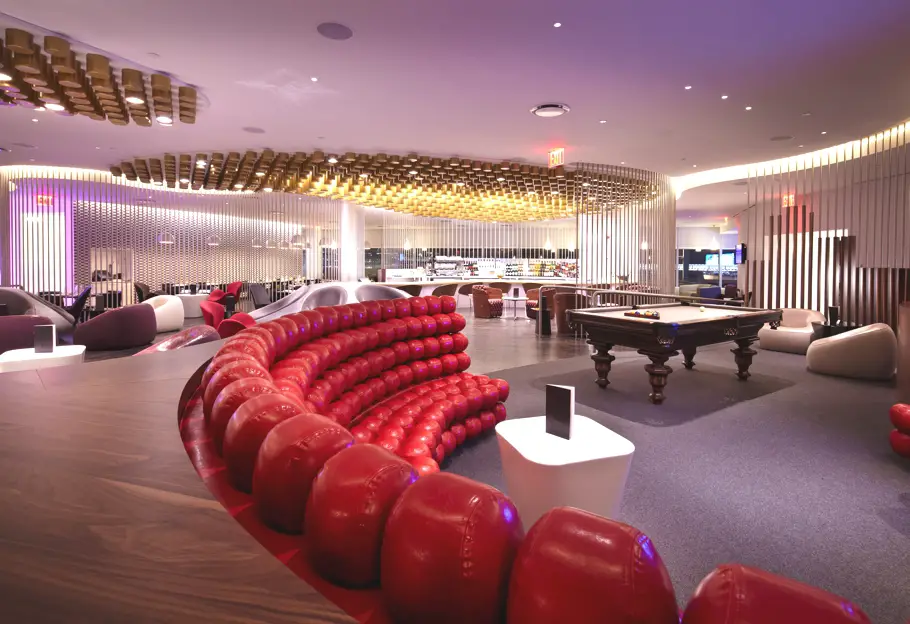 Adelto's Assif Majid joins members of the upper class at Virgin Atlantic's swanky new $7 million Clubhouse at JKF International Aiport.
The new airside space which has been designed by Slade Architecture in collaboration with Virgin Atlantic's in-house design team is 10,000 square feet, more than double the space of the existing Clubhouse.
The new space I'm told is inspired by the theme 'Understatedly Uptown, Unmistakably New York'.
Just like the Virgin Atlantic London Heathrow Clubhouse, there's no mistaking which city it lives in. The space oozed uptown style from the moment I walked in from the new Upper Class reception area,  I was transported into a world of graceful elegance with cascading, shimmering golden ceilings of lighting, and soft, decadent textures.
As all Virgin Atlantic flights from JFK depart in the evening, the heart of the new lounge is a sultry, uptown cocktail bar where resident mixologists  prepare well-constructed signature cocktails and mix the classics using the world's best tasking vodka and New Yorks finest microbrewery ales.
My flight was due to leave New York at 6.15pm and I had arrived at the Clubhouse for 3.30pm. There was plenty of time to enjoy the luxury Virgin Atlantic New York Clubhouse The can't fail to notice entrance of the Clubhouse—it's distinctive, bold and minimal.
My bag and coat were taken and I was then given a personal tour by Luke Miles, head of design at Virgin Atlantic. He said: "Our vision was to create an experience that unravels and gets richer each time our guests stay with us.  This chic yet relaxed space has real depth.  As our passengers walk through the lounge they will be tantalised with the changing views of this beautiful environment."
And boy was I tantalised! The Virgin Atlantic New York Clubhouse is bounded on two sides full height with expansive views over the Virgin Atlantic aircraft immediately below.  In the centre of the lounge, the cloud shaped cocktail bar is enclosed by a diaphanous, curving 'wall' of stainless steel rods and walnut fins (representing the Manhattan skyline); mediating views from and through the space and creating a series of distinct spaces.  This is the heart of the lounge around and through which guests move in a rhythmic syncopated flow.
If you're in a playful mood, which I was, the entertainment area has a fabulous red ball sofa, "all the furniture is bespoke, including this sofa", Luke Miles tells me. You can also relax in one of the comfortable chairs in the spacious lounge and gaze out of the large windows with fantastic views of the runway.
You can order food anywhere in the Virgin Atlantic New York Clubhouse, there is a more formal dining experience in the brasserie area, I opted for the Brasserie. The following options were available on the menu:
Starters
– Beluga lentil, quinoa and cauliflower salad (fennel and raisin croutons, citrus vinaigrette)
– Seared beef (Yorkshire pudding, horseradish and watercress
– Jerusalem artichoke soup (hazelnut and mustard seed oil)
– Duck rillettes (brioche, Dijon and rosemary butter)
Main Courses
– Pulled pork sandwich (caramelised apple and red cabbage slaw, fries)
– Steak and Brooklyn ale pie (buttered French beans)
– Chinese sesame chicken (jasmine rice, broccoli, cashews, chilli and vegetable wontons)
– Grilled Salmon (lemon and herb dressing, dill butter, soda bread)
– Warm Greek salad (roast vegetables, rocket and crisped feta)
Desserts
– Dark chocolate mousse (with salted peanuts
– Trifle (with poached rhubarb, vanilla sponge, sherry cream)
– Mango sorbet (with mango and mint salad)
– Clubhouse cheese board (Maytag Blue, Cabot Cheddar, poached pear)
– Fruit (freshly cut)
As well as hot drinks, beers, Champagne, wines and cocktails such as Manhattan (Woodford Reserve Bourbon, Sweet Vermouth). Stirred.
The sexy new Virgin Atlantic New York Clubhouse also boasts a spa. Renowned New York City based salon and product company Bumble and bumble have teamed-up with Virgin Atlantic, the only hair service available at any US business class lounge.  The spa also offers a unique collaboration with Dr Hauschka Skin Care, a certified-natural German brand with a holistic approach to wellbeing, whose products are perfectly suited to nighttime flying. Unfortunately it was fully booked by the time I got to the counter!
Once you have enjoyed all the delights of the spa, the intimate relaxation areas offer some really unique spaces to enjoy some 'me' time.  In a quiet corner of the Clubhouse, person sized round cavities have been created in the walls, lined with wool, with intimate lighting, perfect for  when you have had a hard day and want to retreat to your own private place.  Finally you can slip into a sleep suit in the Clubhouse, and you'll be given a hanger and suit cover ready to hang up on board, what more could you ask for?
Virgin Atlantic flies three times daily to and from New York JFK International Airport, plus an additional twice daily service to Newark Liberty International Airport.
For further information or bookings visit: virginatlatic.com or call 1800 862 8621.
What's your view on Virgin Atlantic's new Upper Class New York Clubhouse?  Reply in the comments area below or join the conversation on Twitter: we're @Adelto
Love Interior Design & Exotic Travel? Follow us..
May 25, 2012 | Travel Reviews | View comments