Virgin Atlantic Upper Class Clubhouse, London Heathrow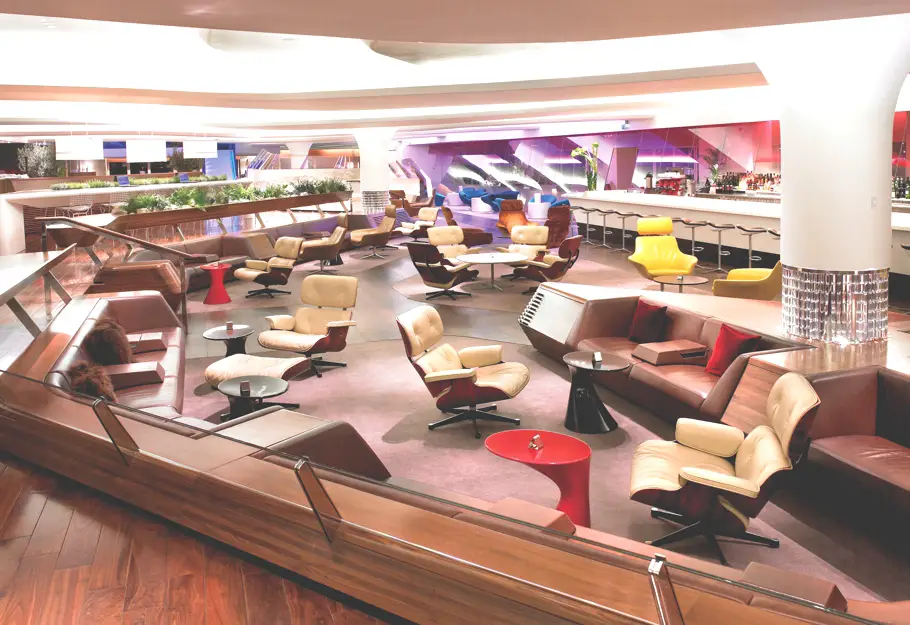 The Virgin Clubhouse at Heathrow opened in March 2006. The £11m flagship lounge, which is over 2,500 square metres in total, was created by the Virgin Atlantic design team with the help of Softroom, the London-based architectural practice, with interiors designed to feel like a private members' club.
The Virgin Atlantic Heathrow Clubhouse provides the ultimate pre-flight experience for every passenger with an array of exciting and unique features. It really does have the WOW factor!
Adelto Magazine was invited to come and review the new Upper Class Suite on Virgin Atlantic's new Airbus A330. This week Assif will be reviewing the Heathrow Clubhouse and over the next few days we will be uploading reviews of the JKF Clubhouse in New York and the amazing new Upper Class Dream Suite on the VS003 and VS004 flights.

Check-in
I arrived at Heathrow Terminal 3 for around 7am using the Piccadilly Line. I was greeted by the press officer on entry and was promptly checked in by the very helpful staff at the Upper Class desk on zone A.  I was then given a press pack plus a Virgin goody bag and whisked away in a private lift, which was marked 'By Invitation Only' and walked towards our own immigration and security point. There were no queues and the whole process from check-in to passing security took no longer than five minutes—impressive!
I entered the Virgin Atlantic Heathrow Clubhouse via a grand staircase and was welcomed at the concierge desk by a very smartly dressed gentleman, who took my bag and coat. I was given a mini tour and advised that someone would come and take my food and drinks order once I was seated—I was looking forward to the champagne breakfast! The lounge was very luxurious, it felt like I was in a futuristic lounge waiting to fly to some far away galaxy—so this is what the higher echelons of avian luxury are all about. All this titillation had got me so excited, and I'd not even boarded the plane or seen the new Upper Class Suite—I was hooked.

The Clubhouse
This uber-luxury lounge boasts a Cowshed Spa; a range of treatments are available for both men and women. The ranges of treatments available are:
– Shave treatment – a shoulder massage, power cleanse & invigorating scrub, wet shave and tone & condition.
– Facial – shoulder massage, double cleanse & exfoliation, hot towel infusion and eyebrow tidy.
– Manicure – file tidy, cuticle clean up, hand & arm massage or polish
– Foot maintenance – file, cuticle tidy and massage
– Hot stone therapy
– Thai foot massage
– MD hydrating facial
– Shellac nail system – the ultimate cross between a gel and polish that dries instantly and lasts for two weeks
There are also a range of shorter treatments including:
– Shoulder & neck massage
– Head massage
– Leg & foot massage
– Eyebrow tidy
– File & paint
Unfortunately, I didn't have time to sample any of these luxuries, I was busy working!
I took a seat at the Poolside Lounge, which is where Upper Class passengers can relax in an oasis of tranquility. A ceiling to floor Japanese water wall usually runs gently into the pool but it was switched off to my disappointment. However there were clear acrylic 'bubble' chairs to sit in, which kind of added a playful touch to this area of the Clubhouse. A member of staff soon came over and took my order for a latte and I started to chat with a fellow journalist from the Metro newspaper who was also on the press trip.
We both decided that we wanted to have some breakfast, as it was early and I was feeling rather peckish due to the whiff of delicious food being cooked.  I made my way to the Brasserie, which is an informal area with a continental feel, where you can choose from a menu and sit at individual tables or booths. The Brasserie had great ambience and the lighting was perfect, not too bright and not too dim, for an early morning start.
I ordered 'Egg Benedict with Spinach' from the 'Rise & Shine' menu along with some fresh pineapple juice. It wasn't long until my breakfast arrived, it was perfectly cooked—everything was fresh and beautifully presented—it looked exquisite.
After breakfast I made my way to the Grey Goose Loft, it's a hideaway mezzanine, at the top of a white staircase where they usually serve world class Grey Goose cocktails. Here Virgin Atlantic CEO Steve Ridgway officially welcomed us and briefed us on the trip before making our way to Gate 13 to board the plane. Later in the week we will be reviewing the Virgin Atlantic new Upper Class Suite.
The Virgin Atlantic Heathrow Clubhouse also includes the following areas:
Bumble and bumble Hair Salon
If you need a quick spruce up in the hair department you have to book yourself in to the Bumble and bumble hair salon. It offers a range of stylish cuts for men and women.
Spa
The lounge also boats its own Spa pool, sauna with six steam rooms and six showers.
The Den
There are many options here from a games area featuring a pool table and retro video games consoles.
Multiscreen
Entertainment area featuring state-of-the-art HD-TV system, which can simultaneously show a multitude of channels or be reconfigured as one single cinema screen.
Playground
Children's activity centre featuring the latest games and toys and dedicated children's television.
Observation Deck and Gallery
South-West facing area running along the length of the Clubhouse with large windows for great views of the runway.
Gallery
Viewing area behind the bar.
The Deli
Deli offering a light new food alternative with fresh produce and daily specials.  There is a seven metre long marble clad table for diners.
Grab and Go
Old fashioned sweet station for kids and adults alike. I had a few refreshers sweets here.
Cocktail Bar 
The 14 metre long cocktail bar serving a selection of classic drinks and sophisticated cocktails.
The Office and Library
Private room with eight business stations, fax machines, telephones, printers, photocopiers and library with antique refectory table (which has been retained from the previous Clubhouse and originally came from Sir Richard Branson's house.)
Internet Access
The Clubhouse is fully wireless and there are numerous laptop points dotted around the different areas.  There are also eight Sony laptops with Internet access at different points for those wishing to browse the net.  The Clubhouse is also a T-Mobile Hotspot.
What's your view on Virgin Atlantic's London Heathrow Clubhouse?  Reply in the comments area below or join the conversation on Twitter: we're @Adelto
Click on the following links to read reviews of  Virgin Atlantic's new Upper Class Suite and JFK Clubhouse.
Love Interior Design & Exotic Travel? Follow us..
May 21, 2012 | Travel Reviews | View comments