Hotel review: The palatial Palace Hotel Tokyo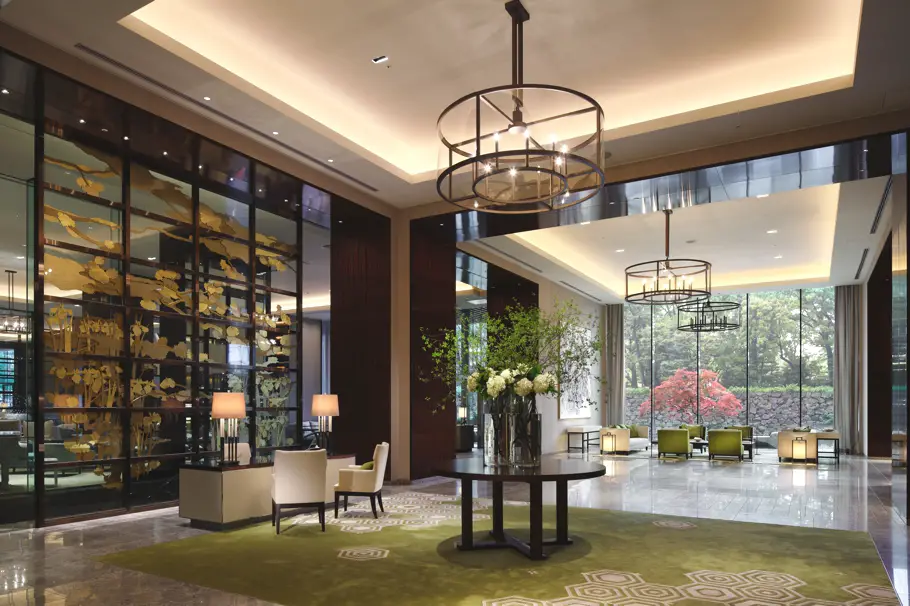 Palace by name and palatial by nature; Jayne Robinson explores this high-rise oasis of luxury in the heart of Tokyo and discovers a hotel fit for an Emperor.
Relaxing in a fluffy bathrobe on our private balcony, gazing across the lush Imperial Gardens to the twinkling, high-rise lights of the Ginza district beyond, it was hard to imagine more privileged vantage point in the entire metropolis. In a city thronged with sky scraping luxury, The Palace Hotel manages to offer something unique. And that 'something' has so far enabled this high-rise stunner to keep its place at the forefront of Tokyo's five-star hotel scene for more than half a century.

Future facing, with an eye on the past
Although it was completely rebuilt in 2012, the original Palace Hotel dates back to 1961 and has enjoyed an illustrious five decades as one of Tokyo's most prominent places to see, be seen – and of course, sleep. The current hotel brings the traditions and values of yesterday's Japan right up to date, retaining its old world elegance and charm, and wrapping it up in a sleek, modern vision.
There are subtle nods throughout the hotel to its previous life. A Steinway piano retained from the old Palace Hotel stands at the heart of the lobby lounge, providing an elegant musical backdrop to the hotel guests' comings and goings, while the counter top in the brooding ground floor whisky bar was designed by the hotel's original bartender – the aptly named Mr Martini.
But that is where the similarities to the old Palace Hotel end – and from here on in things are very much future focused with, of course, a respectful nod here and there to the past.

Designer elegance
A member of the Leading Hotel of the World group, The Palace truly is an international hub of luxury, as is evident from the outset. Wandering into the light-flooded lobby we were met with an atmosphere that was at once buzzing and yet blissfully serene – with smartly suited staff waiting at every turn to assist the hotel's many international guests, and natural tones and textures lending the place a relaxed, almost Zen-like ambience. The building itself is surrounded by the Imperial Palace moat and gardens, and the hotel subtly draws on these elements of water and earth throughout its dramatic public spaces and bedrooms. The entrance, for example, is constructed from the same Aji stone that lines the palace moat, while green leaf motifs, cool greys and muted golds pay homage to the hotel's neighbour.
The cheerful lobby lounge takes up much of the ground floor and is divided into both indoor and outdoor seating. The lounge offers guests and non-guests alike an elegant yet relaxed space for informal dining, evening drinks and of course the hotel's phenomenal buffet style breakfast, which can be taken in a peaceful waterside setting – a rare treat in such a built-up city as Tokyo.
In keeping with the hotel's commitment to style and design, is a remarkable focus on contemporary arts. Wandering through its open atriums, various restaurant and long, mood lit corridors, you'll notice an abundance of original paintings and sculptures adorning the walls. In fact, there are more than 1000 original pieces by Japanese contemporary artists on display throughout the hotel – and expert staff are on hand to guide any art loving guests through the key works on request.

Stylish sanctuaries
The Palace Hotel's 290 spacious bedrooms and suites are plush sanctuaries, offering guests a serene oasis above the city's hustle and bustle. Each room enjoys a front row view of the Palace gardens and city skyscrapers, and – rather uniquely for Tokyo – many have their own private balconies and terraces.
We stayed in a deluxe room with a balcony on the 23rd floor, which despite being one of the hotel's more standard rooms (if such a thing exists here) still gave us nearly 500sq ft of softly carpeted and immaculately tiled floor space to pad around on, and plenty of luxurious touches to indulge in.
Bedrooms continue the hotel's earthy colour palette, with soft greens and slate tones accented by crisp white linens and elegant dark wood. Our spa-quality open bathroom (with electronically controlled venetian blinds should you feel the need for a little privacy) included a large sunken bathtub with starry city views, walk-in rain shower, separate W.C and even a television inside the bathroom mirror – not to mention the Anne Semonin cosmetics and white, fluffy bathrobes.
Other room highlights include electronically controlled black-out curtains to guarantee a peaceful night's sleep and allow you to greet the morning light without having to leave your bed – and the most elaborate mini-bar we've ever seen. Cocktail, anyone?

Bars and restaurants
There are no less than 10 (yes, 10) different places to eat and drink inside the luxury Japanese hotel, offering a dizzying variety of culinary styles and atmospheres.
Six distinctive restaurants offer guests an array of Japanese and international cuisines from the hands of master chefs, including an elegant Michelin standard French restaurant, a meticulously designed Japanese restaurant with a waterfall wall, and 'Tokyo-style' sushi from Michelin starred chef Shinji Kanesaka.
Bars include the airy Palace Lounge with its tinkling piano elegance, the handsome, cigar scented Royal Bar and a seductive, sixth floor cocktail bar with scintillating views – the perfect place to wind down after dinner and gaze out onto the buzzing city below.

Spa
For those looking for some extra pampering and R&R during their stay at the Palace, a gorgeous Evian spa is on hand to oblige. This chic, peaceful space boasts an indoor pool and fitness centre, a space-age marble sauna and five Alpine themed treatment rooms. We're told you can even see Mt Fuji through the floor to ceiling windows on a clear day – reason enough for a repeat visit if ever there was one.
Palace Hotel Tokyo, 1-1-1 Marunuchi, Chiyoda-ku, Tokyo 100-0005, Japan, palacehoteltokyo.com

Love Interior Design & Exotic Travel? Follow us..
December 24, 2014 | Asia Japan Tokyo Travel Travel Reviews | View comments