Hotel review: Eco-chic Monaci delle Terre Nere, Italy
It's a Sicilian paradise. He was, he says, instantly besotted and decided to dedicate his life to its restoration. That was in 2007 when Guido Coffa – a former automotive engineer – chanced upon La Monaci, a 19th-century villa in the foothills of Mt Etna, Sicily. It was then a working farm. Five years later, writes Caroline Phillips, it's a very different story. It's a chic, stylish boutique hotel with 15 bedrooms/suites in the villa and others dotted on the 40- acre organic estate. Welcome to Monaci delle Terre Nere.
The work was a collaboration between Guido, his girlfriend- cum- passionate- amateur interior- decorator, Ada Calabrese and architect, Guiseppe Merendino.  It has been an intense labour of love. 'I own the property,' asserts Guido, laughing. 'But sometimes I feel as if it owns me.'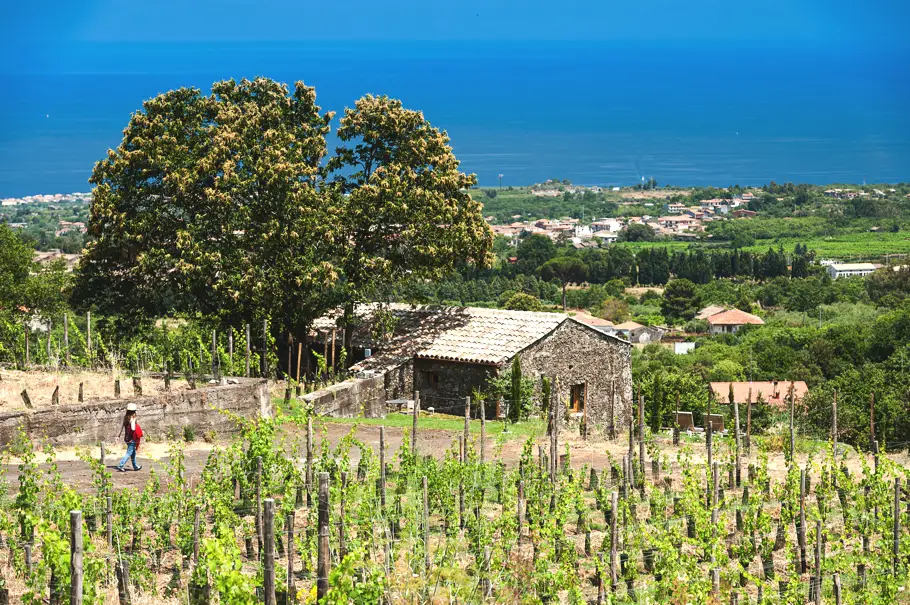 It's in an idyllic location. Mt Etna, Europe's largest active volcano, booms in the background, the Ionian Sea is at its front, and the dusky-pink villa is surrounded by fertile terraces that he's planting with vineyards, citrus trees and a market garden. 'It's an entirely organic hotel,' says Guido, who believes in zero food miles and whose chef follows the slow food philosophy.
The road leading to it, Via Monaci (Monks' Road) was made by the monks of the Order of Anna in 1600. They also built the terraces, tended the land and planted vineyards. Later the villa was owned by a noble family and then passed into the hands of another family for three generations. It was a winery until the 70s.  In its final incarnation, it was a certified organic farm.
Guido retained much of what was there. 'We didn't touch the external structure and facade of the villa – which dates from 1800. Plus we kept the old outside and inside doors, the ceiling frescos, the original lime plaster in the buildings, some of the terracotta floors in the main building, the old wooden 'palmento' grape press, the steel railings on the balcony and terraces, the marble stairs outside….' Guido rattles out the list. 'I'm sure I'm forgetting a few things.' Well, yes, what about the original cistern for washing wine bottles that remain in the cavernous now-reception area? And its volcanic lava with cement walls? And its original cocciopesto – broken shingle and lime – floor?
The stage was set. Then Ada introduced an eclectic, contemporary international collection of designer pieces alongside antiques – a tasteful fusion of cutting edge, shabby chic, reclaimed and ancient.
The reception area is particularly impressive with its soaring ceiling, prominent antique wooden grape press, artisan -made simple contemporary fireplace with ginormous industrial metal flu and its laminated metal staircase. This alongside B&B Italia's Bend sofa and its squishy yellow leather pouffe. 'Fat Fat-lady Fat, it's called.' There's also a striking, bold painting by the English Brazilian painter, Olivier Mourao – there are other of his works throughout the property –near a drinks bar with a sandpaper-style surface. Additionally there's a table fashioned from a large piece of chestnut, matching that used in the roof and its metal legs coordinating with the staircase in the corner. Pop Fabio Novembre's 'Her' chair with its cheery white buttocks against this rustic-with-a-twist table, and you get the picture.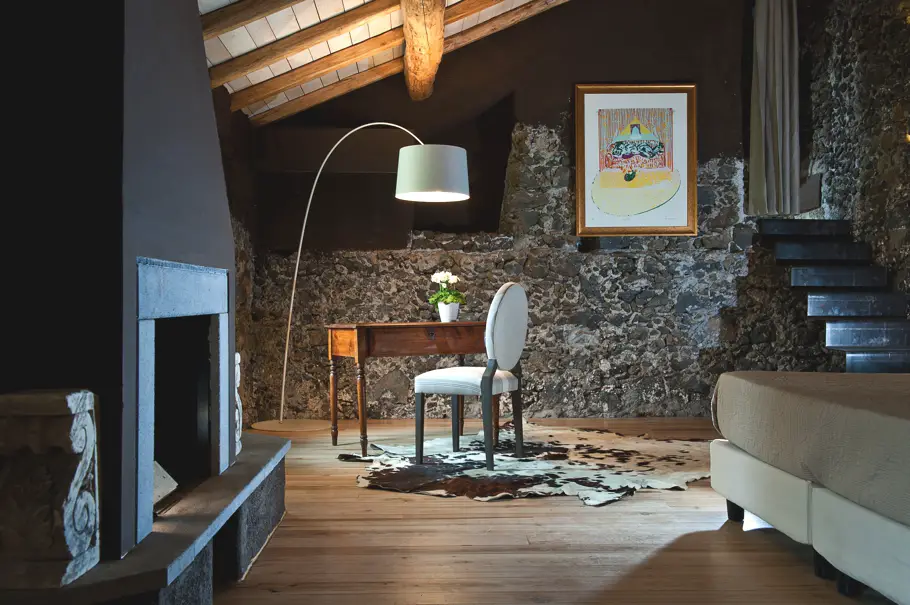 This use of the original settings combined with quirky new pieces continues throughout the property, whether in the villa or in the 'farm' buildings dotted on the estate. Every room is different. Sometimes you wander along dust and lava paths and clamber up lava stone steps to reach them.
There may be a ceiling with reclaimed wooden rafters juxtaposed with a Jacuzzi standing beside the bed in a suite; or a bespoke floating bed with a metal frame alongside a Baroque gilt artefact;  or perhaps the original palmento stone structure with the bed built into it near a lime green Gervasoni sofa. A 'Twiggy' lamp by Flos or the 'Lumiere' by Foscarni in one room, and a lamp fashioned from a Baroque gargoyle or a Murano chandelier in another.
Outside is simply an al fresco version of paradise. There's a garden bar for savouring those Etna wines and aperetivos and an infinity pool carved into a terrace and framed with rough-hewn lava rocks. (For lazy laps as olives plop into it from its shade-giving tree.) The hotel also has impressive eco credentials. 'Half of our energy comes from sustainable sources,' reveals Guido. And he's planting enough trees to save the world, or at least this part of Sicily. You walk among heady scented mandarin groves, vineyards and fig trees, sup on delicious food plucked moments before from the garden, and chill in rooms where there's always something more to admire.
Monaci delle Terre Nere, Via Monaci, 95019, Zafferana Etnea (CT), Sicily, Italy, monacidelleterrenere.it
Images courtesy of the hotel. Words by Caroline Phillips
Love Interior Design & Exotic Travel? Follow us..
September 26, 2014 | Europe Italy Sicily Travel Travel Reviews Western Europe | View comments