Iconic Hong Kong boutique hotel given facelift by yoo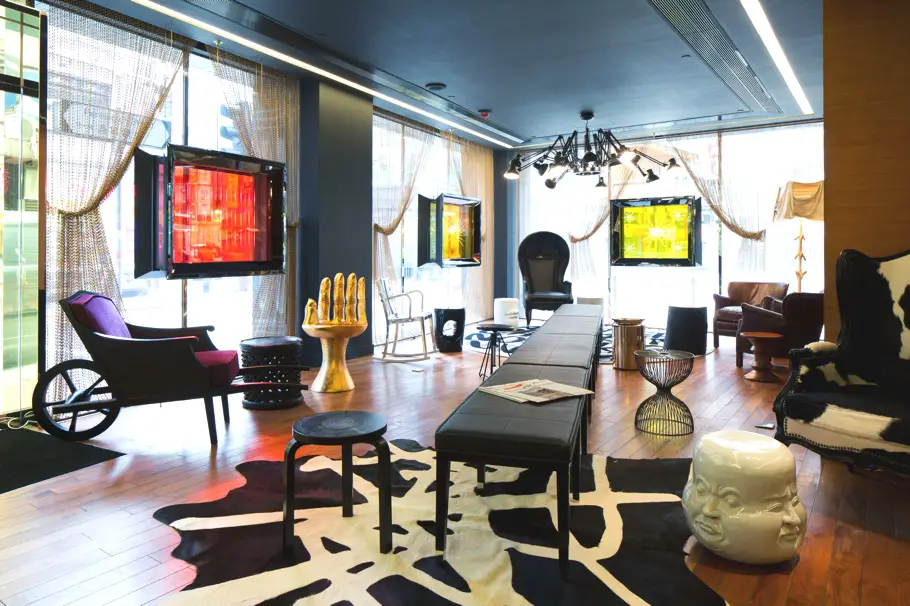 J Plus Hotel recently celebrated its 10th anniversary by undergoing a full fashion makeover by designer Philippe Starck who conceived the original design for the Causeway Bay hotel.
yoo Studio has created a brand new look for the hotel, building on the legacy of Philippe Starck's original design. The HK$10 million refurbishment presents a dramatic new image for the boutique Hong Kong hotel.
The chic hotel was possibly the first design-forward hotel in Hong Kong, but now has no shortage of competition, including Hotel Icon, W Hotel (review coming soon) and the Upper House.
Starting from the outside, yoo Studio has created a new-look façade to reveal the buzzing street-level lobby. The main entrance for JPlus has also been given greater prominence, highlighting its position in the city.
Yellow, orange and red tinted glass panels inscribed with Chinese motifs of coins, dragons and bamboo have been introduced as symbols of good fortune – greeting you whether inside looking out, or outside looking in.
The large Renaissance-style portrait, playfully symbolises the hotel's own rebirth.
The comprehensive makeover includes the redesign of the hotel's 32 luxurious studios and 24 stylish, spacious suites in bold, bright colour schemes.
Mathew Dalby, design director of yoo Studio, said: "In a city so synonymous with change, this iconic address is redefined and refreshed for the future.
"While staying sympathetic to the original cutting-edge design, this refreshed restyling continues our design house's legacy of contemporary, imaginative and sophisticated creativity to surprise and delight even the most jaded traveller. Our legacy is rejection of all things conventional. Original design enhances life. It's our mantra for every hotel we develop, manage and design. Each by yoo hotel offers compelling individual states of design, service and location, designed by yoo Studio."
J Plus Hotel by yoo, 1-5 Irving Street, Causeway Bay, Hong Kong, yoo.com   
Love Interior Design & Exotic Travel? Follow us..
May 30, 2014 | Asia Hong Kong Travel | View comments