New luxury hotel pays tribute to Vietnamese art
Apricot Hotel, which opened its doors last month amid the heart of Vietnam's cultural and political capital, is paying homage to art created by the nation's master painters and contemporary up and comers.
With sweeping views of the iconic Hoan Kiem Lake and the hustle and bustle of Hanoi's quaint Old Quarter at its doorstep, the small luxury five-star hotel's features include 123 neo-classical rooms, two restaurants, a lobby lounge and cafe, rooftop bar, heated rooftop swimming pool, meeting facilities, spa and fitness centre.
Akin to a large-scale gallery, Apricot Hotel showcases more than 600 original artworks, with the lobby, corridors and rooms adorned with an array of original and valuable artworks by the nation's most popular painters ranging from large masterpieces and sculptures to watercolours and sketches.
Among the hotel's broad spectrum of artworks, highlights by master painters include Nguyễn Dung's Hát Ả Đào (Traditional Folk Song Singers) with its earthy colours, Mai Thứ's poignant Thiếu Nữ (Young Girl), and Phan Kế An's Nhớ Một Chiều Tây Băc (Recalling One Late Afternoon in Tay Bac) that subtly hints at the heroism of Vietnamese troops to a dramatic mountainous backdrop during the French-Vietnamese war.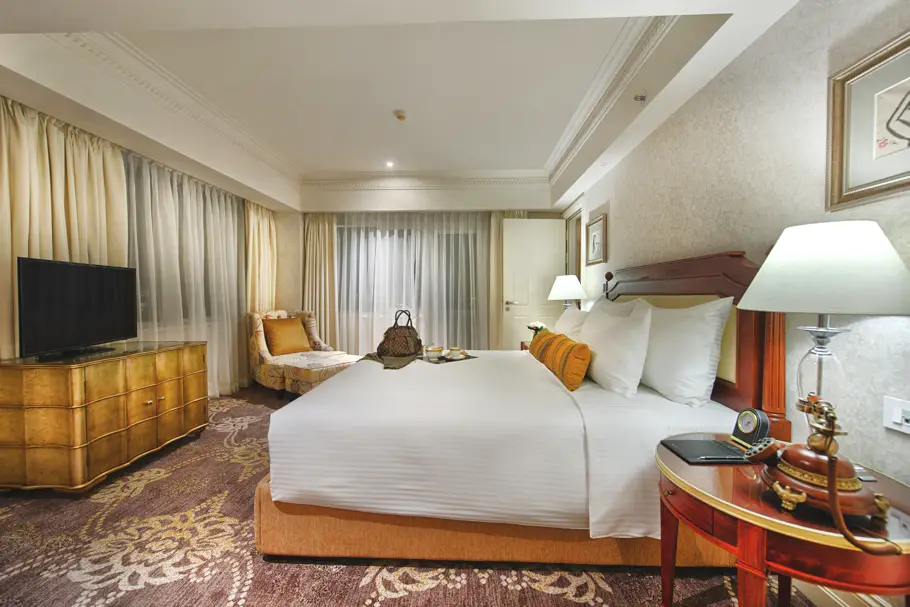 "Art is a gateway to the deepest, most profound depths of any culture," said Steve Tan, the hotel's general manager. "At the same time we're providing a stationary experience of accommodation, we're going to take guests on an incredible journey through the history of Vietnamese art and culture."
Steeped in French colonial history, the 10-story Apricot Hotel building has experienced a new lease on life since undergoing a major revamp resulting in a classic meets modern design. It was formerly the Phú Gia Hotel, where the city's movers and shakers began gathering since the 1920s.
The hotel's mezzanine L'Artiste restaurant boasts an open-style kitchen and menus in the design of an artist's sketchbook while A'telier, located in the hotel lobby, serves a selection of teas from across the globe.
The roof-top fitness centre's floor-to-ceiling glass walls make way for a panoramic view of the lake and its legendary Turtle Tower, while the Spa L'Art spa centre lets guests indulge in a host of services including facials and spa and wellness packages.
Apricot Hotel, 136 Hàng Trống, Hoàn Kiếm, Hà Nội, Vietnam, apricothotels.com
Love Interior Design & Exotic Travel? Follow us..
July 24, 2015 | Asia Travel Vietnam | View comments