Eagle View: An eco-chic safari lodge boasting gobsmacking views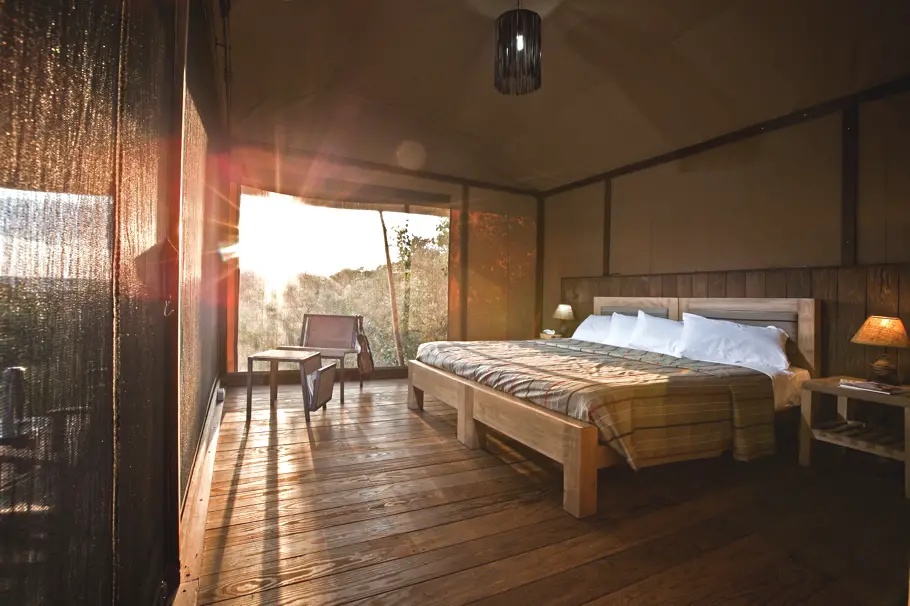 Eagle View is an eco-award winning safari lodge located in the Mara Naboisho Conservancy. Set on a spectacular escarpment in a remote and undeveloped part of the Mara, the lodge boasts gobsmacking views overlooking the Koiyaki River.
Designed by Hitesh Mehta Design, who used Kebony wood to integrate sustainability into all aspects of the building whilst remaining in keeping with the natural beauty of the area. The eco-lodge is a prime example of a burgeoning ethical travel culture; one which means that those seeking adventure off the beaten track in the African bush need no longer choose between high-end accommodation and a guilt-free green conscience.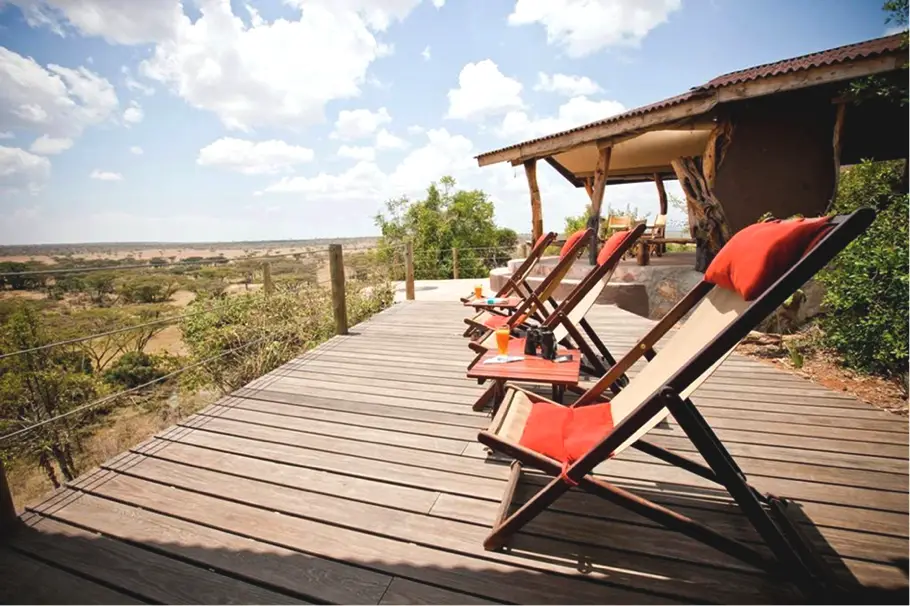 Set on a spectacular escarpment in a remote and undeveloped part of the Masai Mara, the lodge provides a base from which guests can enjoy bush activities such as safari walks and drives, night time excursions and engage with the local Masai community. Guests at Eagle View stay in one of the nine spacious tented suites with en-suite bathrooms and terrace overlooking the savannah. The tents are pitched on raised platforms constructed from recycled steel and Kebony's certified southern yellow pine flooring. Over the course of Kebony's lifespan, it will acquire a silver-grey patina that will beautifully complement the warm colours of the surrounding landscape.
Contained within the vicinity of the lodge is a large open air restaurant and bar/lounge area, both also decked in warm Kebony timber which has the added advantage of being resistant to microorganisms that can damage the wood. There is also a cosy campfire area and a sunset viewing deck, offering truly stunning views of the African sun setting across the savannah. The electricity at the site is generated entirely by solar power making it 100 per cent sustainable. This combined with the use of recycled steel sustainably treated timber, have earned Eagle View a silver award for eco-travel. Eagle View was also included in the top 25 eco lodges in the world by National Geographic (one of only three to make the list in Africa) and has welcomed over 5,000 guests since its launch in 2012.
Basecamp Explorer, the company behind Eagle View, are a Norwegian company who now operate three camps in Kenya. Basecamp support 500 families in the local Masai community and 92 per cent of their staff are local.
Basecamp Explorer Kenya, Nairobi Head office
, Magadi Tenting Centre, Next to Brookhouse School, off Magadi Road, Nairobi, Kenya, basecampexplorer.com
Images courtesy of Kebony
Love Interior Design & Exotic Travel? Follow us..
November 18, 2014 | Africa Kenya Masai Mara Travel | View comments