Virgin launches 'first art gallery at 35,000ft' for upper class airline passengers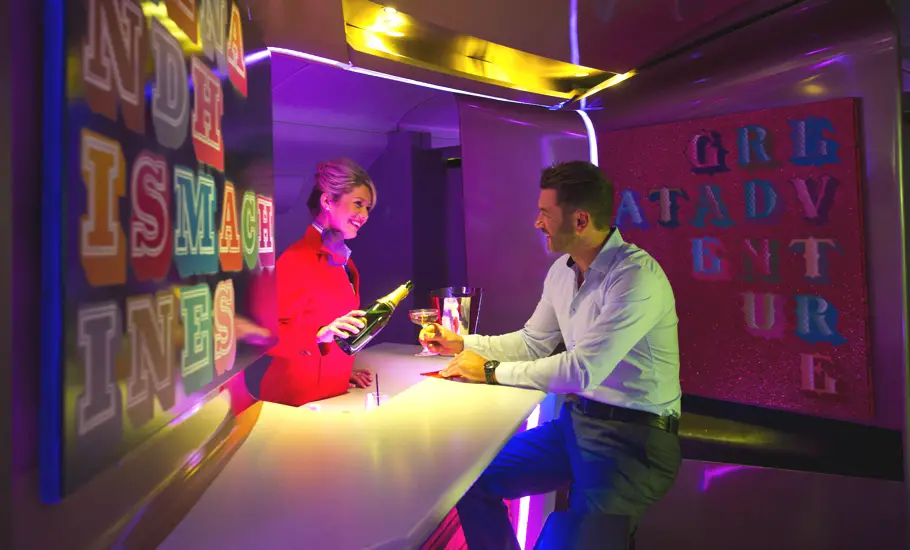 Jet set travellers flying upper class on Virgin Atlantic can now purchase contemporary art in the airlines first 'Gallery in the Air'.
The trendy airline has collaborated with British artist, Ben Eine, well known for his alphabet lettering street art on shop shutters in London.
In a world first, the airline has launched a commercial art gallery at 35,000ft, offering its upper class passengers flying between London and New York the opportunity to view, and purchase, a series of one-of-a-kind paintings by the renowned British artist, all from the comfort of your seat.
The Gallery in the Air, which takes place between 1 to 28 February 2013, is the latest cutting-edge initiative from Virgin Atlantic to further enhance passengers' inflight shopping and entertainment experience, taking the display and sale of fine art into uncharted territory. Long-haul travellers wishing to experience the Gallery in the Air's first exhibition – which will feature a collection of ten bespoke works of art priced between £2,500 and £15,000 in Ben Eine's trademark typography style – are able to book their seats now on the Virgin Atlantic website. Each piece is inspired by the adventurous and innovative spirit of Virgin Atlantic, its entrepreneurial owner Richard Branson, and the iconic transatlantic cities of London and New York.
The lucky passengers will be able to enjoy the art gallery experience at every step of their journey.  The eye-catching canvases will be on display across the London Heathrow Clubhouse, Newark and JKF Clubhouse and, as passengers take their seats, they can take a virtual tour of the Gallery in the Air, look behind-the-scenes at the making of the Virgin Atlantic artworks by Eine in his studio and buy the unique pieces of art for themselves in exactly the same way as they would a duty-free shopping purchase.
Eine is famed for his striking and cutting-edge street art style featuring vibrant and often controversial letters and phrases.  He shot to international fame when British prime minister David Cameron presented one of his works to President Obama as a gift on his first official state visit in 2010, but is perhaps best known for 'Alphabet Street' – the shutters and murals he painted in his trademark colours and typography in Middlesex Street, London.
Ben Eine, artist, said: "I respect Virgin Atlantic's brave and challenging attitude and the way it goes against the grain, so I jumped at the chance to be part of the first ever Gallery in the Air. We have created a completely original way of appreciating and buying art – a new frontier for the industry."
Sir Richard Branson, Virgin Atlantic boss, said: "I am a huge fan of Ben's work and, like us, he does things differently and doesn't follow the crowd. We're delighted to be working with him, mixing things up a bit and having a bit of fun along the way."
Following a £100M investment in early 2012, which Adelto reported on, the Virgin Atlantic Upper Class cabin has received a number of significant enhancements in recent months. With luxury and comfort at its heart, the cabin sets a new standard for the industry and boasts an in-flight bar and social area, newly designed seats, ambient lighting, a cutting edge in-flight entertainment system and even custom glassware and tableware, making it the most luxurious way to travel by air.
Love Interior Design & Exotic Travel? Follow us..
February 9, 2013 | Travel | View comments