Travel Picks: Top 10 European Christmas Markets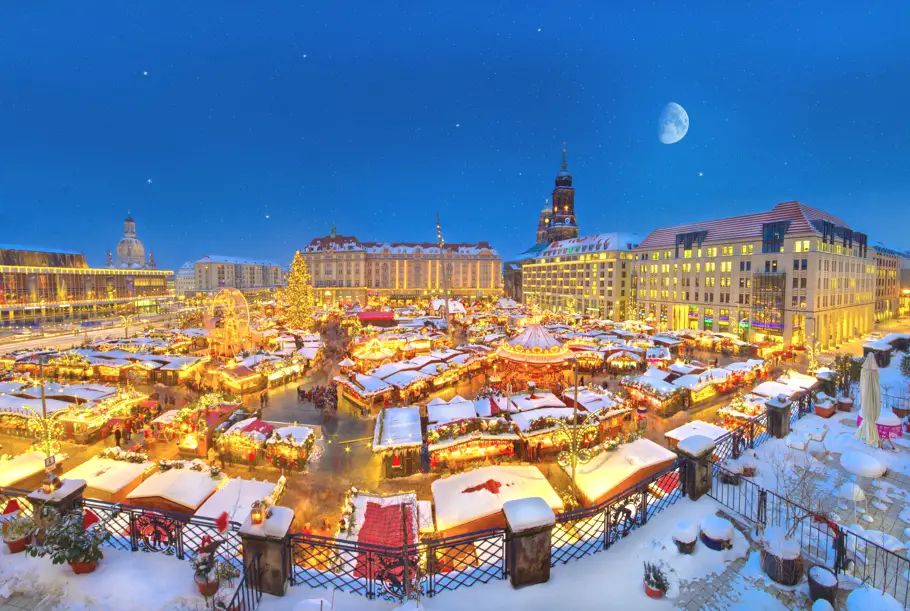 Our definitive guide to the 10 most exuberant European Christmas Markets this year.
If you're searching for some proper festive cheer, forget overcrowded shopping centres full of overpriced tat – and head to Europe's truly spectacular Christmas markets, full of handcrafted unique gifts, atmospheric squares and cute stalls to put the magic back into the season.
Great Britain – Merry Manchester: The bigger the better
November 17 – December 23
Ever since Charles Dickens penned A Christmas Carol, the UK's idea of Christmas has been characterised by glittering trees, fragrant roast Turkey and rousing carols.
Considered to be amongst the biggest in the UK, Manchester's Christmas markets transform the city centre with their delightful traditional wooden chalets. Get into the spirit by browsing hundreds of twinkling market stalls and soaking up the unique, bustling atmosphere across eight picturesque city centre locations, our favourite is outside the Town Hall, on Albert Square. You'll find an amazing selection of goods on offer from European and local producers, selling everything from fine amber jewellery, handcrafted leather bags to Spanish chorizo.
Airport: Manchester International
Greeting: Merry Crimbo
visitmanchester.com/articles/shopping/christmas-markets
Denmark – Cosy Copenhagen: A Nordic Christmas
November 16 – December 31
Copenhagen is a real Christmas city and oozes of atmosphere during the Christmas season.
The 19th-century Tivoli Gardens is where the party is at – and this year the gardens will be transformed into a spectacular Russian fairy tale featuring a Russian village and St. Basil's Cathedral. In last year's Russian theme, the pixies had been omitted, but this year the little pixies or gnomes (in Danish: nisse) are back. Sample over 50 stalls clustered around and the main lake, which will be transformed into an outdoor skating rink.
Keep the chill at bay by sipping on gløgg (spiced muled wine) and foraging on fresh-baked Christmas pastries, gingerbread and sizzling pancakes.
Airport: Copenhagen Airport Kastrup
Greeting: Glædelig Jul
Estonia – Twinkling Tallinn: Christmas fairy tale
November 24 – January 1
This fairy-tale feel market is a baby when compared to some of the other European Markets – it's only been running since 2001. Tallinn's market is set in the heart of the medieval Old Town, in Town Hall Square, a cobbled expanse dominated by the Gothic Town Hall.
To get in the festive spirit try some Estonian delicacies such as mulled wine, hot soups, spicy sausages with sauerkraut, black pudding with sour cabbage and delicious gingerbreads.
The picture-perfect Christmas market is great for picking up original gifts including hand-made, wool hats, candles and elaborate quilts.  The wooden stalls are all clustered around a huge Christmas tree, decorating a tree goes back to 1441 in the city, and don't forget to post your Christmas cards from Father Christmas' post office.
Airport: Lennart Meri Tallinn
Greeting: Häid Jõule
Austria – Visit Vienna: Tradition meets magical innovation
November 17 – December 24
You will be spoilt rotten in the Austrian capital at Christmas. The city has had a Christmas market since the 13th-century and the biggest and grandiose is the Rathauspark in front of the imposing City Hall.
The unique backdrop of the Burgtheater and Vienna City Hall gives this Christmas Market a charm all of its own, and the delicious aroma of punch, traditional gingerbread, roasted almonds and honey is sure to lull you into the seasonal joy. There are more than 140 stalls selling items from traditional miniature wooden houses to woolen hats, and a 'Post Office in the Clouds, where you can post your Christmas cards.
Airport: Vienna International
Greeting: Frohe Weihnachten
Germany – Yule love Nuremberg: Winter wonderland
November 27 – December 24
With nearly 200 stalls clustered on Nuremberg's main cobbled square, Hauptmarkt, this Christmas market is arguably one of the most famous markets in Germany.
Stalls decorated in red and white stripes sell carved wooden toys, homemade candles and the city's infamous spicy gingerbread. Tuck into roast bratwurst and lebkuchen – Germany's famous biscuits and feuerzangenbowle, drink gluhwein laced with rum or brandy to keep you warm. Late at night the Christmas market is lit with hundreds of lights, and local bands provide entertainment – expect to hear anything from live jazz to brass bands.
Airport: Nuremberg International
Greeting: Frohliche Weihnachten
Sweden – Glittering Gothenburg: Sparklers at the ready
November 16 – December 23
For a genuine Swedish Christmas, the Liseberg Christmas market is a must, the self styled 'Scandinavia's Christmas city' Gothenburg really gets in the festive spirit.   With nearly 5 million illuminations, a buzzing harbour and amusement park you can't expect anything less than brilliant.
Here you'll find 21 attractions including a fairy tale castle, ski slope, ice rink, Santa's Grotto, plenty of reindeer and the julbord – a seven course Christmas feast. Swedish specialties such as reindeer meat, warm glögg (mulled wine), pepperkakor (gingerbread), cheese, candy and craft are all on offer.
Sweden's capital Stockholm also hosts no less than four fabulous markets. The big Christmas tree on Skeppsbron is the largest "real" Christmas tree in the world. It is 38 m high and decorated with 5000 lights.
Airport: Gothenburg and Stockholm
Greetings: God Jul and (Och) Ett Gott Nytt År
Belgium – Brussels Baubles: Winter wonders
November 30 – January 6
More than 2 km of the stretch from the word-famous Grand'Place to Ste-Catherine is dotted with hundreds of enchanting wooden chalets, attractions, activities and terraces offering mulled wine, gourmet food, smoking chocolate and much much more. Don't forget the huge Ferris wheel, outdoor ice rink, merry-go-rounds and stunning colossal Christmas tree.
A first this year, is the renowned Balkan Trafik concept from BOZAR, to enflame the enchanting world of Winter Wonders. This music festival will get the party started Belgian style. In addition to the usual fairy lights, expect to see awe-inspiring light sculptures and artistic installations.
Airport: Brussels
Greeting: Joyeux Noëlle Or Prettig Kerstfeest
Czech Republic – Pretty Prague: Christmas carols
December 1 – January 1
Prague is an enchanting place to be during the festive season. There are daily performances by carol singers and special walks being organised through the city to remind you of Christmas customs and traditions.
The pretty markets are held in the beautiful Old Town Square, a marketplace since the 11th-century. You can also find markets in Wenceslas Square and Republic Square selling traditional candles, nativity scenes, firecrackers, jewellery and toys. The huge Christmas tree in Old Town Square is a showstopper, you can usually see piggy banks under the Christmas tree where people can put money to support charities.
Airport: Prague
Greeting: Vesele Vanoce
France – Magical Mulhouse: Christmas fabrics
November 24 – December 28
The Manchester of France, Mulhouse gets wrapped up in the magic of Christmas and comes alive with twinkling lights and shimmering fabrics. More than 80 captivating chalets take over the most important square in the city, Place de la Réunion. White birch decorate the streets and evoke the landscapes of Lapland, kids and adults alike can stroke the friendly reindeer in Place des Victoires, where you can also find Father Christmas.
Drink special Christmas beers, mulled wines and eat flammekueche (traditional pies), while admiring the city City Hall that is draped in special cloth "bredela" decorated in red and gold emblematic of Christmas in Alsace. Mulhouse is one of the most charming towns in the region, full of wonky timbered houses and winding, narrow lanes.
Airport: Basel-Mulhouse
Greeting: Joyeux Noel
Germany – Dancing in Dresden: Dah dee dah
November 30 – December 24
Locals know Dresden's Christmas Market as Striezelmarkt, it's Germany's oldest Christmas Market with a very long history dating back to 1434. It's steeped in tradition and the markets name is derived from the German Christmas cake –   Striezel.
The romantic market can be found in the historical part of the city between the recently rebuilt Frauenkirche. The highlight of the annual market has to be the Stollen Festival, held on the second Sunday in December. The focal point of the Dresden Christmas Market is the world's tallest Christmas pyramid, with a height of 14 metres and the world's biggest nut cracker. The culinary attraction of the market, however, is the Dresden Christstollen, originally known as 'Striezel', which accounts for the market's name.
Airport: Dresden
Greeting: Froehliche Weihnachten
germany-christmas-market.org.uk
Adelto wishes each and everyone of you a very Merry Christmas and a Happy New Year.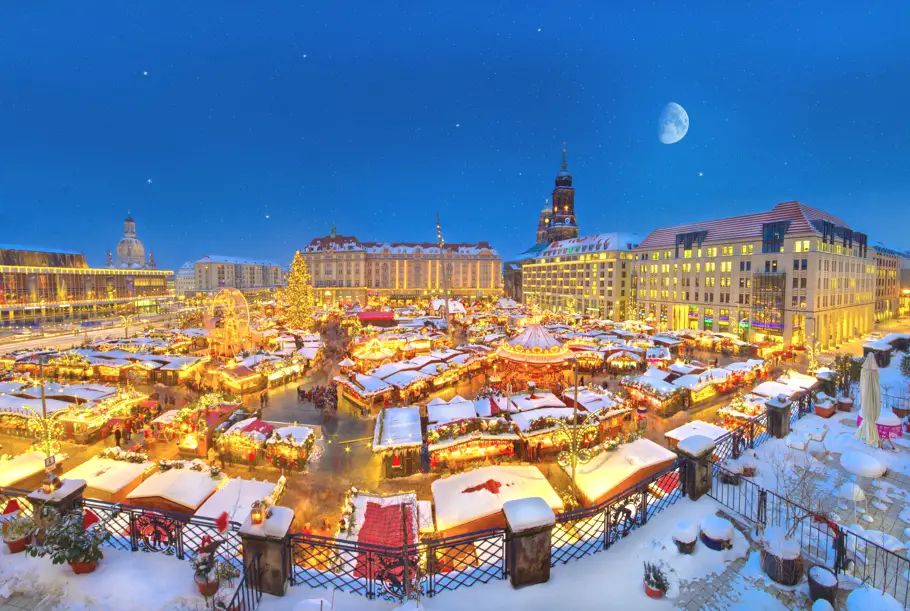 Images courtesy of: Ty Stange, Tovoli, Visit Copenhagen, Visit England, Andres Andresen, Visit Estonia, Atno Weinhaeupl, Anto Popp, Austrian National Tourist Office, Ralf Schedlbauer, Birgit Fuder, Goran Assner, Henrik Trigg, Visit Sweden, Czech Tourism, Tourisme Mullhouse, Eric Danhier, Visit Brussels, Sylvio Dittrich, Torsten Hufsky and Dresden Tourism.

Love Interior Design & Exotic Travel? Follow us..
November 30, 2012 | Travel | View comments