The Luxury Banjan Tree Lijiang hotel overlooking Jade Dragon Snow Mountain, China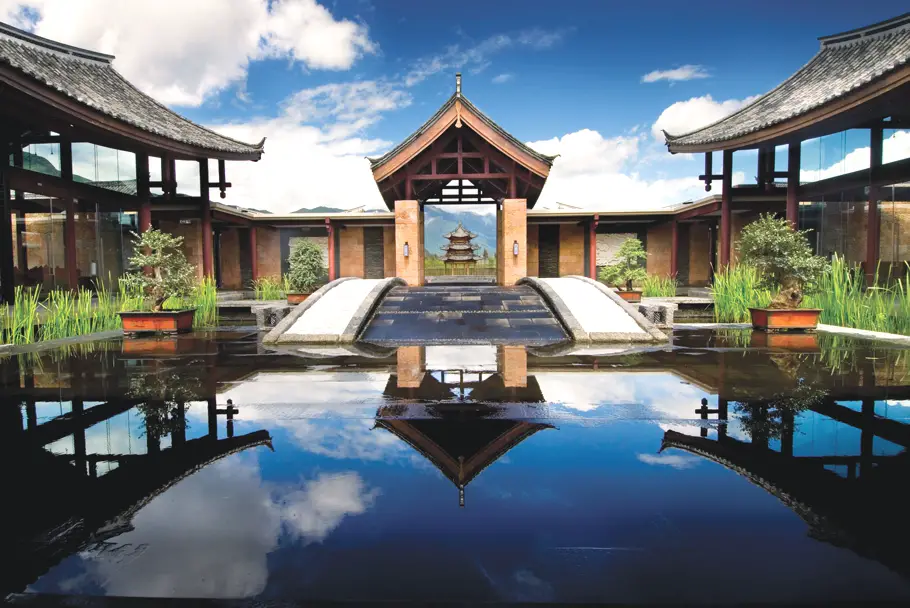 At 2,400 metres above sea level on the Northwestern Yunnan Plateau  lies the ancient capital of the Naxi Kingdom – Lijiang, one of the last  places in China that an intrepid traveler may experience a historic  culture harking back to the period of the Warring States.
An intimate mountain town of stone and tiles, Lijiang is streaked with  canals of natural spring water and houses a civilization as old as its  wrinkled cobblestones.
Overlooking the Lijiang Old Town 15 kilometers away is the Jade Dragon Snow Mountain. Known as the soul of Lijiang city and the Naxi tribe, this snow-covered mountain resembles a jade dragon lying in the clouds. Jade Dragon Snow Mountain is also called "Natural  Glacier Museum" for its numerous types of glaciers.
Laced with a dizzying array of canals and quaint bridges,  this 'Venice of the Orient' exemplifies the true meaning of 'poetry in motion'
This is where you can find the award-winning Banyan Tree Lijiang. The luxury Chinese hotel reflects the rich fabric of this well-preserved ancient city. Step into a majestic sojourn befitting the legacy of the legendary Naxi Kingdom.
The hotels stunning villas or suites are inspired by the breathtaking views of  the majestic  jade Dragon  snow Mountain.  Exotic pink  stone and grey bricks on the exterior of each abode are  complemented by the russet red interiors with chinois-styled teak furnishings.
Adelto loves the deluxe pool villa.  A heated plunge pool offers the indulgence of swimming outdoors in cool, crisp weather, while the spacious study, bedroom and bathroom offer scenic  views of glowing sunset and mist-covered mountains – bliss!
The luxury Chinese hotel is just 40 minutes away from Lijiang  airport, the resort is 15 minutes from the historical UNESCOO town of Dayan, which is  known for its winding canals, bridges, and cobblestone streets.
Banyan Tree Lijiang, Yuerong road,  Shuhe Gucheng District, Lijiang, Yunnan Province, 674100, China, banyantree.com
Love Interior Design & Exotic Travel? Follow us..
March 6, 2013 | China Lijiang Travel | View comments