Amandayan opens in China's fabled city of Lijiang
Luxury hotel Amandayan has opened in the fabled city of Lijiang. Set on a hillside above the UNESCO-protected Old Town, the hotel draws its name from the Sanskrit-derived word for 'peace' and 'Dayan', the historic name for Lijiang when it was first established by the ruling Mu family in the 13th-century.
The luxury Chinese hotel is made up of traditional courtyard buildings and offers 35 bedroom with terraces and views of Lijiang, the countryside surrounding the city and the snow-capped mountains on the horizon including the Jade Dragon Snow Mountain, considered one of China's most scenic peaks.
Tucked into the northwestern corner of Yunnan Province, Lijiang is often referred to as one of the most beautiful places in China. Amandayan provides the perfect base to explore the town, experience the many facets of the indigenous Nakhi culture and take in the region's spectacular natural attractions including Tiger Leaping Gorge.
Suites are decorated with materials and fabrics from the region, including Yunnan pine from Shangri-La, striking Nakhi embroidery and elaborate Dongba wood carvings of flowers, birds and other nature motifs. The term Dongba refers to the priests of the Nakhi people to whom harmony between man and nature is paramount.
A special part of the luxury resort is the carefully preserved Wenchang Palace located on the property and set in a traditional courtyard dating back to 1725.
Epicureans can dine in four dining options. The Lounge, located next to the main reception, is open throughout the day and serves Western and Asian cuisines featuring local organic produce. Open for lunch and dinner, Man Yi Xuan is dedicated to Yunnan and Cantonese cuisines. An additional dim sum menu is on offer at lunch. There is seating for 88 including four private rooms. Offering indoor and outdoor settings, the Tea House serves traditional Chinese snacks and tea with mesmerising views over the Old Town.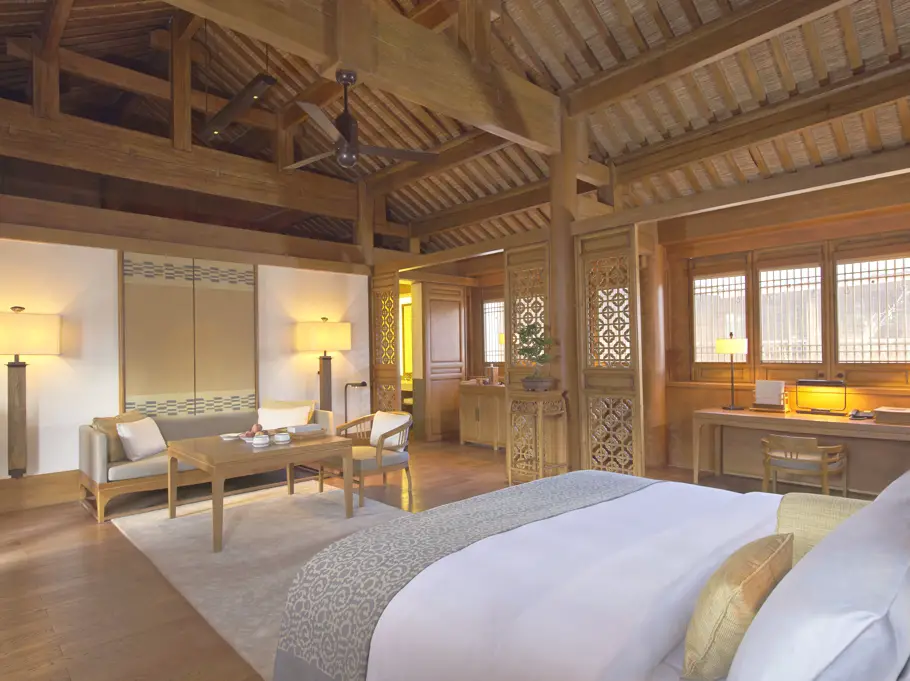 The hotel's spa comprises six spacious treatment rooms, each with a separate relaxation area. Locally inspired treatments include the Tui Na massage which helps improve movement and flexibility through yoga-style stretches and acupressure techniques.
In the middle of the spa courtyard complex lies a serene 20-metre outdoor swimming pool, which is heated year round.
Amandayan, Lijiang, China, amanresorts.com
Love Interior Design & Exotic Travel? Follow us..
March 20, 2015 | Asia China Lijiang Travel | View comments