Spa Review: Luxury Hammam at Angsana Spa Bab Firdaus, Marrakech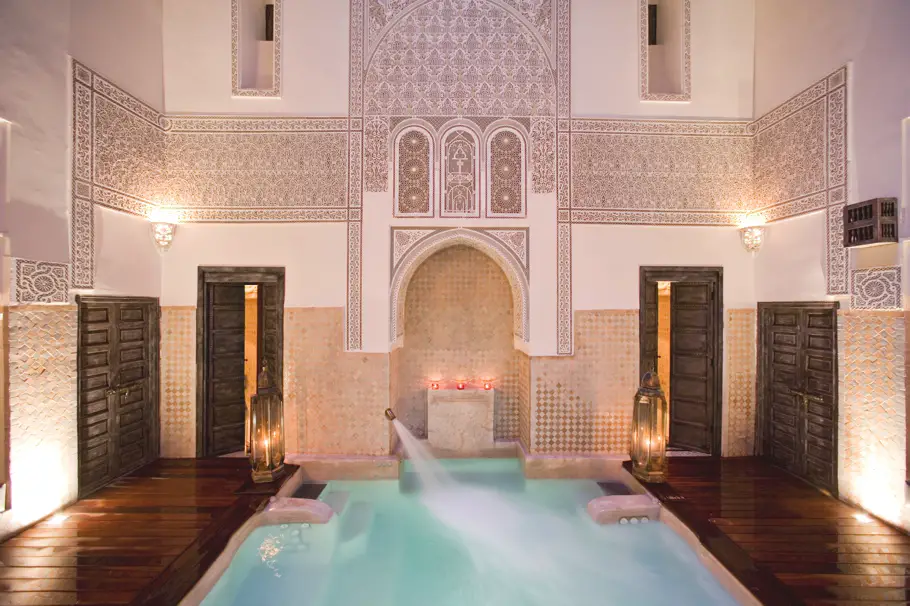 Angsana Riads Collection Morocco is home to the award-winning Angsana Spa, which blends traditional Asian healing and wellness concepts into the exotic Moroccan culture, says Assif Majid.
Tucked away in a corner of Marrakech, the luxury Marrakech Spa is a haven for Moroccan and Asian relaxation rituals created in the most tranquil oasis.
Strategically located in the smart district of Riad Zitoun, 15 minutes from the airport, and only a stones throw from some of Marrakech's main highlights such as the: souks, square DJemaa el Fna, Bahia museum, Si Said museum and so forth. The collection six Riads Angsana in Marrakesh will plunge you into the exoticism of the red city in a unique and elegant frame.
It has to be experienced to be believed – and I can now sincerely confirm rejuvenation comes in 90 minute doses, at the magic hands of a qualified Banyan Tree masseuse. 
Angsana Spa therapists undergo professional training at Banyan Tree Spa Academies based at Phuket in Thailand, Bintan in Indonesia or Lijiang in China. The dedicated training facilities ensure that therapists of Angsana Spa deliver consistently high quality of service to exceed the expectations of discerning spa enthusiasts, explained the spa manager. The luxury Marrakech Spa employs English, Arabic, French, Indonesian Filipino and Thai speaking staff.

The Treatment
After a conversation with the spa manager I opted to have the traditional Hammam spa treatment with a Java massage.  In addition, I had the option to choose from three scented flowers that would be placed under my massage bed while having my treatment to help me relax—I selected eucalyptus over orange and pine—and oh what an experience!
I was given some hot Hibiscus tea (Roselle) on arrival, it's believed the tea reduces cholesterol and high blood pressure. The tea had a wonderful deep pink colour and a lovely aroma.
After quaffing the relaxing potion I was greeted by my masseuse who went through the treatment, asked if I had any allergies or health problems and explained what I should expect, I was then ushered into the changing room to don swimwear and slip into my slippers, I was also given a towel and sarong, the disposable underwear didn't leave much to the imagination! The changing room facilities include an electronic safe, giving you peace of mind your valuables are safe so you can relax, unwind and enjoy your luxury Moroccan spa treatment.
The Angsana Riad Bab Firdaus (Gateway to Heaven) is a luxury affair—a central courtyard with stunning gabs (picked honey-comb-like plasterwork) and tagguebasts (cornices of sculpted plaster) around its central columns. The main room is stunning with its high ceiling; central swimming pool complete with waterfall and two massage tables. It really has the wow factor – very grand and opulent in every way. The smell of exotic oils, soothing sound of the waterfall and atmosphere took me back in time to the 'Arabian Nights'
The first spa stop was the steam room, where I was doused from top to toe with pails of warm water using a traditional brass bucket. The steamy effect is perfect to open the pores to dilate, allowing deep cleansing of the skin. Next traditional savoir noir (black soap) made from a base of black olives, eucalyptus and mint is applied all over – there is little room for modesty – so be prepared. I was then left to relax and enjoy the steam effect of the Hammam.
About 10 or 15 minutes later more water is poured over you to cleanse, and then the traditional scrubbing gloves come out, which are used to give you an all-over exfoliating, invigorating body scrub. Moments later more water is poured over you including a final splash of cold water, and then I was left to relax some more. I was then taken to a chill out area in the main room with bottled water, soft music and when my therapist returned I was asked which oil I would like for my massage. I picked Melody Oil; it's a blend of lavender and turmeric. I have a wonderful but firm session to ease my knots. The masseuse made sure the strength was fine for me and throughout the massage made sure I was OK, but did not disturb me at any point, allowing me to drift off at one point.
After the massage I was given raspberry & honey tea with some freshly cut apple to enjoy. The whole process takes just a couple of hours and I'm feeling ravenous, sedated, cleansed and my skin has never been so silky soft and smooth. I'm ready to face the world again —I felt amazing!

The Verdict
The Hammam at Angsana Spa offers a truly luxurious and relaxing experience, in opulent surroundings. There are plenty of packages to choose from and are at affordable prices too. It would make a great treat to share with a friend or partner, to use to relax and pamper you. Staff at the luxury Moroccan Spa are brilliant – attentive, courteous and highly professional.  The interior design of spa conveys a relaxing atmosphere before, during and after your treatments. It beautifully amalgamates a taste of Morocco with Asia. I can't wait to go back.
To make a booking or for further information visit angsana.com
Images courtesy of Assif Majid and Angsana Spa
Love Interior Design & Exotic Travel? Follow us..
September 10, 2012 | Travel Reviews | View comments