The big 5: Glamorous art hotels of the world
A new wave of glamorous art hotels around the world is challenging the incumbent paradigm. A paradigm where a seemingly pleasant and comfortable looking room is allowed to be made not quite right, by the lackluster imagination embodied in the room's artwork.
Now, art enthusiasts will no longer be limited by restrictive opening hours within the confines of art galleries and museums. At these boutique art hotels, the boundaries between art and design are blurred, crafting a magical opportunity for guests to admire and be inspired by the creativity and beauty art embodies.
The Sofa Hotel – Istanbul, Turkey
Designed by renowned architect Sinan Kafadar, The Sofa Hotel and Residences is a blend of minimalist chic and Ottoman flair with 82 spacious rooms and suites. Facilities such as the brand new 500 square metre HALLARTS is a multi-functional event space that contains a sliding roof, glass separation and open air access. This new arts platform offers galleries, as well as international and local artists an opportunity to showcase their works right in the center of Istanbul's trendiest Nisantasi neighborhood. The hotel's innovative "Anytime, Anything" button connects to staff 24 hours a day and allows you access to everything from concert and art exhibition tickets to rare books from the nearby Patika bookstore.
Opened in 2013, The Thief hotel is home to 119 guest rooms and suites, featuring Scandinavian bedding designed by Høie, dressed in warm shades of mustard, taupe and burnt orange. In combination with charcoal and black hued furniture by B&B Italia, this recipe evokes a sense of timeless elegance. Spacious bathrooms in white Vittorio marble paired with Norwegian designed bathrobes and woolen slippers ensure a supreme level of comfort and luxury.
Sune Nordgren is the hotel's curator who skillfully enriches each guest's stay, whereby a careful selection of handpicked art works created by Norwegian and international artists can be admired in every room and suite. You can further indulge your senses, offered by the various video installations, graphics and photographic art fused into the common areas of the hotel. Furthermore, the hotel is in partnership with the Astrup Fearnley Museum of Modern Art, which means upon subsequent visits, you can marvel at an ever-changing collection of eclectic artworks.
Tribe hotel is arguably the most perfect marriage of authentic African elements and the sophisticated features of a modern style. This beautiful sanctuary invites guests to embark on a cultural journey, where handpicked arts, crafts and furnishings from all around Africa capture the rhythm and diversity of the continent.
Iranian architect, Mehraz Ehsani and interior designer Les Harbottle's creative vision comes alive in each of the 137 bedrooms, where sculptures and paintings roam free amidst the earthy mix of deep reds, sandstone and shades of cumin. The African warmth seeps seamlessly into the sea of cool granite, white marble and stretches of dark Indian slate, present in the hotel's restaurants and lounges. The slick, loft-like design incorporates atypical angles and asymmetry where African figurines and skillfully sculptured gourds, provide unexpected moments of beauty and reveals the visceral rawness and rich heritage of Africa.
QT Sydney exudes a charming yet flamboyant aura, oozing an eclectic mix of show business glamour with a dash of edge. Situated in the heart of Sydney's central business district, the building's stone cladded façade and art deco architecture has been restored to its former glory. Contrasting to the exterior, at the heart of this boutique hotel, lays quirky statement furnishings and geometric patterns, which bring a contemporary, yet eccentric feel to the 200 designer bedroom hotel.
Light and video installations by Australian and New Zealand talent adorn the restaurants, lounges and bar spaces, forming a perfect union with the vibrant hues of the furnishings, clad in royal blue, magenta and ruby red. Unique design pieces, such as hanging light fixtures shaped like bowler hats and perspex display cabinets, lit up with geometric shaped collectables are an unusual touch in each guest room. QT Sydney encourages guests to flirt with tradition and elevate their appreciation of contemporary art through new lenses.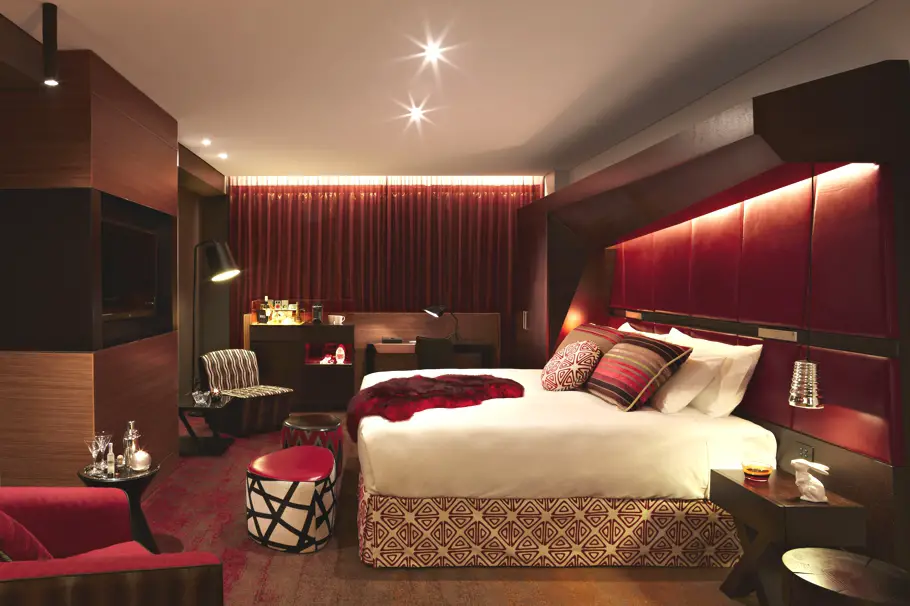 The brilliant blue waves slides up over the Adriatic coast, excitedly whispering hello to the shore with each lap. The hotel interior's sultry minimalist curves, hugs the exterior's "Y" shaped structure, resembling in appearance a luxurious ocean liner floating on the lush green hillside in the Mediterranean forest.
Hotel Lone is a unique design hotel, exploring the connection between nature and manmade design. The incorporation of glass and mirrored walls within the vast public spaces, openly welcomes the reflections of the forest greens and brilliant blue sky inside, encouraging leisure and business travelers alike to entertain a slice of the outdoors in. Specially commissioned visual art installations from both Croatian and international artists enhance the public spaces, inciting a sensory union between art and nature. Nature and contemporary design are inextricably linked at Hotel Lone as it celebrates the fragility of art and wonder of life.
With this bold and innovative shift in paradigm, the future expansion for boutique art hotels is promising. Discovering new connections, combinations and relationships between art and design represents an exciting journey for the industry. Brace yourself to be swept up in luxury and indulge in the divinely decadent world of contemporary and traditional arts.
Images courtesy of Design Hotels
Love Interior Design & Exotic Travel? Follow us..
April 24, 2013 | Travel | View comments