Stylish new-look unveiled at Fairmont Singapore hotel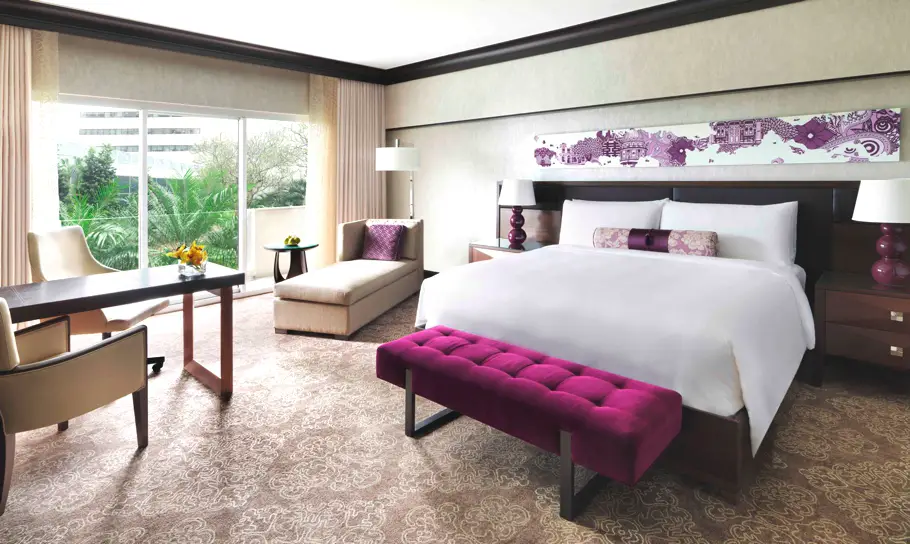 With tourism booming in Singapore hotels are looking to attract new customers and standout in a crowded market.
Following a multimillion-dollar refresh that included a vibrant new lobby, a modern cocktail bar and all guestrooms in the north tower of the luxury hotel Fairmont Singapore.
The redesign merges contemporary and Peranakan traditions. Pernakan is a blend of colonial Chinese and Malaysian customs and crafts.
The new hotel lobby now features an eclectic collection of art pieces that together illustrate the mix of cultures present in this cosmopolitan city. Taking the limelight as the focal piece in the lobby is an outstanding chandelier designed by Petra Dickova entitled 'playing with wing' which illuminates the entire lobby with its 800 bohemian crystal glass balls, each individually hand-blown to perfection over three months.
The luxury hotel's 'premier rooms' in the north tower are specially designed to represent the pinnacle of elegance and comfort, with the newly revamped rooms featuring stylish accents of Singapore's heritage alongside modern amenities and innovative features. New design elements include a bespoke carpet that resembles the traditional hand-painted clay tile flooring of Peranakan homes as well as exquisite curtains that take inspiration from the delicate lace embroidery commonly found on the Peranakan 'kebaya' (a traditional dress work by the Peranakan 'Nyonya' women.
Fairmont Singapore, 80 Bras Basah Road, Singapore, 189560, fairmont.com/singapore
Love Interior Design & Exotic Travel? Follow us..
July 30, 2014 | Asia Singapore Singapore City Travel | View comments