Stylish design for Kyocera's UK HQ by Area Sq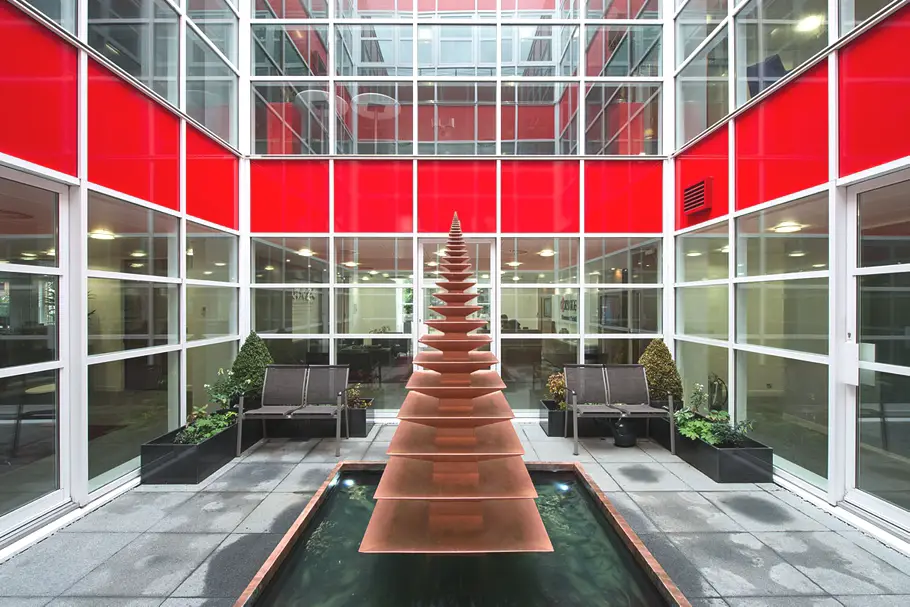 London-based commercial interior design specialist, Area Sq, has designed the new headquarters for Kyocera Document Solutions UK Ltd. Completed in 2013, the new headquarters are located in Reading, England.
Over an 18 month process, Area Sq assisted Kyocera in finding an appropriate flagship building for their Reading headquarters. Eldon Court, chosen for its potential and prominent location, was in a poor state of repair. Having been vacant for four years, Area Sq, along with sister company, Sketch Studios, transformed the rundown building into a contemporary working environment.
The 29,000 sq ft workspace includes a stylish reception with soft seating, strong branding and a tranquil ornamental garden, creating a great first impression for visitors and staff. A suite of meeting rooms, a training suite and showroom facility have also been created for clients and partners to showcase Kyocera's latest technologies.
The biggest challenge faced by the designers was transforming the dilapidated building in to a contemporary building which fulfilled Kyocera's aesthetic and technical requirements.
Gary Chandler, managing director at Area Sq, said to Adelto: "We had to be very visionary in how the building could be transformed and we created detailed visuals to enable Kyocera to fully understand our vision.
"Due to the buildings general disrepair the refurbishment works were extensive. This included the installation of new energy efficient VRV Air conditioning and lighting, replacement ceilings, partitioning, decorations, flooring and the provision of new office furniture."
The office building is situated in the historic Eldon Court Square where all properties are listed and mostly constructed from limestone and externally resemble residential housing.
Inside, the designers have created a modern contemporary workplace that fully reflected Kyocera's brand and heritage, whilst still engendering a cultural shift to a more agile working environment including collaboration areas and show room facilities to demonstrate latest technologies.
From the outset it was clear that Kyocera value their staff and wanted to invest in their future via the workplace. By offering many diverse working environments, the staff are never far away from a collaborative zone, high back sofa or touch down areas should fulfil all their creative needs. Showers, a large café area and even a games room have been incorporated to ensure the social aspects of the office were  covered. The glass was used for partitions also increase transparency.
Chandler adds: "Having worked with Kyocera over the last 18 months, we are delighted to have delivered a workplace that ticks all the boxes for a sustainable HQ and reflects their strong sense of brand identity and heritage. The final result embodies Kyocera, their brand values and most importantly their business culture, which is honest, open and welcoming."
Images courtesy of Thierry Cadineau
Love Interior Design & Exotic Travel? Follow us..
January 20, 2014 | Property | View comments