Read the first chapter of Style & Glamour By Sophie Paterson
Style & Glamour' divulges Sophie Paterson's unique tried and tested methods of glamorous yet practical and affordable design, which have been, employed throughout her numerous projects. Included in the book are room-by-room chapters on how to approach the design and get the very best of each individual area in your home. The 120 page hardback book includes exclusive, inspiring images from Sophie's latest projects for the reader to draw on for their own projects along with an abundance of trade secrets.  You can purchase the book here for £39.99 and all proceeds from the sale are being donated to The Mayhew Animal Home.
<Sophie Paterson Interiors was formed in July 2008, and has grown into a successful interior design studio working on high end residential and commercial projects across the UK and Europe. Recent projects include a manor house outside of Cambridge, a fashion designers pad in Islington and a grand apartment in Eaton square.
Interior design and property development is a second career for Sophie. Having originally studied International management and Spanish at Bath University she lived in Madrid, working on Metro Newspaper as a translator. Shortly afterwards she worked for a prestigious restaurant group launching and heading up an events team.
The leap from Events to Interiors came about by chance- although she'd always been passionate about Interior Design she felt that coming from a traditionally academic family that a creative career was not an option open to her. In 2007 A property developer that visited her home to quote for some renovation work liked her interiors and offered her the opportunity to design his latest development. This development turned out to be a 4000 square foot Kensington townhouse that was once home to David Bowie. Talk about jumping in at the deep end!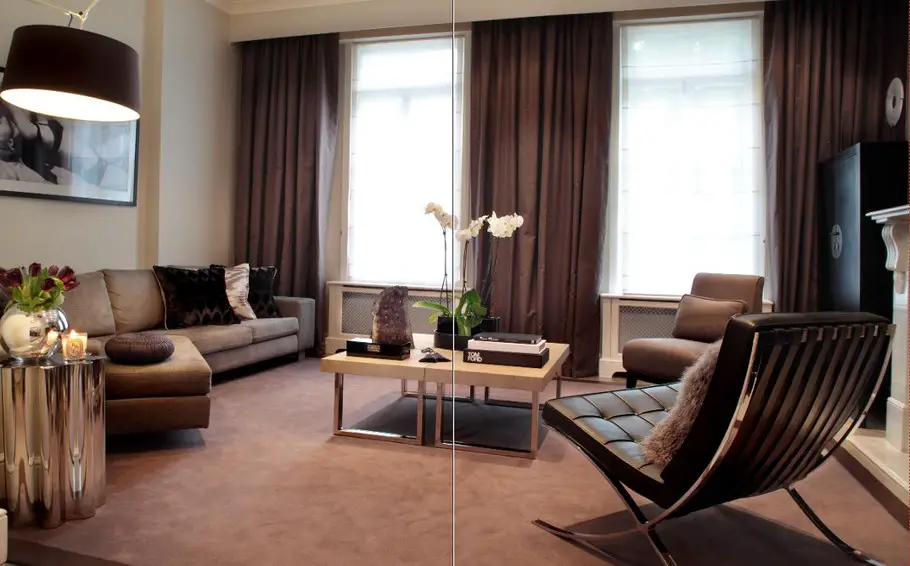 Having seen that her passion for interiors also translated into a commercial talent Sophie left her previous job to pursue a full time career in interior design. Initially she worked exclusively for the property developer but after requests for her services started coming in she decided to study CAD design at KLC to brush up on her technical skills and set up her company in 2008. Sophie has since designed countless properties in both the private and commercial sector across the UK and Europe. Her portfolio is a varied one – with projects ranging from a three storey office in the heart of Clerkenwell to a manor house in Cambridgeshire and a penthouse in Barcelona.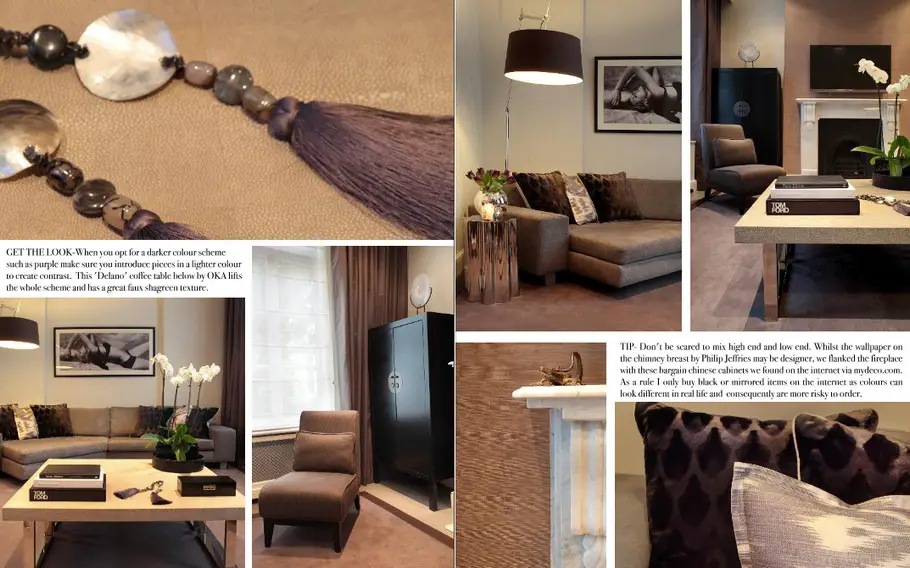 Sophie decided in early 2011 she would like to write an interiors book as she receives numerous emails and enquiries asking her where she has sourced specific items from and also for career advice from those wanting to break into the interiors industry. Having experienced first hand how tough it can be to forge a career in this often intimidating industry Sophie feels passionately about helping others to further their careers in interior design. Commenting on her career Sophie notes 'I feel very fortunate to be doing the job I feel I am meant to be doing, ever since I was a little girl I knew deep down that this was what I wanted to do. It is such a privilege to be your own boss, in such an amazing industry and have clients prepared to spend their money to realise your vision for their property.'
Discussing her passion for charity "Very early on in the process of writing the book I knew I wanted to give the proceeds to charity. Being an animal lover I feel strongly about animal welfare- particularly when it comes to animals suffering neglect and abuse. Sadly this is prolific across the world and London is no exception. The Mayhew Animal Home for me is a particularly outstanding charity as it is very efficient- being relatively small it does not have an excessive marketing budget and all the funds are channelled towards helping the animals. The people that work there are so inspiring in their tireless passion to help animals that are suffering. Moreover as an interior designer I recognize the importance of comfortable surroundings and the animals at The Mayhew enjoy unparalleled levels of comfort and luxury with individual sound proofed pods for the dogs with comfortable upholstered beds, an abundance of toys and even their own tv's! The Mayhew helps 1000's of animals escape a life of neglect and cruelty every year in London."
Sophie went on to say that "I wanted the book to be a reference book with lots of handy tips and trade secrets but also to be a book that would look good on your coffee table with beautiful images. Choosing the images and layouts with the help of my team was the easy and fun part. Less fun was having to analise my design process- designing for me is coming up with a creative solution to fulfill lots of requirements – making the most of the architecture of the property, minimising any weaknesses of the space (limited light for example) meeting the clients brief – there are countless considerations that I factor into my ideas when I design, as well as using my inspiration from beautiful finishes, images or furniture that I may have recently discovered. I would say that all of these factors work on a subliminal level, the actual design process is driven by a feeling of what is right for the space. As you can imagine putting this into words is no mean feat! And so I decided rather than rambling on (as I have here!) and boring the reader with chapters and chapters to let the images dominate the book and write short captions relevant to each image to either explain the idea behind the design, or write a tip on how to approach a similar space or share where I sourced the items from. For an interior designer your suppliers and trade secrets are gold dust and it probably goes against all the rules to share these but I like to feel there is value to everything I supply or sell and this also applied to the book- I want it to be a must-read, informative and inspiring."
Love Interior Design & Exotic Travel? Follow us..
December 20, 2011 | Professionals | View comments