Posh fish restaurant food unveiled on Finnair business class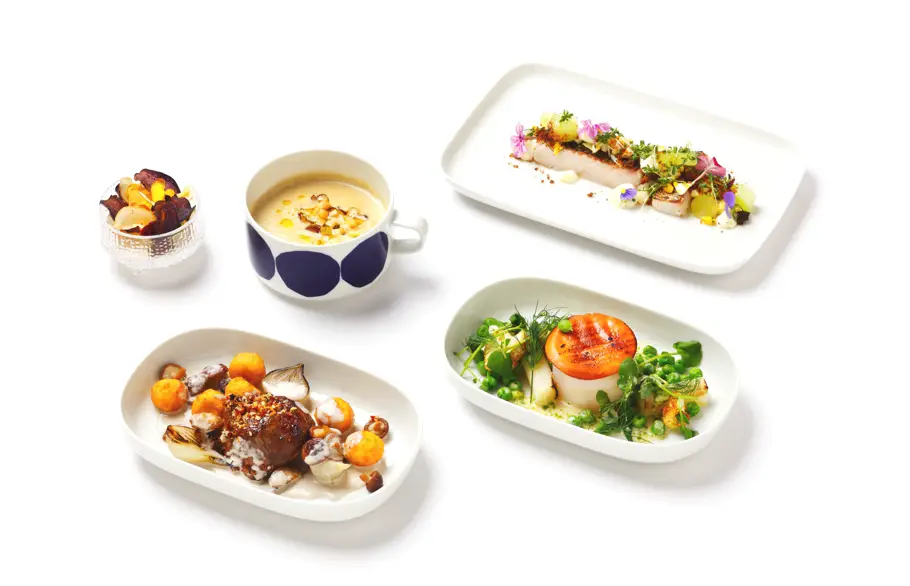 Finnair and leading Finnish restaurants will create signature menus for business class passengers on long-haul flights starting January next year.
Finnair has teamed up with chefs from some of the country's leading restaurants to create signature menus that will be available in business class on long-haul flights from Helsinki beginning at the end of January 2015 through the spring of 2016.
Matti Jämsén from G.W. Sundmans, Ari Ruoho from Nokka and Kari Aihinen from Savoy, have designed the menus that have been inspired by season ingredients and experimentation with bold flavours. The menus will be rotated at approximately three-month intervals.
Maarit Keränen, head of service concept at Finnair, said: "We have received very positive feedback from customers regarding our previous partnership with top Finnish chefs, and we want to continue to offer delightful culinary experiences to our customers while also highlighting Finnish world-class expertise on our long-haul flights.
"All of the restaurants participating in this cooperation are part of Royal Restaurants, and each of the signature menus reflects the unique and recognisable style of the chefs behind them," explains Mia Saari, restaurateur, Royal Restaurants.
The Menus include seasonal touches such as whitefish, glazed pork cheek and cod. Jämsén is Finland's representative in Bocuse d'Or, the most highly respected cooking competition in the world, with the final to be held in Lyon on 27–28 January 2015.
The menu by Kari Aihinen, is inspired by summer, and includes ingredients such as asparagus, salad made from new potatoes, honey as a condiment, and grilled corn-fed chicken breast.
The autumnal menu designed by Ari Ruoho, head chef at Nokka, draws its inspiration from the harvest season and includes Jerusalem artichoke, northern pike eggs and pumpkin soup.
In winter 2016, it will be the turn of Fishmarket's Signature Menu, which, as one might expect, has a firm focus on fish.
The Ssgnature menus will be complemented by a selection of wines specifically paired with them. The meals will be prepared by Finnair's catering partner LSG Sky Chefs.
Love Interior Design & Exotic Travel? Follow us..
October 10, 2014 | Travel | View comments