New design for Snoozebox, a portable hotel
The new redesigned Snoozebox was officially unveiled in London in November. This portable microhotel will start to be rolled out to major UK and international events next year, from the Grand Prix to Glastonbury. 
Snoozebox is a highly innovative concept which offers a unique experience, combining temporary hotel accommodation with all the mod cons and amenities of a hotel, from free wifi to air conditioning – not to mention comfortable beds and its own bathroom. This portable hotel allows you to be at the very heart of the action, whether that's the Grand Prix or the Download Festival. And now Snoozebox, conceived four years ago as an alternative to conventional accommodation for festivals, sports events and special occasions, has launched a new, vastly improved design which will start to be seen at events in 2015.
The new design delivers additional room space through expanding sides. Two upper level room units, each offering two bedrooms, can be placed on top of the lower level, providing additional rooms. Once in place, the two storeys of Snoozeboxes are each accessed by stairs with a walkway leading to each room. Each room has four bunk beds cleverly stowed within the interior space which can be converted to accommodate four singles, or a double and two singles or one kingsize bed. Each room has an en-suite bathroom with a toilet, basin and shower.  The bathroom space has been designed as a stylish wet room with a flared wall giving a sense of spaciousness and freedom of movement, but also ingeniously provides a dry hanging area for towels and clothes.
During the day, the Snoozebox hotel rooms convert to a living room with storage space, TV, free Wifi, air-conditioning, heating and a safe. When guests first enter the room, they are greeted with a finely upholstered sofa on one side and a contemporary desk on the other.
Snoozebox has partnered with leaders in engineered mobile solutions and the award-winning design firm Tangerine together with logistic and deployment experts Procar International.  The new Snoozebox has been engineered and manufactured by A. Smith Great Bentley coachbuilders and John Dennis Coachbuilders.
Lorcán Ó Murchú, CEO of Snoozebox, said: 'Snoozebox is about bringing an innovative new concept to the hotel market. We put our guests right at the heart of the action, making their event experience bigger, deeper and longer."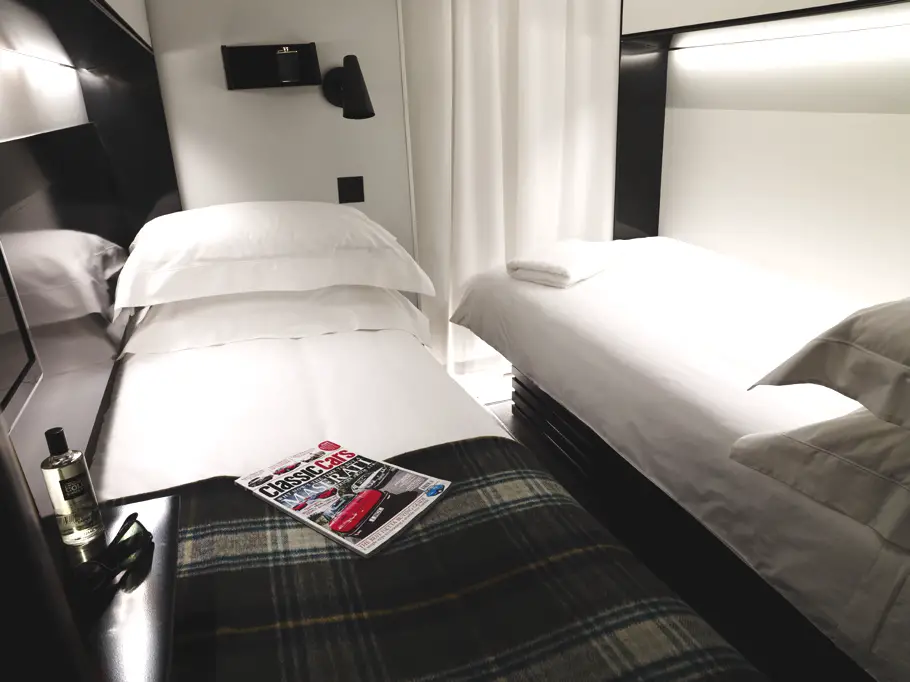 With the prototypes built, manufacturing plans are now underway and the first next generation Snoozeboxportable hotel rooms will start to debut at 2015 events in the UK. The new designs sport an impressive new livery featuring the Snoozebox 'ZZZ' in strong black and silver on its fleet of sleek new trailers.
Images courtesy of Chris Everard
Love Interior Design & Exotic Travel? Follow us..
December 22, 2014 | Travel | View comments