Luxury island hopping cruise in the Seychelles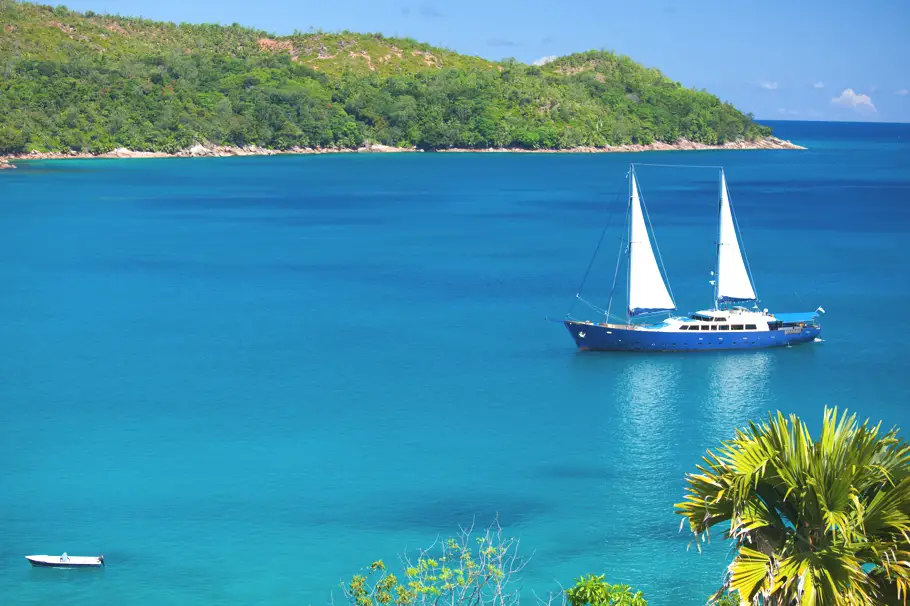 The best way to explore the many islands of the Indian Ocean is by embarking on a luxury island-hopping cruise. Imagine waking up in a fully air-conditioned cabin with private bathroom, pulling back the curtains of your window to see giant tortoises on secluded beaches. That's a typical morning aboard one of Silhouette Cruises four ships in the Seychelles – far from the big vessels and crowds closer to the African coast.
Sailing on one of Silhouette Cruises' graceful ships conjures up images of romance and mystery; of seafaring legends and long voyages to far-off, exotic lands.
Silhouette Cruises' ships accommodate just 21, 24 or 25 passengers and are Dutch-built to feel like you are aboard modern sailing yachts or vessels with high standards of comfort and luxury.
The firm offer four different types of vessels for island-hopping – S.V. Sea Shell, S.V. Sea Pearl, S.Y. Sea Star and S.Y. Sea Bird.
I was booked to travel on the Sea Bird, redesigned in 2007, the two-masted 42-metre yacht comes with four Bermuda sails, sleek contours and modern interiors across its nine en-suite guest cabins and common areas. On deck, you can find plenty of areas for topping up your tan, relaxing and an outdoor covered deck lounge and seating area. The yachts crew include the Captain, chef, mechanic, three stewardesses, dive instructor and two deckhands.
My journey began on the island of Mahe where I was met by the Captain and one of the deckhands in port Victoria, in the capital Victoria – the smallest capital city in the world, with a population of only 25,000.
This was my first sailing experience and what better way to start in the Seychelles. My cabin was compact but perfectly suitable. I wouldn't describe the decor as luxurious, but more modern and comfortable. The cabin comes with a private bathroom, towels and basic toiletries. It was a good thing I had packed my disposable Prada toiletries for my island-hopping adventure in the Indian Ocean.
Silhouette Cruises offer a seven-night cruise giving you the opportunity to see some of the best islands in the Seychelles archipelago. Their weekly cruises run Saturday to Saturday and you'll embark on the Inter-Island Quay at Port Victoria.
Day one starts with when you set sail from Mahe and anchor late afternoon at Round Island, just off the isle of Praslin. This stunning island is only four miles to the east of Port Victoria. The captain goes through health and safety and his briefing about what you can expect on the cruise. In the evening the chef will introduce you to Creole cuisine and a welcome barbeque dinner.
Every morning a hot and cold buffet breakfast is served in the lounge. French toast, porridge, scrambled eggs, cured meats and fresh tropical fruit are on offer. There is plenty of choice, so you won't go hungry for your island excursion.
After breakfast the cruise will take you to Praslin, the second largest island and one of my favourtie islands in the Seychelles. Here you will have the opportunity to visit the world famous World Heritage Site, the Vallee de Mai Nature Reserve, now a UNESCO World Heritage Site, where the famous coco der mere grows in abundance. If you're lucky you may get the chance to spot the rare Black Parrot, Seychelles national bird. Later in the afternoon you can dive, snorkel or simply enjoy relaxing on the boat.
Day three will take you to the idyllic island of La Digue, this was my favourite island in the Seychelles. Lying 45 kilometres from Mahe and about seven kilometres from Praslin it is the fourth largest island in Seychelles, celebrated for its granite boulders that seem to have been sculpted by a divine hand to adorn beaches of breathtaking natural beauty such as Anse Source D'Argent. This stunning beach is thought to be the most photographed beach in the world, and it's not hard to see why. The most common transport on this sleepy island is in the form of traditional ox-carts and bicycles – and definitely worth partaking in.
In the morning, after breakfast the ship sailed towards Grande Soeur and Petite Soeur (the Sisters). The beaches on these uninhabited tropical islands are excellent for snorkelling and diving. In the afternoon, the ship sailed for Coco Island, one of Seychelles' tiny granite jewels, a fantastic spot for snorkelling within a kaleidoscope of tropical fish.
Every evening the talented chef prepares a banquet. The food is a mixture of Creole and international cuisine. If you're a seafood aficionado you will be spoiled for choice. I really enjoyed the spicy fish curry with saffron rice. And if you have any special dietary requirements or are vegetarian this can all be catered for. Meal times on the boat are very social. I was travelling with a group of Swiss, Austrian and German tourists who were all very friendly.
Day five saw us heading to Booby island for a morning of water sports and diving. After a morning swim, lunch was provided on board and we sailed towards Aride Island, a nature reserve famous for native birds including five endemics and the world's largest population of three species (Lesser Noddy, Audubon's Shearwater and Seychelles Warbler). Aride is the only natural location in the world for Wright's Gardenia and 400 species of fish have been recorded around the island.
The next island we visited was Curieuse, this virtually uninhabited island is perfecting for exploring the vast mangrove forests and its giant tortoise farm, along with the historic ruins of a former leper colony. This would be the penultimate island we would visit before the ship sailed back towards Mahe. Our final stop saw us visit St Anne Marine National Park, the six small islands lay about 5 kilometres from the capital Victoria. Discovered on Sainte Anne's Day, it was the first place the early French explorers settled before colonising nearby Mahé. The ship then sailed towards Port Victoria where we spent our final night.
The island-hopping cruise is a fantastic way to see the Seychelles and I will treasure the memories for life. The cruise is a great option for couples, families and individuals as you can really discover the Seychelles in a stress free and luxurious way. The service and staff is second to none and you will be looked after. In addition to visiting the Seychelles Silhouette Cruises offers a dive safari and a sea kayaking cruise.
Weekly itineraries run from November-April and May-October, Silhouette Cruises, Inter Island Quay, Victoria, Seychelles, seychelles-cruises.com
Love Interior Design & Exotic Travel? Follow us..
August 23, 2013 | Travel Reviews | View comments