Hotel review: The Parker, Palm Springs, California
It's the opposite of minimalist – it's maximalist, if there were such a thing. Think colourful, irreverent, eclectic, sometimes kitsch and always interesting. Mid-century modern fused with pop culture and quirky decorative pieces. Serge Mouille-style light fittings to Peruvian wall hangings and loos guarded by knights' suits of shining armour. Think style, craft and joy. This is groovy designer Jonathan Adler's creation at The Parker hotel in Palm Springs, California, says Caroline Phillips.
It's a 13-acre desert estate with three pools and 144 rooms, plus those in 12 villas and (singing cowboy movie star) Gene Autry's erstwhile luxury residence.
Let's start at the beginning. From the hotel's heaven-high tangerine lacquered lobby doors opened by staff in pink trousers, you walk into an open- plan lobby and chilling area. A place of sequined cushions, and eccentric ceramics. Just past the picture that reads DRUGS and the zany coloured glass collection, there's a fire pit surrounded by seating on lime and orange cushions and beetroot Moroccan pouffes. Feast for the eyes is too mild a description – it's a six-day-banquet for the peepers, this luxury hotel.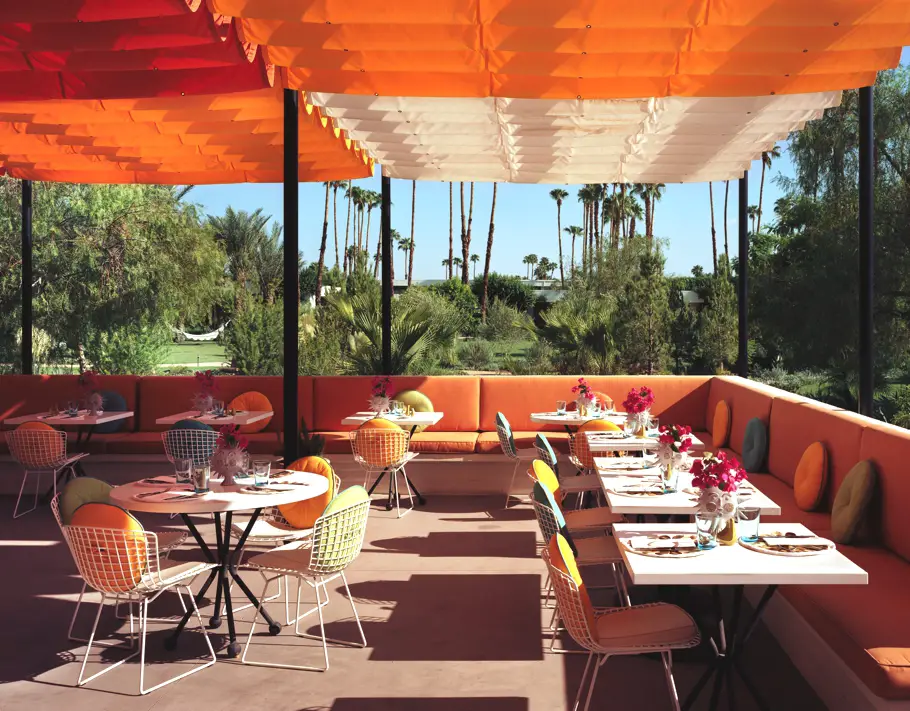 As for its restaurant design, there's Mister Parker's – a wood-panelled, dimly lit, clubby hideaway with button- backed leather seating and eclectic art. Then there's Norma's restaurant – its al fresco part under a jolly orange and yellow canopy. There you sit on clementine coloured banquette seating and wire base chairs.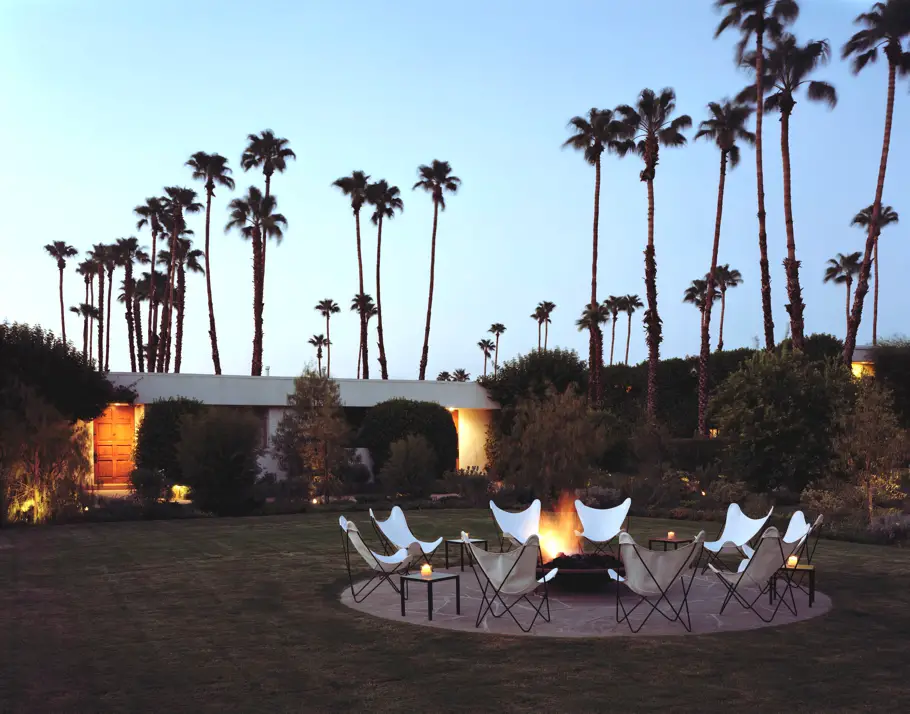 The gardens are not what you'd expect in the desert either: they are filled with pampas grass, bougainvillea, bubbling Moroccan tiled fountains and lawns for croquet and boules. There are little nooks in between trees with comfy seating and more gurgling water features. Olive and pine trees and birds of paradise. You walk through grounds strewn with blossom and find a fire pit. Lie in a hammock between rustling palm trees under a blue sky and gaze at the snow-capped mountains.
One garden path takes you to the 1990s neo classical banqueting building, a perfect place for parties. Another to your homely villa with its four-poster bed, ethnic art and hanging rattan chair. Its paparazzi photos and witty needlepoint pillows. Yet another path leads to PSYC – the Palm Springs Yacht Club – the hotel's 16,500 ft. spa in the middle of the desert. Such wit is very Palm Springs. This, after all, is the town in which Sinatra had a pool built in the shape of a piano. And the PSYC is resolutely anti-Zen in its design – it's made for guests to have a cocktail and long steam before lolling in a Moroccan-inspired relaxation room on a Colonial plantation armchair.
Palm Springs was once the place to be for the entertainment industry's movers and shakers  – party town for Sammy Davis Jr and the Rat Pack. Elvis Presley had a house there too. It was also the playground of Cary Grant to Clark Gable and Humphrey Bogart. And Barbra Streisand and Marilyn Monroe.
Now the retro resort town – a modernist wonderland basking in the sun of the Coachella Valley and surrounded by the glorious San Jacinto Mountains – is uber cool again. And The Parker is leading the way.
The Parker, 4200 E Palm Canyon Dr, Palm Springs, CA 92264, US, theparkerpalmsprings.com
Love Interior Design & Exotic Travel? Follow us..
April 16, 2014 | California North America Palm Springs Travel Travel Reviews US | View comments