Hotel review: Beverly Hills Hotel's Marilyn Monroe inspired suite
The Beverly Hills Hotel & Bungalows recently had her 100th birthday. And like many centenarians, she was ready for a facelift – and so has had an elegant one. This was a great excuse for Caroline Phillips to hop aboard Air New Zealand's fantastic flight to La La Land.
The beautiful results of this grande Hollywood dame's enhancement are seen in Suite 100. Its style is Marilyn Monroe – once a frequent hotel guest – meets Paul Williams, the original architect who designed the hotel's 'polo lounge' and iconic pink-and-green colour scheme.
The original palm-leaf wallpaper remains, as does the cheeky forties vibe – but the powder, bubble gum and candyfloss pink have been replaced with zingy citrus and furnishings in rich hues of green and blue. So much so that the new suite feels crisp, cool and de nos jours. It's modern but still classic, with curved ceilings and walls, forests of black lacquer and about a zillion silk cushions. Quintessentially Californian really, with those tropical prints, shag carpets and a bar made of rich sycamore wood that speaks of the era's modernist influence. A display case showcases original artifacts from Marilyn Monroe's estate, a library of her most popular books and films and song selections from the 1950s.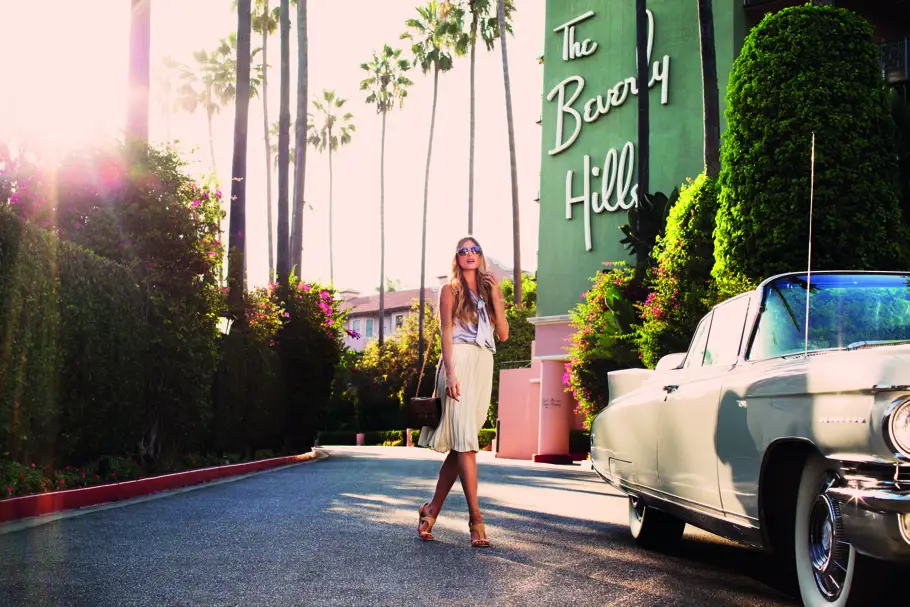 For an additional cost, you can enjoy the 'Norma Jean Experience', which includes a selection of Marilyn Monroe-themed gifts to her favourite room-service dishes and two body treatments in the hotel's La Prairie Spa. But that's not all. The Pink Palace – as the luxury hotel is known – still boasts acres of gardens of palms and banana trees. Plus the polo lounge remains host to Hollywood A-listers. And there's still the cabana-lined pool and fabulous fountain coffee room, a 1950s style luncheonette.
What's not to like? A leading lady through and through, she's a proper Hollywood star. But one who's now ready to sparkle and shine into the next century.
The Beverly Hills Hotel, 9641 Sunset Boulevard, Beverly Hills, California 90210, US, dorchestercollection.com
Additional images of the hotel below
Love Interior Design & Exotic Travel? Follow us..
April 7, 2014 | Beverly Hills North America Travel Travel Reviews US | View comments