Hotel review: Pullman Paris Bercy a chic & cosmopolitan hotel
Paris is an inspiring and grand city with its iconic landmarks, cuisine, museums, fashion and intimate quartiers (villages) that have their own unique personalities. And at the heart of one of these quartiers, known as Bercy Village, a former wine warehouse is where you will find Hotel Pullman Paris Bercy.
The upscale Hotel Pullman Paris Bercy, where Adelto stayed, underwent a full fashion makeover in 2013 alongside sister properties (La Défense, Bercy, Charles de Gaulle Airport, Montparnasse and Tour Eiffel), all part of the Accor group. The 396-room hotel is a chic, cosmopolitan hotel. With modern, elegant rooms, it oozes contemporary chic.
As soon as we entered the hotel a 'welcomer' greeted us and helped us with our luggage. The lobby has been restyled and features, as its focal point, a welcome desk designed especially for Pullman by Christophe Pillet to foster greater proximity with guests and easier interaction. This new concept of checking-in was less formal and very pleasant.
The lobby also features a monumental globe, which has been created by designer Mathieu Lehanneur. It is supposed to represent a symbol of travel and the brand's cosmopolitan personality. The lobby also features a contemporary water feature and funky furniture – the egg shaped chairs brought a fun and frivolous atmosphere to the Parisian hotel.
Contemporary art is also given pride of place in this hotel with a selection of works by Dutch photographer Robert Van Der Hilst. This Dutch photographer is one of the international artists Pullman has partnered with to create its contemporary art collection.
The hotel's revamped spaces now feature soft lighting, patios and harmonious colour schemes that invite you to unwind and explore.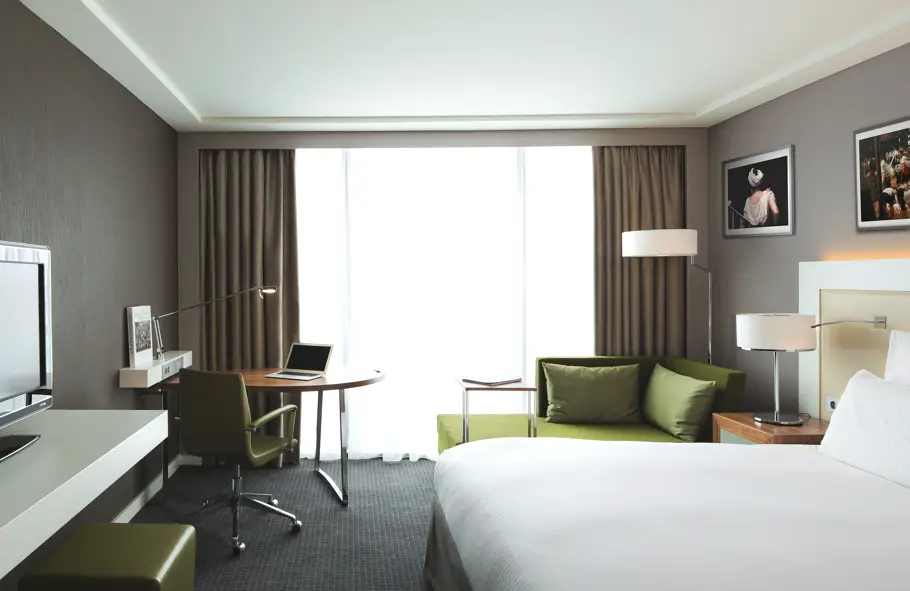 My room a junior suite was on the eighth floor and came with views across Bercy Village. JOI Design has redesigned the hotel's in-style, spacious rooms and suites. They offer guests the best of the Pullman experience: a large desk and desk armchair, the Pullman bed with memory foam pillows, a fabulous rain shower and luxury toiletries by Roger & Gallet.
Large bay windows flood the rooms in natural light and offer a splendid view of Paris. And the contemporary chaise longue was ideal to lie on and take in the view.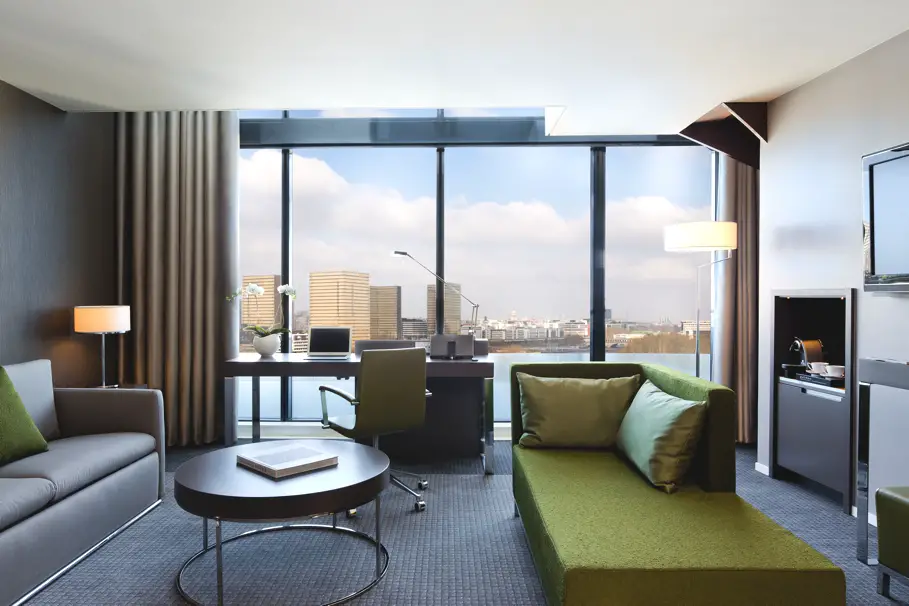 Another great feature of the Parisian hotel is the complimentary soft drinks in the mini-bar, high-speed WiFi access and the Nespresso machine is another nice touch, being caffeine junkies it was much appreciated.
Located in the middle of the hotel, Point Bar is a favourite Parisian business mealtime haunt. The bar was a buzz with businessmen and women in the late afternoon as people gather to unwind for after work drinks. The white chocolate Mojito or the Martini, wine and champagne cocktail are the bomb I'm told. This elegant and fashionable bar also boasts a leafy terrace, which would be a nice place to socialise when the sun is out. Across the lobby is the hotel's signature restaurant L'Esprit du 12eme, which has been entirely redesigned by interior designers Designsquared.
Chef Julien Mercier has created a sophisticted 'wine & dine' style menu featuring dishes inspired by the wines selected by Olivier Poussier, who was voted best sommelier in the world. His cuisine focuses on seasonal fare. Flagship dishes include 'steamed' cod with ratte potatoes, pistachios and coriander, and foie gras 'escalope' with an onion, sultana, oregano and date condiment.
The Paris hotel offers easy access to Bercy Village with its quaint coffee shops, upmarket boutiques and restaurants, shops include Agnès b, Nature et Découvertes, L'Occitane, Oliviers & Co and Résonances for gifts and Omnisens spa and Sephora for beauty. There is also a large car park and a multiplex cinema.
Bercy Park with its botanical gardens can also be found close-by. The park was, in the 12th-century a seigniory, and then later on, the property of a rich family before it was dismantled in 1845. The area was then converted into a huge wine warehouse by the Seine where wine casks from Burgundy where unloaded. The Cinémathèque Française (the former American Center) designed by architect Frank Gehry, can also be found in the northeast of the park.
All in all this is a stylish, contemporary hotel with some beautiful design features and excellent facilities. If you are in Paris for business but want a to avoid the hustle and bustle of central Paris, Hotel Pullman Paris Bercy with its village atmosphere is a great option.
Hotel Pullman Paris Bercy, 1 rue de Libourne, Paris, France, pullmanhotels.com
Images courtesy of Accor and © Paris Tourist Office – Photographer: Daniel Thierry
Love Interior Design & Exotic Travel? Follow us..
December 9, 2013 | Europe Travel Travel Reviews | View comments