Andrew Skurman: Unabashed classicist architect interview
Architect Andrew Skurman is an unabashed classicist. His award-winning San Francisco–based firm, Andrew Skurman Architects, specialises in designing superbly crafted custom residences inspired by the building traditions of French chateaux, Mediterranean villas, and Georgian country houses.
Skurman founded his residential architecture firm in San Francisco in 1992. As principal and owner of Andrew Skurman Architects, he focuses on superbly crafted luxury houses that are perfectly and logically planned to the specific requirements and wishes of his clients.
Skurman draws on an extensive architectural library of European and American design with the precision of an eminent art historian, skilfully adapting timeless design elements to suit today's lifestyles. Collaborating with well-respected contractors, interior and landscape designers, lighting and audiovisual experts, and other consultants, Skurman blends modern comfort and conveniences into traditional settings. Adelto's Assif Majid caught up with Andrew to discuss his new book, which features gorgeous photography and exquisite watercolour studies, Contemporary Classical showcases an exceptional range of residential work.
1 Where were you born and where did you grow up?
I was born on Long Island, and raised in a house on a sand bar, with a southern view over the Atlantic Ocean. As I grew older, there was a magnetic pull to the most exciting city in the world, New York. While other children went out of town for the weekend, we went to the city, to visit family, museums and the opera. I look back on my childhood as being under the influence of two major elements, the ocean, which called for discovery and travel, and the big city, the place of ultimate achievement and ebullient life.
2 What triggered your interest in architecture/design?
In sixth grade I excelled in art. My art teacher thought I should become an artist. But there were architects in the family and architecture seemed to me like a more reasonable way to make a living in the future. My uncle Joe Klein was the chairman of the Board of Standards and Appeals of the city of New York. He ruled on all building variances in the City of New York for 25 years. My grandfather Lou Klein owned an elevator company. I was sent to his firm as a summer intern from the age of 14 because I didn't want to go to camp. So I actually started designing somewhat professionally at that age.
3  How long have you been a professional architect and what was your first design project?
– My real professional life started at age 24. After studying at Cooper Union (New York), my first job was with I.M. Pei and partners. In this very first job, I worked on the design of office buildings but also – in a very modest way – on museums as important as the National Gallery and the Pyramide du Louvre. My most important job in Pei's office was the Boston Museum of Fine Arts, where I designed the Asian curator's rooms.
4 What do you think is the most unique thing in your portfolio?
The Resort at Pelican Hill. I designed it from 2007 to 2009. This hotel that faces the Pacific Ocean in Newport Beach (Southern California) belongs to Donald Bren who has huge architectural erudition. In collaboration with Bren, I was able to fully express my conception of architecture on a grand scale. All the public spaces are inspired by Palladio's 16th century architecture, but of course, updated for the 21st century. It is has a stunning view and a colonnade surrounding a 135' diameter circular pool.
Further downhill, overlooking the ocean, the Wedding Pavilion is a temple in the spirit of the follies built by kings in the gardens of their European palaces. And of course, that is where many happy weddings take place.
The interior of the hotel is plastered in an Italian limestone colour and beautifully decorated with authentic 17th and 18th century tapestries all over. If it were not for the Californian proportions, you would think that you have been transported to the Veneto.
5 What shows your technical proficiency best in your portfolio?
One of my houses is entirely built in stone, which is always complicated, but especially in an earthquake zone. Supporting the stone, while allowing it to sway without breaking off the building during an earthquake definitely takes some technical prowess.
6 What is your favourite design website and magazine? And why?
There is so much talent in this area that I have to name several and be oblivious of many more: for magazines, Architectural Digest, beautifully revived in colour and creativity by the Margaret Russell and The World of Interiors with it's very international approach. Adelto Magazine, which takes me around the globe and whose photos manage to have the look and the light of real life. A wonderful local San Francisco design blog is The Style Saloniste, by Diane Dorrans Saeks. Artnet for art and 1st dibs for furniture are absolute necessities, how did we ever live without them?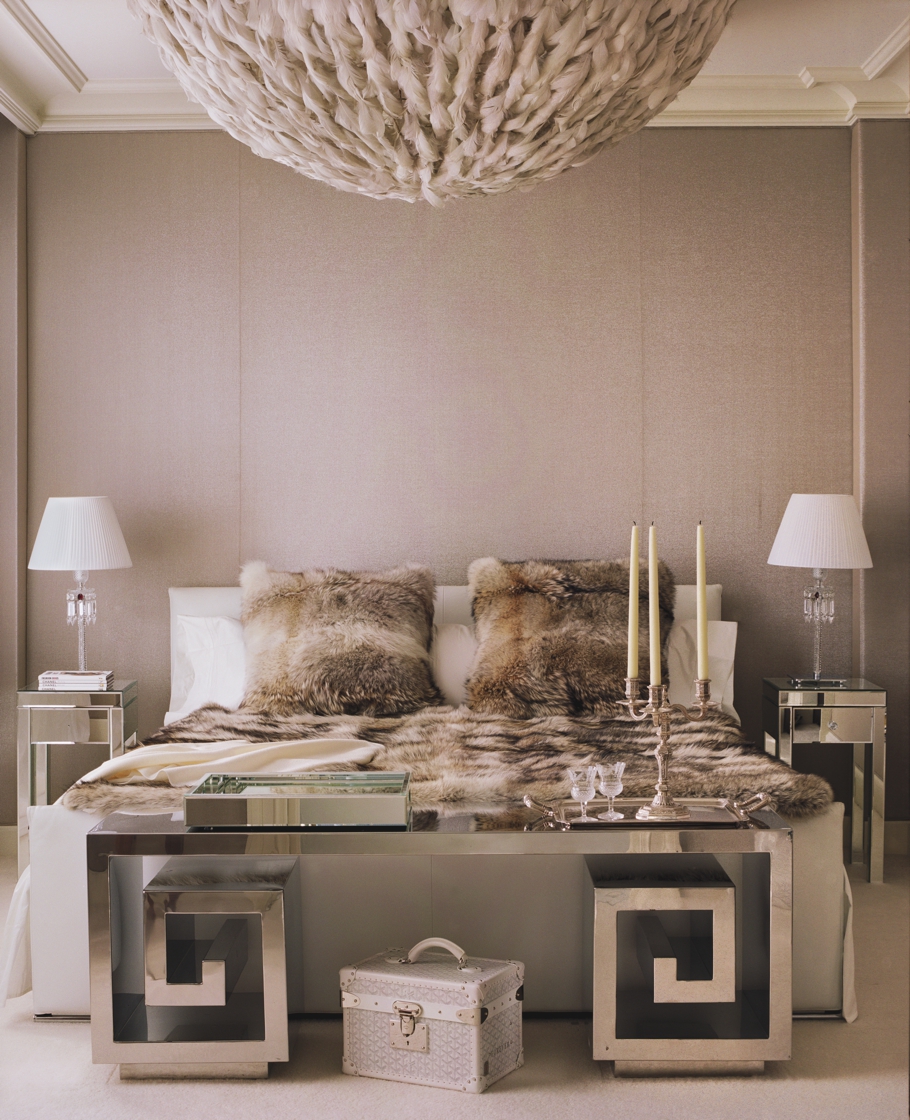 7 What designers, artists and creative's inspire you?
I sway, not with the wind, but with the design direction of a new project. I can be in 16th or 18th century England, in the glorious houses of Vanbrugh or Adam, my mind filled with Gainsborough and Turner. I can be in Spain, in the solemn castles of the 17th century, scrutinizing Velasquez and Goya. I like to be in the mental presence of the art and architecture of a period when conceiving of a new house. I can then formulate a strong concept that works best.
But on the whole, I like architecture and art that is majestic, symmetrical, and conceptually pure : the great German architect Schinkel, the Italian sculptor Canova, the American classical architect Thomas Jefferson,  and the painter Cy Twombly.
8 Are there any projects that you enjoy tackling the most?
I am lucky to have built a few palatial homes reminiscent of famous buildings of the 16th, 17th 18th centuries, including Versailles. But I have rarely expressed my love of the early 19th century. It is a great period, beautifully represented by Malmaison, the house of Napoleon's first wife Josephine. Built in the Empire style by Percier and Fontaine who added Neo-Egyptian elements to Greco-Roman architecture and is I think under-appreciated.  In my Paris apartment, I was inspired to create Egyptian inspired columns.
9 How do you balance more traditional and modern elements in your design?
I love a classical exterior with super modern interior architecture. The concept is that there was an ancient (new) classical villa that's been renovated to reflect the 21st century on the interior. Another favorite concept of mine is classical interior architecture that's juxtaposed with contemporary furniture and art. It's great to mix things up.
10 Whose home would you most love to decorate/design? And why?
I would like to design a house for Anish Kapoor. Would he want a classical house?  I'm not sure. But he is a very architectural artist and I can imagine how interesting the interaction with him would be and how beautiful the expression of the infinite would be incorporated in the design.
11  What trends for 2012 are you embracing the most?
Classical architecture is not really about trends. I hope that my houses will look fresh in a century. The trend that interested me in 2012 is the color grey that has taken over as the most popular color in decoration – very Dior. It can be a little sad, but it is wonderfully elegant if you add some gold or silver.
12 Is there any dream project you have your eyes on?
My business is extending to several foreign countries. I am now working in India and China and I have worked on all continents except Africa.  Every new commission is a dream project and there are also dream locations: Moscow, Paris, Rome and Louisiana. Why Louisiana? It is in my mind the most romantic of the American states. There is a dreamy quality about it and I would like to build a mansion facing the Mississippi.
13 What would you advise budding designers/architects?
I am always impressed by the seriousness, reliability and intelligence of young architects. Theirs is the mind of a young person who starts out in life with the intention of creating space for the comfort and dignity of mankind and sometimes also for beauty and glamour. So I would say to them: create with joy, and success will come.
14 What's next for you?
To see what happens when you have just published ten years of your work.
15 Can you tell Adelto readers a unique fact about yourself that now one knows?
I love watches and jewellery. I find them wonderful because they are miniature architecture. Between two jobs, many years ago, I was at home designing watches. Maybe some day…
16 What is San Francisco's best kept secret?
I'm not sure it's a secret, but San Francisco is still truly the city of peace and love. The hippie generation, born in the Haight Ashbury district of San Francisco, has evolved back into the materialistic aspects of life, but something strong does remain. There is more love, kindness and consensus in San Francisco than any other place I know.
Andrew's book 'Contemporary Classical The Architecture of Andrew Skurman' is available through Princeton Architectural Press, priced at £38 ($60).
Love Interior Design & Exotic Travel? Follow us..
October 12, 2012 | Professionals | View comments