Glamorous interior designer Anna-Grace Davidson
Described by the media as "the leading candidate for the most glamorous woman in interior design", Anna-Grace Davidson is an exciting, talented international interior designer. Through her truly personalised interior design service, Anna delivers the most beautiful, glamorous and inviting interiors. Spaces to delight all the senses, combining luxury and comfort with the ultimate in bespoke interiors sourced from some of the world's leading craftsmen, for those clients who wish for a space that's truly and utterly unique.
Anna was born in Kiev, grew up in Berlin and has for some years been based in London, a city that she loves passionately. It was during her childhood and teenage years that Anna's artistic talent was discovered. Consequently, she was enrolled in private lessons in Berlin with a celebrated art professor who had previously taught at the University of St. Petersburg. Under his tuition, Anna developed artistic skill in a variety of different mediums and she chose to go on to study graphic design and typography.
Adelto's Assif Majid meets Anna and here is what she had to say to him:

How does it feel to be called 'the most glamorous women in interior design'?
I am flattered! But I guess I am and I am not afraid of being called the most glamorous woman in interior design, because I know I can make the right balance with interiors.
Were you always interested in design?
Oh yes! Design and art was always my passion. I was always interested in what the meaning behind a story is and how things are created. And also the expression through design of each individual person is always unique.
Even as a child I loved looking through magazines and collecting photographs of beautiful interiors. I was even involved in arranging things when my parents bought a new house, and my opinion was always valued.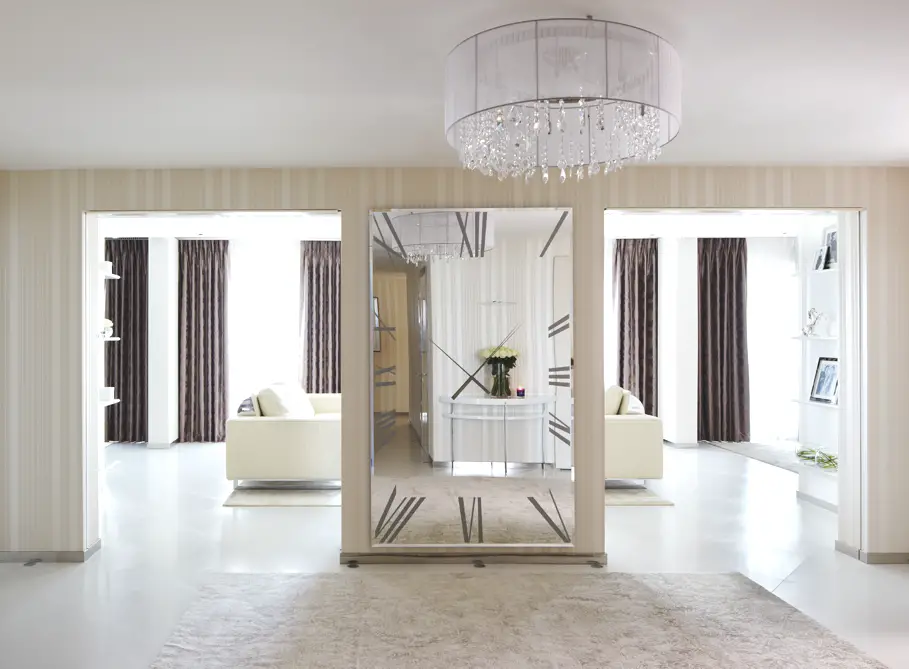 What was your first design project? Can you tell us a little about it?
It was my own apartment. This is where I got the freedom to design in my own style and when I had friends and guest over, they absolutely loved it. It gave me a lot of confidence! And it was great to have the first real project your own, if you make mistakes nobody can blame you but yourself! And you are the biggest judge of yourself always! I could be more creative and really express myself.
 How would you describe your style/designs?
I'd say timeless and very personal. I like to design, so it lasts for a very long time and people don't get tired of the design quickly. I also like to mix styles so it all works together. Even pieces from different eras. I love working with cream and ivory shades, these are my favourite, you can then mix any colour with it and it's always very bright in your house. Specially in London, when most of the time its grey.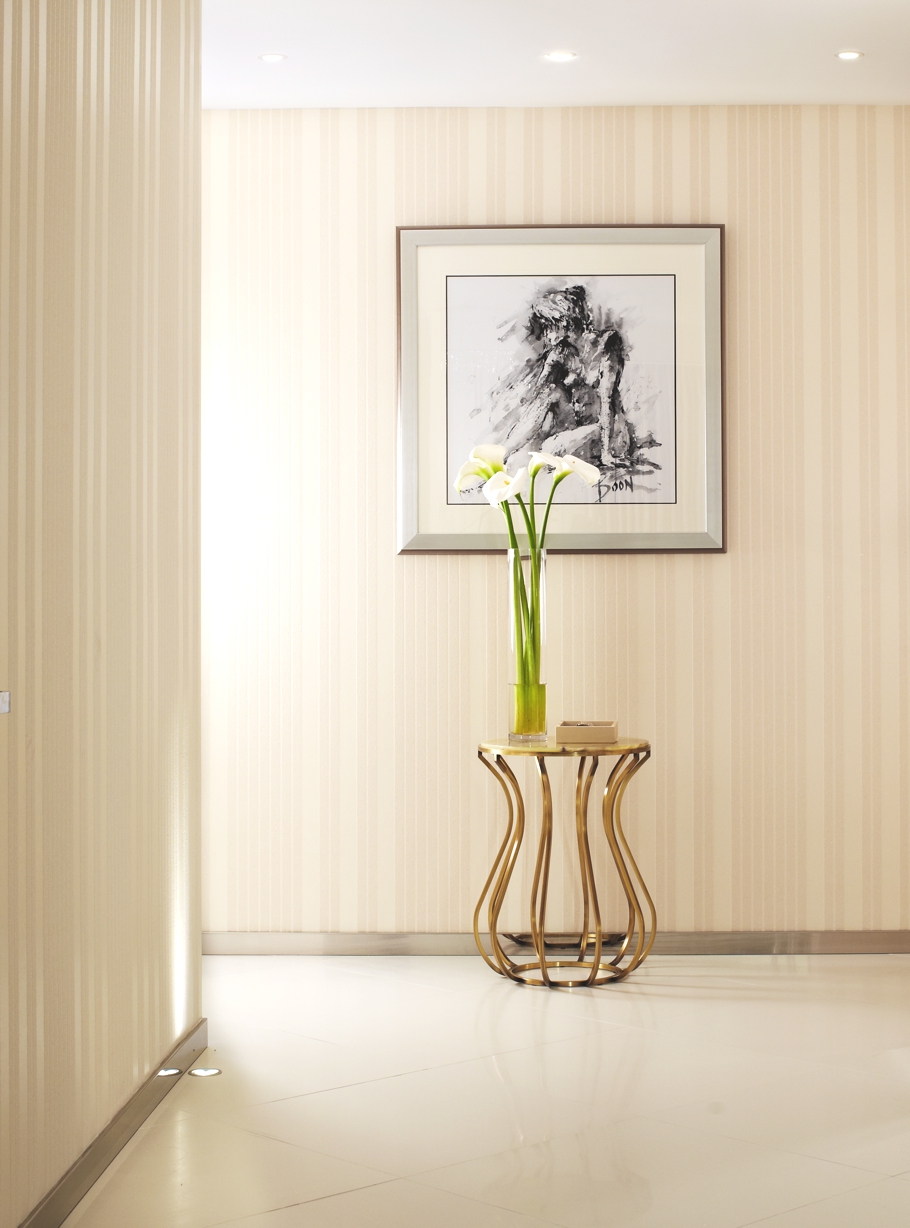 What shows your technical proficiency best in your portfolio?
My forte is my knowledge of texture I would say and also my knowledge of colour, which allows me to work with different types of spaces. By knowing a lot about texture and colour it helps me to bring any room together as I have a real feel for it all.
 What is your favourite design website and magazine? And why?
I love fashion magazines and websites that inspire me with beautiful pictures and latest trends, like Vogue, Net-A-Porter, Pinterest and of course Adelto! For me it's very important to be on top of what's happening in the world, what the trends are and what people are doing.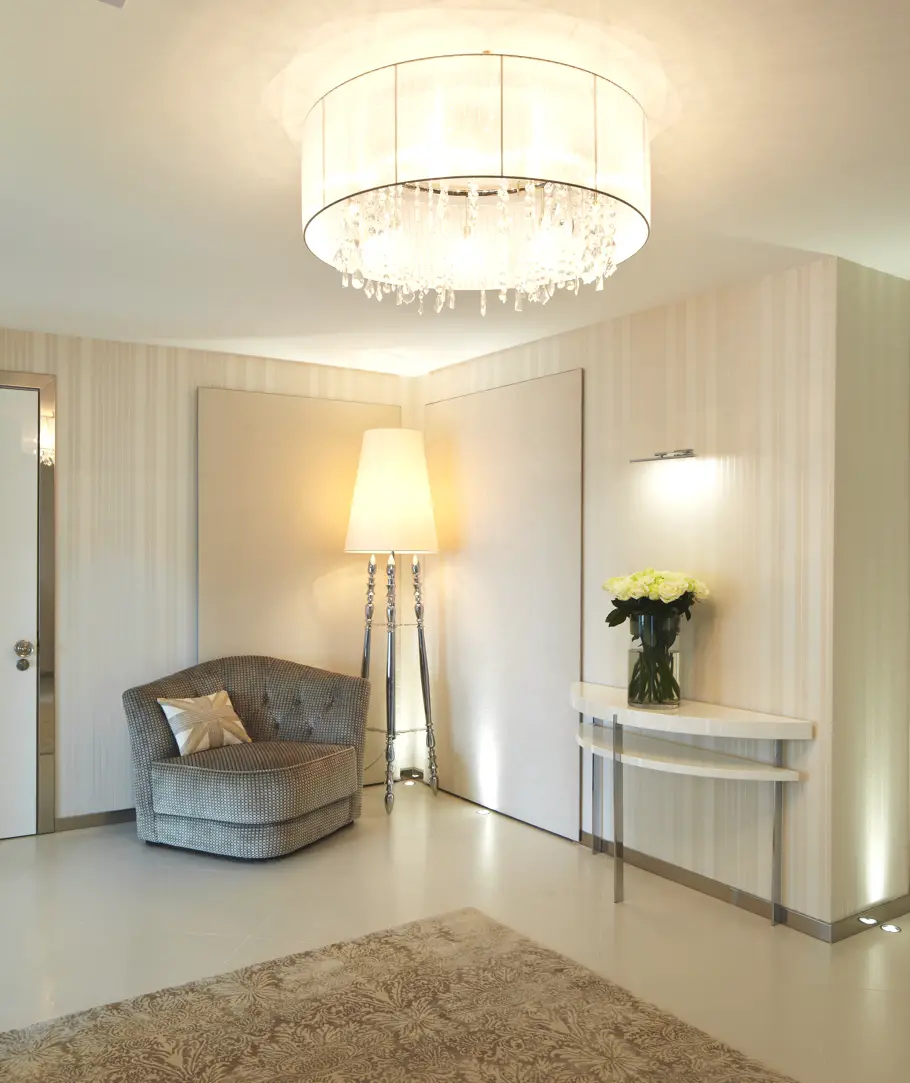 Are there any projects that you enjoy tackling most?
Yes, I love to start projects from scratch! Houses or apartments where everything needs to be done and changed. Then you have the freedom to design something completely new and fresh. Starting to take all the walls down and change the layout and finishing with luxury bed linen and glamorous accessories.
How do you balance more traditional and modern elements in your design?
Yes the right answer is just to balance it out, but you can absolutely bring these elements together. That's what I call to bring out somebody's personal style, it does not have to be all the same. Sometimes you design the room and the colours around one special element or you try to repeat the same concept details. Or just make the special element the centre piece!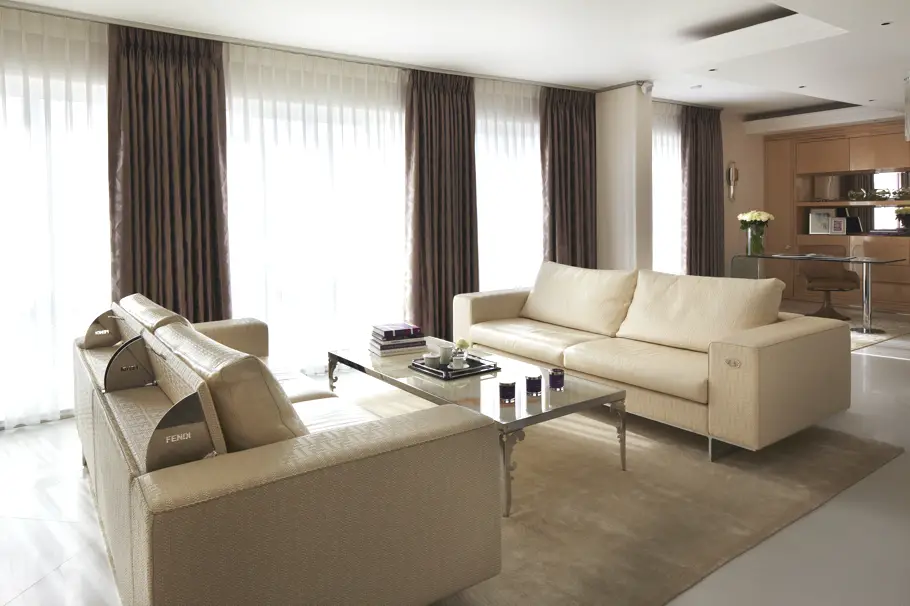 Where did you buy your first home? Can you tell us a little about it.
The first home I bought was in Mayfair, London. It was a small cute apartment with a lot of charm. I made the most out of it, used a lot of mirrors to make the rooms look bigger and I played with the lighting to create different ambiances. It was very cosy and glamorous.
Whose home would you most love to decorate/design? And why?
I would like to design a home of one special writer, Paulo Coelho. I think working with him as my client to design his home, would be a very spiritual journey! I see a home as a reflection of your life. Every time you work with a client you learn from each other. I think this would be in some way a challenge for me but also very interesting.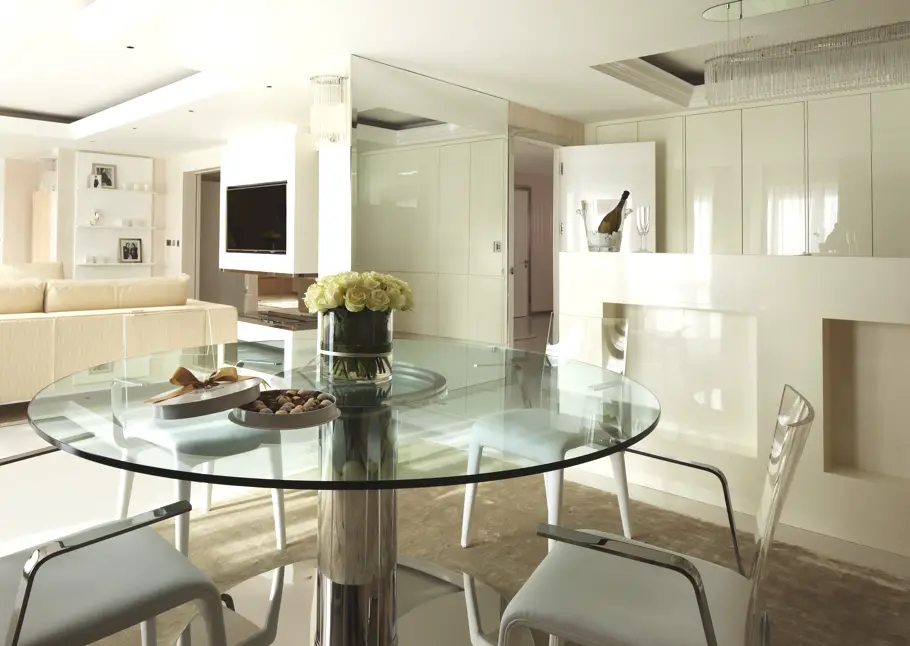 What's your favourite element in your house? (Could be design or even a piece of art or furniture)
I love art, so probably would design a unique dining table. In the end it's a centre piece where so many important discussions and talks are held. So I would love to make this piece important, as a centre piece and very artistic.
Is there a dream project you have your eyes on?
I'd love to design a boutique hotel in London or another European city. Why a boutique hotel? Because I am a romantic and would like to work on all the small details, to make it personal like a very high-end luxury home for the guests. And, yes, it would be glamorous.
How has the economy affected your work?
Not much, as I work with high end brands and product offering exclusive service. The people in the high end industry are still buying and investing. Yes most of the people don't throw money away, they think twice or five times to be sure they make the right decision, but I do respect it very much.
What advice would you give to someone who wants to get into interior design?
You must have a big passion for it to become an interior designer, to be good you must have a very good knowledge of the brands, finishes and what's the latest on the market. Always be on top of the things, and you must have a strong personality this business is hard sometimes. I always say, believe in yourself.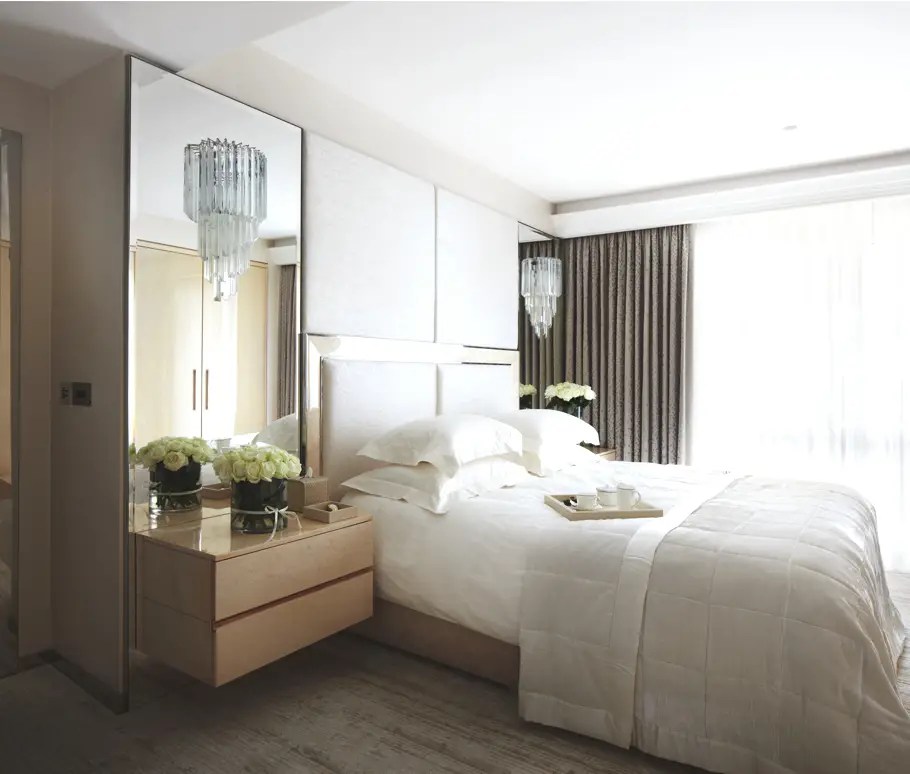 What's your favourite holiday destination and why?
I love Asia, it is like a different world, very inspiring and spiritual. The people, the culture is so different from here and the people are so friendly and polite. I really love travelling around Asia.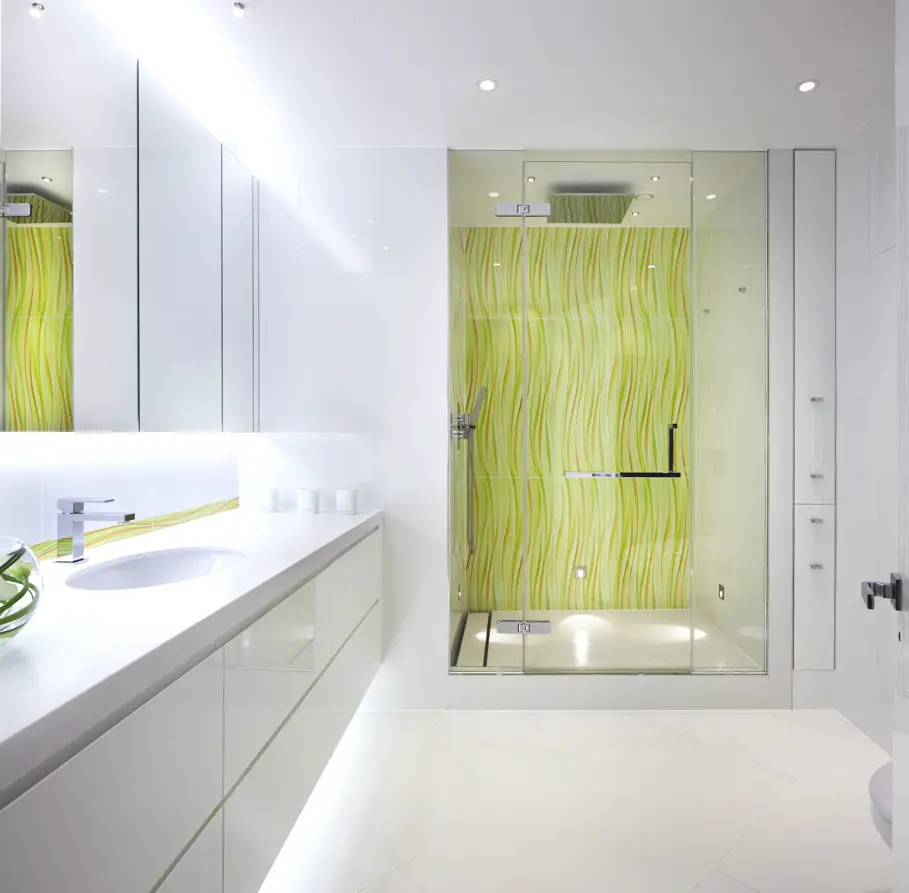 What would Adelto readers be most surprised to know about you?
I love to paint and write in my free time. I have lots of diaries at my home with notes of new inspirations and creative ideas. I wish I could have more time to paint all my abstract fantasies.
What inspires you today?
I love Art and the idea of creation and what is behind it, the passion and work people have invested to create something! I am a very big fashionista, so fashion and the big fashion designers like Karl Lagerfeld inspire me a lot. And of course people are always inspiring, I love to meet interesting people or even read their biographies ! I always keep my eyes  and ears open to everything.
What is London's best kept secret?
My best kept secret is probably my nutritionist Claudia Louch based at The Bespoke Harley Street Nutrition Clinic. She is the best nutritionist around and helps to keep me on a healthy diet. She also recommends the best herbal medicines and vitamins to keep me at my best at all times.
Images of Lancelot Place
Love Interior Design & Exotic Travel? Follow us..
February 4, 2013 | Professionals | View comments