12 luxury yoga retreats from around the world
September is International Yoga Month, so here at Adelto we thought we would invoke your chakras by bringing you some of the best luxury yoga retreats from around the world. These retreats will help soothe the mind, body and invigorate those chakras.
Our 12 favourite luxury yoga retreats from around the world are:
Raffles Praslin Seychelles
Are you are bored with your usual work out and in need of an Indian Ocean escape? Raffles Praslin, Seychelles has introduced a wonderfully different way of exercising – combining beautiful ocean surroundings with the peaceful practice of yoga for total relaxation.
Paddle Board Yoga helps develop core strength and balance. The board provides the perfect platform to increase the intensity of the yoga workout by creating a continuous challenge to balance and adapt to the motion of the board. This challenge adds to core stability and creates greater strength, flexibility, and balance. You can enjoy a private sunrise or sunset session, with the idyllic ocean backdrop and natural surroundings providing the perfect environment for total relaxation and rejuvenation.
Read our spa review or for click here an overview of the hotel.
Nearest airport: Praslin Island. A private helicopter or yacht can also be arranged.
For further information, visit raffles.com/praslin
Chiva-Som, Thailand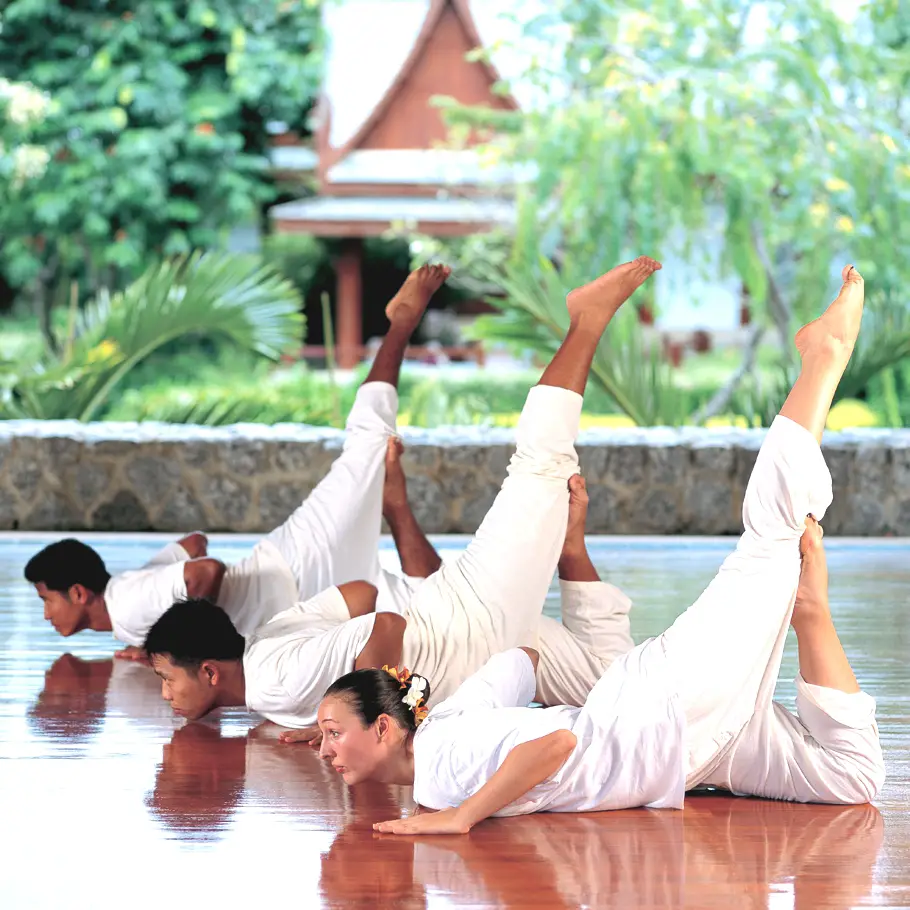 This resort is recognised as one of the top retreats in the world for yoga (it is Nike's yoga ambassador Leah Kim's fave):
Chiva-Som offers daily group classes, as well as private one-on-one yoga tuitions, with their instructors also teaching less common aspects of yoga including meditation, pranayama, and some Ayurvedic cleansing techniques for a complete experience. You are guided through a variety of styles, including Hatha, Vinyasa, Ashtanga, or Iyengar yoga as appropriate to further improve practice. Chiva-Som's instructors work with you to design a personalised yoga programme to strengthen weak areas and achieve overall improvement. More importantly, they will help you stay inspired for a consistent and fulfilling practice that lasts a lifetime.
A five night Yoga for Life retreat includes daily massages, four private yoga sessions*, unlimited use of water therapy suites, three spa cuisine meals per night, one pranayama, one flower remedy and much more.
Nearest airport: Bangkok or a private transfer from Bangkok to Hua Hin airport.
For further information, visit chivasom.com

Rancho Valencia, California, US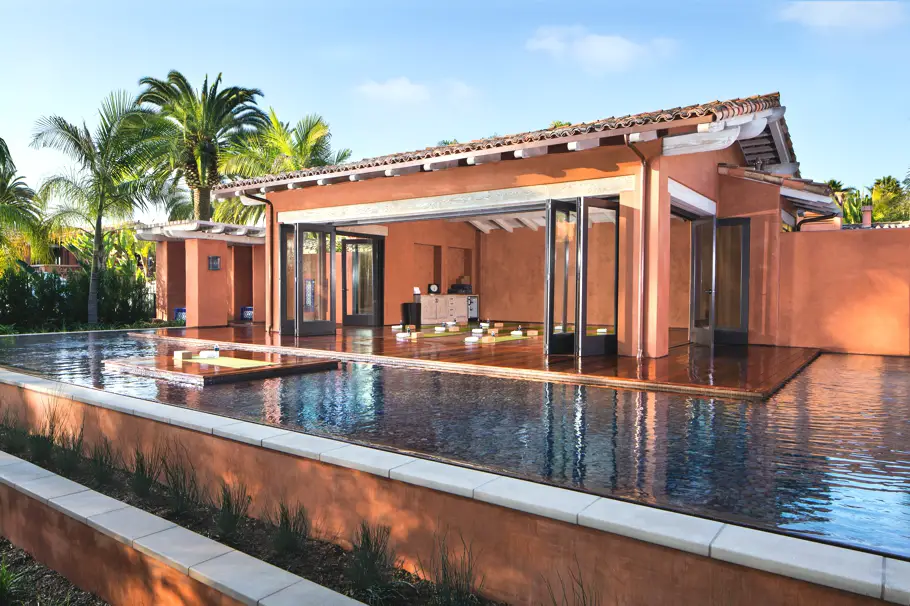 Rancho Valencia is an award-winning resort and spa and one of Southern California's most celebrated luxury resorts, situated in beautiful Rancho Santa Fe. This intimate hideaway nestled on 40 acres of lush landscaping and gardens is renowned for its natural charm and classic California character.
Their yoga retreats are led by Rancho Valencia's director of yoga, Katie Brauer, an internationally recognised yoga instructor. The weeklong yoga retreats blend yoga and oceanside hikes. The next yoga retreat takes place between 6-11 October, 2013. It includes accommodation for five nights (Sunday-Friday) in one of their luxurious junior suites and three organic, alkaline and cleansing meals each day designed to detoxify and rejuvenate.
Nearest airports: San Diego International Airport and McClellan-Palomar Airport.
For further information, visit ranchovalencia.com
The Leela Kovalam Beach, Kerala, India
Cradled between two sweeping beaches, this five-star resort set over 60 acres of lush green land offers panoramic views of the famed Kovalam shoreline, with an array of fine restaurants and lounges and two stunning infinity pools which overlook the Arabian Sea.
The Divya Spa at The Leela Kovalam can be found right on the cliff top, with a stunning rooftop Yoga pavilion. Ayurveda treatments and programmes are the highlight here, with three doctors and 20 therapists.
All Ayurveda experiences are personalised and unique, with the treatments using organic medicinal plants which come fresh from the spa greenhouse.
You meet with the doctor and yoga teacher on arrival, who will then determine what style and level of yoga is suited to you. A personalised yoga programme is then carved out for a week (or another amount of time desired), and can also be combined with ayurveda treatments in the spa to complement. The yoga takes place in the beautiful rooftop yoga pavilion.
Nearest airport: Trivandrum
For further information, visit theleela.com/locations/kovalam
The BodyHoliday, St. Lucia
The BodyHoliday a luxury, world leading, health and wellbeing resort in St. Lucia is running a month of yoga from Sunday 29th September – Saturday 2nd November 2013: October Yoga.
The BodyHoliday's wellness centre and skin clinic, nestled on the hills above the resort, is the Caribbean's largest spa famed for its unique approach to health, fitness and wellbeing with the motto 'Give us your body for a week and we'll give you back your mind.' Throughout the month of October they will be running a yoga programme that leaves you feeling soothed, toned and fully charged.
There will be four daily yoga classes in the week and two daily at the weekends. These will be run by International host, AmandaStokes and the resort's resident teacher, Kathryn Cullen.  A special yoga menu including healthy smoothies, yogic salads, yogateas and yoga themed cocktails as well as nutritional seminars and workshops will be offered throughout the month.
Selected Ayurvedic treatments will be added on to the inclusive spa treatment menu (you will be given a personalised treatment programme on arrival with a number of inclusive treatments, the Ayurvedic treatments usually come at an additional cost).
Nearest airports: Hewanorra International Airport and George F.L. Charles Airport
For further information, visit thebodyholiday.com
Oneworld Retreats, Bali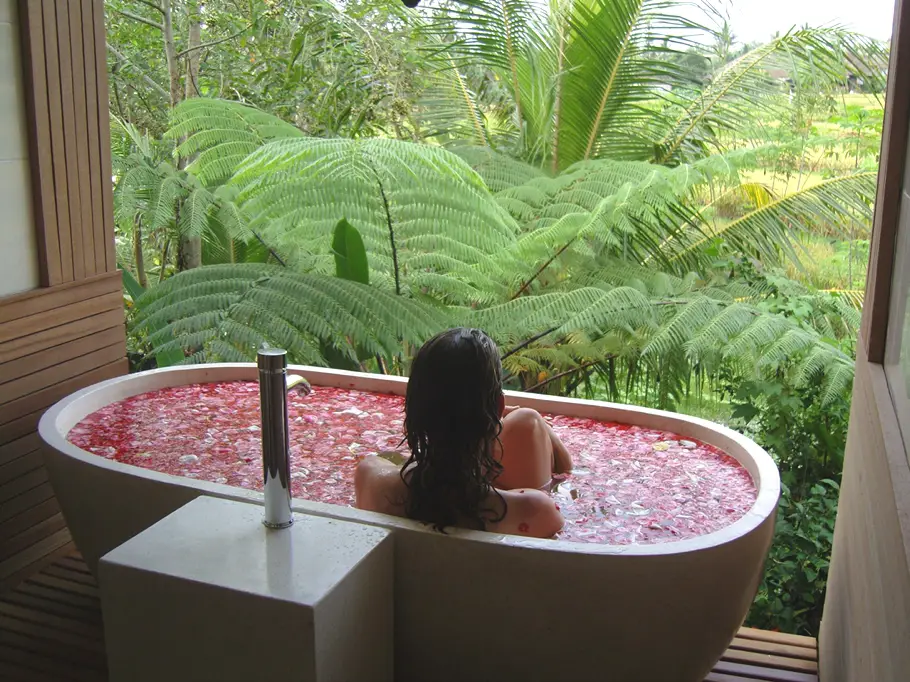 This all-inclusive five-night signature programme at Bali's Oneworld retreats includes yoga and meditation with splendid views, two spa treatments, guided rice field walk, bicycle excursion as well as unique Balinese traditions of purification ritual, blessing ceremony and Balinese offering ritual master class.
You will also get the chance to visit Gunung Batur, one of Bali's most spectacular volcano and enjoy yoga and meditation with a splendid view of the sunrise behind the volcano.
Escape the World is a signature retreat programme at Oneworld retreats, a twelve bedroom
holistic retreat venue in Ubud, Bali. Oneworld retreats is the only venue of its kind in Ubud that shares grounds with the royal palace. Bordered by a small creek, this eco-friendly retreat is surrounded by jungle and rice fields and is the perfect place to escape and reconnect with your inner self.
Nearest airport: Bali Denpasar
For further information, visit oneworldretreats.com
Park Hyatt, Maldives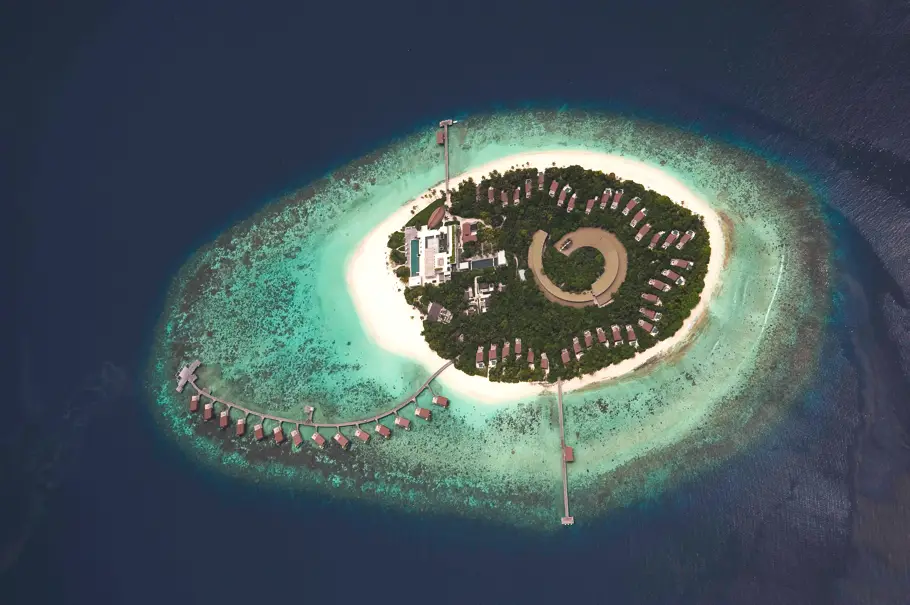 Park Hyatt Maldives is now offering aqua yoga under the direction of the resorts new yoga instructor Deeksha Rajpoot. The Hadahaa Aqua Yoga practice combines slow stretching with the use of breathing and relaxation as the water provides resistance for the muscles to work against.
Aqua yoga is a classical yoga postures adapted to water – feel virtually weightless in water, so that stretches that might be difficult on the ground can be accomplished without strain, strengthens and tones the body whilst relieving tensions and renewing energy, classes take place in the 'vidhun spa' pool.
One of only four luxury resorts in the Gaafu Alifu Atoll in the far south of the Maldives, Hadahaa is 400 km south of the capital Male and 56 km north of the equator. This location, more than 10 km from the nearest inhabited island, has afforded Hadahaa one of the healthiest house reefs in the Indian Ocean. This largely untouched region of the Maldives is slowly opening up following September's launch of Kooddoo Airport, which has halved the internal journey time from Male to Hadahaa – now only one hour.
Nearest airport: Kaooddoo Aurport
For further information, visit maldives.hadahaa.park.hyatt.com
Silver Island Yoga, Greece
Silver Island is a privately owned, untouched dream island nestled in the azure blue waters of the Aegean sea – and home to Silver Island Yoga – an idyllic yoga retreat off the coast of Evia.
Stroll along the network of paths to the lighthouse for sunrise, practice yoga overlooking breathtakingly beautiful scenery, bathe or snorkel in the crystal clear waters from the secluded pebbled beaches, visit the tiny church, paint or write in the shade of an olive tree or simply relax in a hammock in the warmth of the Aegean sun. End your day with meditation on a sunset rock watching the sky turn shades of pink against the blue mountains of Volos. An experience that will inspire peace, serenity and mindful living and of course a holiday of a lifetime.
The resort only accept 10 guests per week, and their yoga packages include full-board accommodation, lovingly prepared delicious Mediterranean inspired meals, all yoga tuition with yoga equipment and accessories, complimentary organic toiletries by Korres, as well as complimentary bottled water, transfers to and from the island to the Mainland and your own private island for the week.
Nearest airports: Athens International Airport, Elefthérios Venizélos or Volos Central Greece Airport, Nea Anchialos National.
For further information, visit silverislandyoga.com

Parker Palm Springs, California, US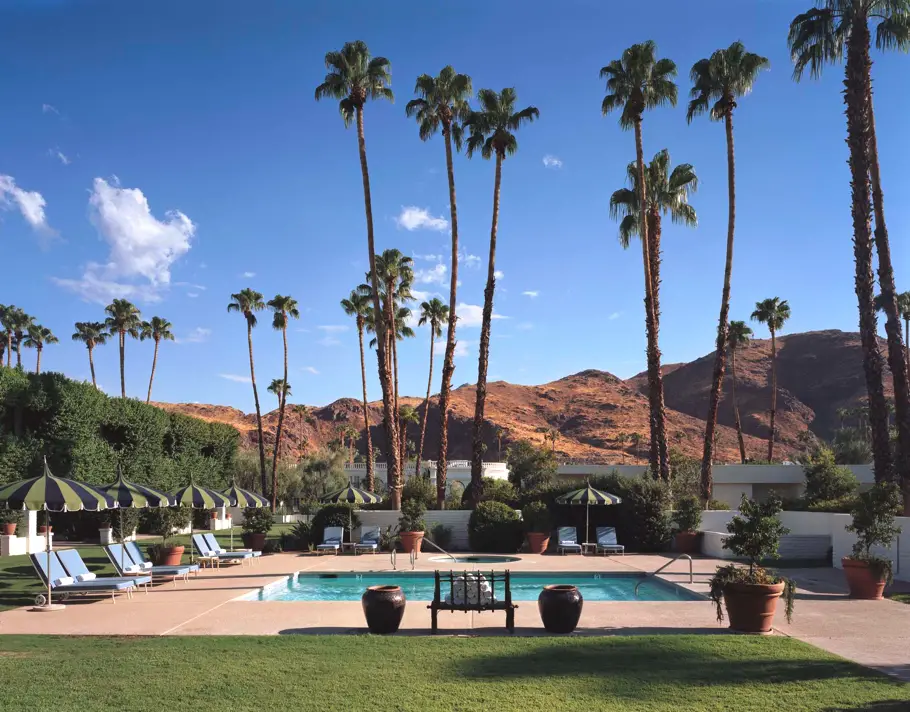 The Parker Palm Springs is a divine hotel set within 14 acres of beautifully lush landscaped gardens. The décor and ambience are quirkily cool – it's hip without being brash and luxurious without being stuffy. The outstanding and nautically-inspired Palm Springs Yacht Club spa is the place where you will be pampered with a special twist, you receive a shot of vodka prior to your treatment!
Yoga comes in the form of YogaWorks where you create your own itinerary. As long as you are staying for two days you will receive four yoga classes. With a variety of spaces, both indoor and outdoor, the Parker is the perfect setting to practice yoga.
Nearest airport: Palm Springs International Airport
For further information, visit theparkerpalmsprings.com
The Sarojin, Thailand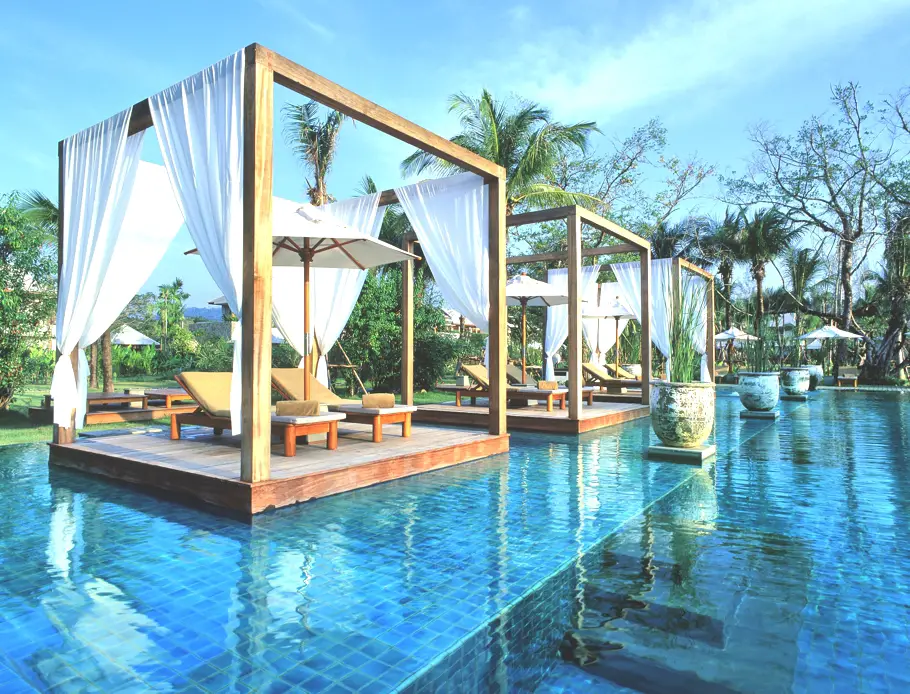 Luxury boutique resort, The Sarojin, specialises in relaxation treatments and offers private yoga lessons on an 11 km stretch of secluded white sand beach in Khao Lak, Thailand.
Yoga takes place on an incredible beachside setting where, instead of walls, you practice yoga against the backdrop of the shimmering Andaman Sea. The Sarojin's private yoga teacher, Melanie Schorr, is Canadian born and trained in India under Yogi Vijay Amar in the traditional hatha style.
Melanie's early morning, beachside couples' classes can be personalised to suit beginners or the more experienced. What's more, there are additional benefits to learning yoga as a couple. Variations of yoga asanas that are practiced together build connection, increase energetic flow between two people and heighten awareness of the physical and spiritual. Many couples also find yoga highly erotic.
Whilst The Sarojin is very much a couples resort, yoga classes can also be enjoyed on an individual basis or at the resort's award-winning spa, Pathways, which features a stilted yoga deck shaded by palms and mangrove canopy.
Nearest airport: Phuket International Airport
For further information, visit sarojin.com
Six Senses Ninh Van Bay, Vietnam
Six Senses Ninh Van Bay runs yoga classes every day throughout the day either in group or private sessions. The resort's practitioners are some of the very best in Vietnam and they improve the overall well being of both body and mind through the introduction of gentle postures that are adapted to your physical structure. Ideal for beginners and more advanced guests who want to learn how to counteract the physical and mental stresses of daily life.
Nearest airport: Cam Ranh International Airport
For further information, visit sixsenses.com
Constance Le Prince Maurice, Mauritius
To celebrate the sumptuous refurbishment of the Spa de Constance at Constance Le Prince Maurice in Mauritius, the resort recently engaged world-renowned fitness guru Isabelle Lamant.
Inspired by her love of graceful movement, Isabelle's classes are based around her philosophy of balance integrated into fitness, dance and yoga. Based around 'control and fitness' and 'sculpt and balance', Isabelle's aim is to help her clients exercise their way to a more healthy, balanced lifestyle. Cultivating the next generation of healthy travellers, Isabelle has also designed a fun-filled programme for younger guests called 'Yoganimals' to help children improve motor skills, concentration, posture and breathing through simple, fun exercises – what a great way to get kids to exercise.
Nearest airport: Sir Seewoosagur Ramgoolam Airport (MRU)
For further information, visit lhw.com/constanceleprince
Love Interior Design & Exotic Travel? Follow us..
September 11, 2013 | Travel | View comments