Stunning new Arbor Pendant lighting by Baroncelli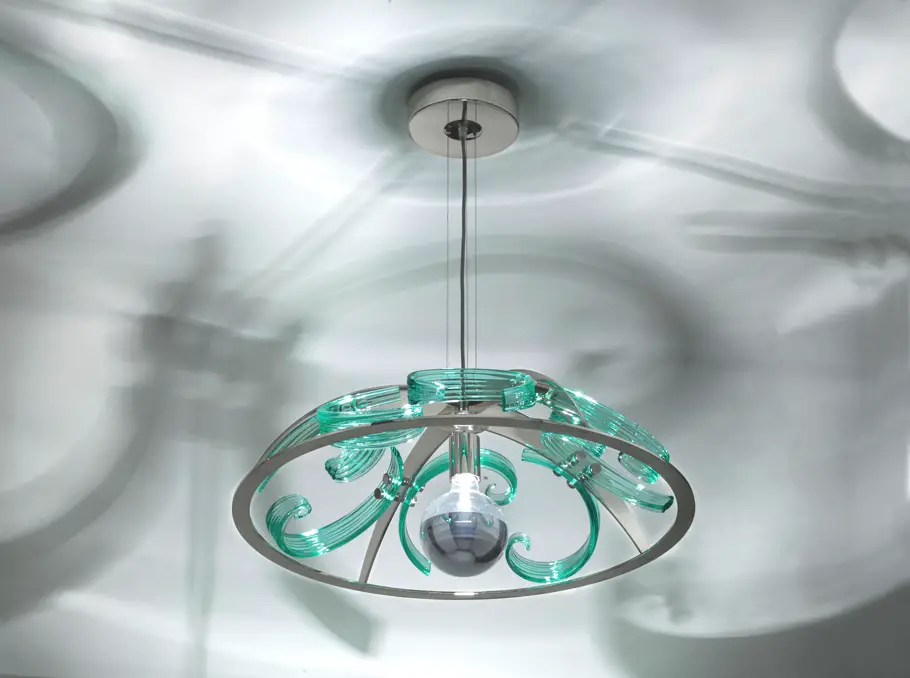 Luxury Italian brand Baroncelli recently presented their new Arbor family of pendant lights recently. Hand-crafted and individually made by master craftsmen, the stylish Arbor Pendant expertly blends heritage skills with elegance and drama as ridged 'fins' of Murano glass blossom within a framework of satin brass, walnut veneer or nickel. 
The Arbor exudes modernity through the skillful use of materials, colour and intelligent design but it also creates a source of contemplation in the exquisite shadows cast by the curls of glass. Inspired by the ancient craft of iron forging, the Arbor exemplifies Baroncelli's hallmark of creating imaginative and arresting designs through the use of long-established craft techniques.
Each Arbor pendant is formed of a flat, circular ring from which curved spokes arch up creating a shade. Suspended from a steel cable the clean lines of the brass, nickel or walnut structures contain ridged curls of glass, a detail that could be adapted in many ways to suit individual clients.  The Arbor Pendant's unique composition creates a source of contemplation in the beautiful shadows cast by the curls of glass.
Baroncelli specialises in both residential and commercial spaces, working with an array of prestigious design professionals on exciting interiors projects worldwide. (Baroncelli has worked with award-winning designers such as David Collins, Fox Linton and Peter Marino.) Baroncelli's imaginative designs give Venetian glass-blowing a contemporary aesthetic, a perfect way to add a touch of luxury and intelligent, innovative design to the home.
Love Interior Design & Exotic Travel? Follow us..
June 27, 2013 | Furniture | View comments