Spa Review: Ti Sana Detox Retreat – best spa for weight loss
Adelto's Assif Majid becomes a "healtheatarian" at the eco-chic Ti Sana detox spa located on the outskirts of Milan, Europe's fashion and design capital.
Ti Sana Detox Retreat, located in the sleepy village of Arlate, offers a brand new health programme, which includes scientific-based nutrition combined with medical spa treatments and gentle activities, all in a non-clinical environment – and it's oh so bellissimo.
I was picked up at Milan Bergamo Airport and after a 25-minute drive through the wonderful Lombardy countryside I had arrived at the stylish resort, which sits along the delightful Adda River in the most beautiful national park. Housed in an 18th-century courtyard building, the luxury Italian spa was once used as servants' quarters for a noble Italian family, who still reside in the village today.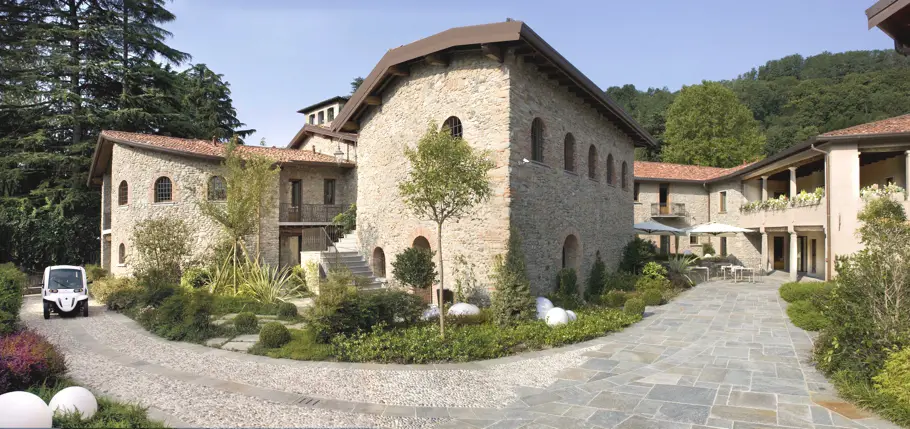 Arlate has only 1,242 inhabitants and its roots can be traced right back to the year 937. There are many significant and historical archeological sites in the town such as the ferry by Leonardo da Vinci; the Paderno Bridge was completed in 1911. The charming San Colombano church built in 1162 is still in use by the local villagers.
In 2009, its current owner the glamorous Erica D'Angelo and her parents painstakingly restored the medieval building into the most luxurious Italian spa. As you enter the building, you are transported from rural countryside into a luxury, ultra-modern world.  The retreat includes 22 ultra-chic rooms – plenty of natural timber, glass and exposed stonework, complimentary Wi-Fi, flat screen TVs and mini fridges complete the look. Louis Ghost chairs by Philippe Starck and Bourgie table lamps bring a touch of Italian glamour to the communal areas of the spa. Other design details include contemporary lighting, a fine dining restaurant and organic toiletries.

First impressions: tranquil, transcendental and special
My bedroom and bathroom were a good size – I knew I would be happy here for the next four days. This spa for 'people in the know' ticks all the boxes from the moment you enter through the electric gates. The ambience throughout the luxury spa was unpretentious and nonchalant.
On arrival I was given my personal plan, which was based on a detailed questionnaire that I had completed in advance. I was put on a simple routine of three meals a day, plus organic fruit-and-vegetable juices. If you're serious about losing weight, Erica recommends 10-days of intense detoxing for best results. My personal plan included intense morning exercises, brisk countryside walks, spa treatments and medical tests.

The experience
My first day at the Italian detox spa included a 'live experience', yoga and a luxury Anika body treatment. The 'live experience' is when you get the opportunity to meet a guest who shares their personal experience with you. It's a great opportunity to discuss any concerns you may have and also to find out first-hand what you are about to experience.
The Anika body treatment is a luxury treatment using organic ingredients from various synergistic herbs, precious and exclusive flower essences. The treatment room was really spacious, spiritual Indian style music was playing whilst the therapist started to apply a body scrub to my skin – it felt divine. After being scrubbed and cleansed the therapist covered me head to toe in menthol infused mud and left me to relax for 15 minutes. After the mud had dried I was asked to shower before the final phase of the treatment, which was a massage. The therapist massaged me using eucalyptus oil – it felt and smelt heavenly on my skin. I was then cocooned in cotton sheets and left to relax some more whilst the oil soaked into my new baby soft skin.
The luxury Italian spa also boasts an infrared sauna for sweating out those toxins. Studies have shown that using an infrared sauna could benefit people suffering from high blood pressure, congestive heart failure and rheumatoid arthritis.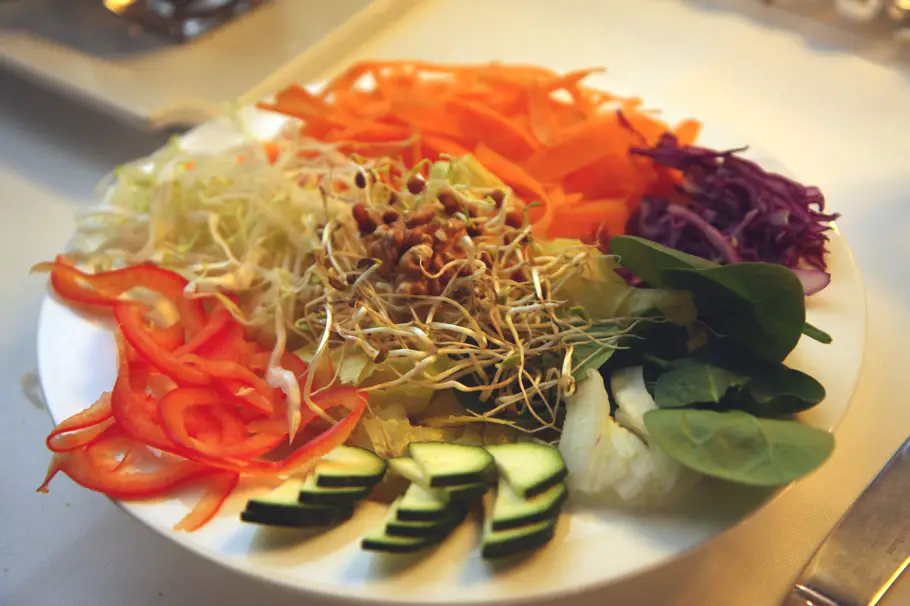 In addition to the infrared sauna the detox spa also provide cookery classes. Their executive chef, who specialises in raw food, is among 10 people in Italy trained with the Matthew Kenney method.  The food was just sublime. Being a part-time vegetarian I wasn't concerned with not eating meat during my time at the spa.  The dishes were delicious, innovative and aesthetically pleasing. For example, one morning for breakfast I was served 'chia pudding' with dried figs and honey, plus an orange, melon and cucumber juice. For lunch I ate raw courgette (zucchini) 'spaghetti' with walnut cream and tomatoes – I finished my plate – seriously you would not believe this was 'detox' food. I was then given a mixed salad with green olives and savoury pistachios. For dinner I was served a warm chickpea and vegetable soup, followed by an avocado tartare with nori seaweed – and yes it was a delight.
You are also offered Kangen alkaline water throughout your stay – this water has a higher level of pH – and it's believed it helps with the detoxification process. The luxury spa takes a holistic and natural approach in everything they do.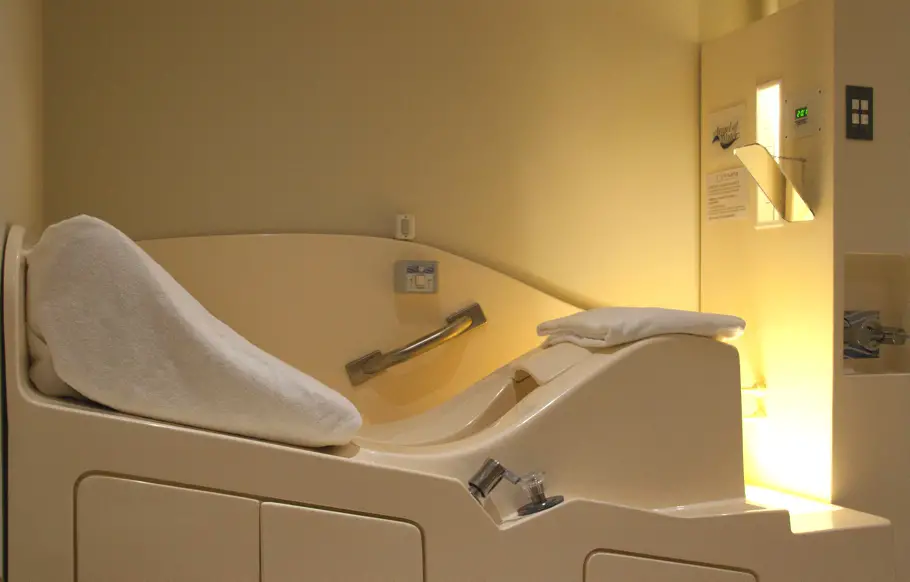 To carry on with the detoxification of toxins a DIY colonic irrigation machine is recommended – that's right a DIY colonic irrigation machine! Don't worry it's really easy to use and far less embarrassing than the conventional method.
Other tests include a live-blood analysis, which is designed to diagnose any levels of adrenal stress, including toxicity and other health issues. The Bioimpedance test made me feel like Frankenstein's monster with all the electric nodes attached to my body – but don't worry it was painless, no discomfort and no embarrassing moments. The test did unearth some interesting results such as my sodium levels were high (oh dear); my percentage of body fat was high (eeek). However, I was told I had good muscle mass and that my overall health was really good.
Trained professionals carry out the exercise regimes with you at the Italian detox spa. The fitness instructor is a talented martial arts expert and food technician. My regime included morning power walks along the Adda river and daily yoga classes, t'ai chi and rebounding classes (better known as trampolining to most of us), which apparently is good for your lymphatic and circulatory system. The t'ai classes were my favourite. For the first-time I had the opportunity to practice Qi Gong and Lian Gong – these Chinese exercises involved rhythmic breathing, stretching techniques and coordinated fluid movements. I found the classes highly, relaxing, healing and harmonious.
My four days at the spa left me a changed person, educated and slightly thinner! I felt great, energised and my skin was glowing like a beacon – friends even commented on how good my skin looked. Ti Sana Detox Retreat is an experience that I won't forget. The words luxury and detox may not be synonymous with one another – but Erica and her team at this welcoming European retreat know how to blend a holistic and natural approach to healthy living in the most luxurious way. Another benefit is the experience won't leave a dent in your bank balance compared to other European detox spas. I left the spa feeling like a 21st-century 'healtheatarian'.
Ti Sana Detox Retreat, Via Fontana, 5, 23885 Arlate, Lombardy, Italy, tisanadetoxretreat.com
Love Interior Design & Exotic Travel? Follow us..
October 4, 2013 | Europe Italy Milan Travel Travel Reviews | View comments