Pullman Marseille Palm Beach inaugrates 'Art Kube'
As part of the Marseille-Provence 2013 European Capital of Culture event, the Pullman Marseille Palm Beach is adding a new dimension to contemporary art and has been testing the "Art'Kube" concept.
This 9m3 "Kube" located in the hotel lobby will host a series of artists in succession inviting them to express themselves in two dimensions. The "Kube" interior acts as an exhibition gallery, while its outside walls serve as a space for free artistic expression.
The Kube, which is located in the hotel lobby overlooking the sea, will be in residence until the end of December. From now until December it will host three internationally renowned artists who will each decorate the areas inside and outside this imposing structure, as part of major event designed to promote artistic creativity and foster interaction with the general public.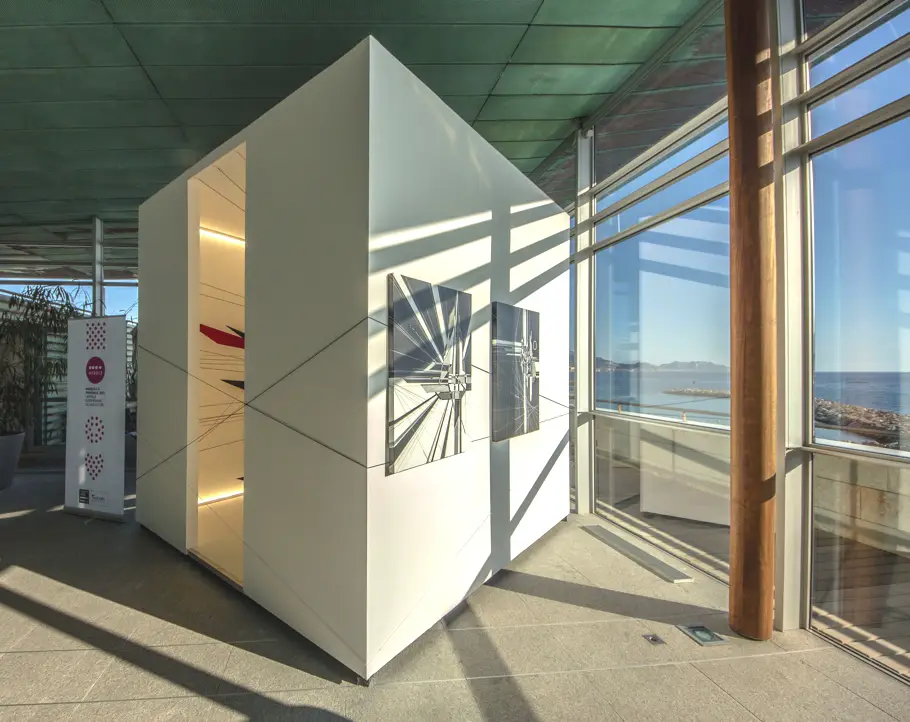 This 160-room luxury hotel boasts an exceptional view of the Mediterranean and offers the best Pullman signature services, including the Welcomers, Pullman Connectivity Lounge by Microsoft®, Wi-Fi throughout the hotel, Roger&Gallet amenities, Vinoteca by Pullman with a wine list curated and signed by Olivier Poussier.
Just a few minutes from the Old Port, the Parc Borelli, the Stade Vélodrome and the Prado, the Pullman Marseille Palm Beach offers guests an oasis of calm in a contemporary setting. Its modern, connected rooms, infinity pool just meters from the sea (and supplied with water from the Roucas Blanc natural spring) and its various public areas meet the needs of cosmopolitan seasoned business and leisure travellers providing a preserved location with an unbeatable view of the Bay of Marseille, the Frioul Isles and the Château d'If.

More information on the artists:
September – October
Painter Cédric Bouteiller will then exhibit his city impressions, which are permeated by science fiction and cinema and highlight the myth of speed in an industrial urban setting. Cédric Bouteiller creates motley images using photos (his own or others taken from the media) that merge into one another.  He makes a point of using of lettering and graffiti to present stripped-back, raw, yet dreamlike cityscapes.

November – December
Designer Arnaud Pagès' unique style will also be showcased in the Kube. This illustrator and graphic designer will continue the project with a highly contemporary work of painted street art.   Arnaud Pagès is famous for his transgressive portraits of famous people. He creates what he describes as "stylized characters with strong personalities" through a play of textures and shapes and his work carries a political message.
Entre is free to the Art'Kube, Pullman Palm Beach Marseille, 200 Corniche J.F Kennedy, 13007 Marseille, France, pullmanhotels.com
Love Interior Design & Exotic Travel? Follow us..
September 7, 2013 | Europe France Marseille Travel | View comments