Italian rental Villa Respiro with rustic charm, Aegadian Islands
Villa Respiro is an Italian luxury holiday villa by Italian Rentals 4U on the virtually unspoilt island of Favignana, off the west coast of Sicily. Favignana is one of three islands that make up the Aegadian Islands (Egadi in Italian) in the Sicilian archipelago.
Not many people have heard of the Aegadian Islands. The three islands – Favignana, Levanzo and Marettimo – are completely different from the fashionable and better-known Aeolian Islands, which have a very different appeal. The Aegadian Islands have a total population of around 5,000 inhabitants and offer simplicity, rustic charm and complete remoteness.
Favignana, or La Farfalla as it is commonly known due to its natural butterfly shape is the largest island of the three. It lies about 10 miles off theTrapani coast and is a popular summer holiday destination largely due to its azure blue waters.
The renowned islands belonged to the Pallavicini-Rusconi family of Genoa until 1874, when the powerful Florio family whose business interests included sulphur mining, tuna fishing and of course Marsala wine bought them. Today the Aegadian Islands are home to the largest tuna fishery in Sicily and thousands throng here annually to watch the traditional tuna cull, La Mattanza.
This corner of Sicily is unique for its traditions, passed down through the centuries, always reserving new surprises for its visitors.
The main town, also known as Favignana, has a small port and is dominated by Fort of Santa Caterina, originally built by the Arabs as a watchtower, and was also used as a prison by the Bourbon Kings. However, tourists visit for the excellent scuba diving opportunities, swimming and to explore the sea caves such as Grotta dei Sospiri (sospiri means "sighs" – it is believed that the cave moans during the winter months).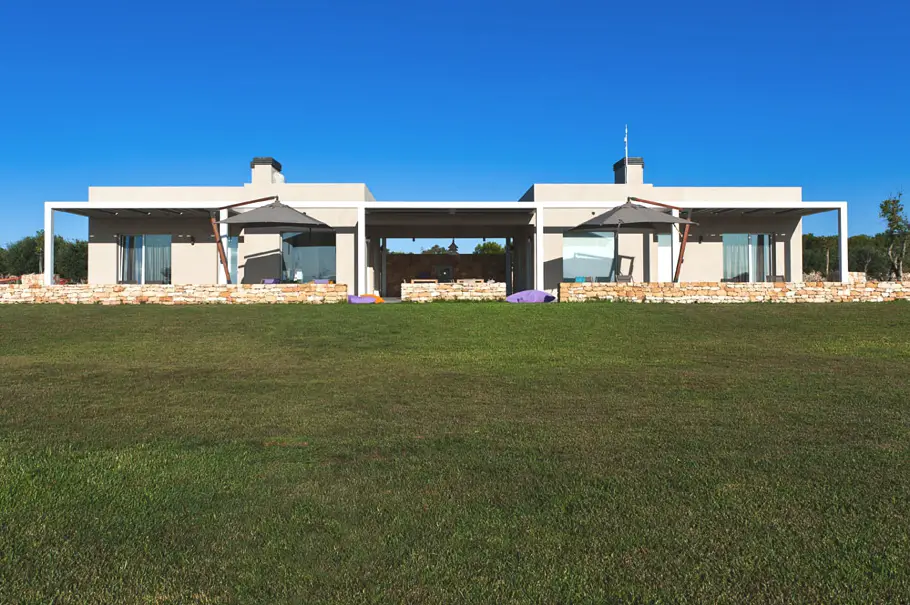 In Favignana is where you will find the luxury Italian Villa Respiro. This stunning villa can sleep up to eight people and comes with all the mod cons you would expect from a luxury Italian property such as air-con, iPod docking station, Wi-Fi and satellite/cable TV. The property is made-up of two separate living quarters and can be used independently or as a whole – ideal for large families wanting extra privacy.
Italian Rentals 4U has designed the Italian villa rental in a contemporary 'isolano' style and built using local materials such as sandstone, which is reminiscent of the tophus quarries that dot the stunning coastline. The luxury villa itself is housed in a beautiful Mediterranean garden and comes with a shared outdoor swimming pool. The outdoor sundecks and seating areas are perfect for topping up the tan.
Inside, the master bedroom benefits from large floor-to-ceiling windows and is executed to a very high standard. The postcard views will leave you in awe. The property also boasts two completely separate terraces offering splendid views of Erice, Trapani and Marsala: ideal for an evening aperitif or a relaxing massage.
Due to the properties location it is ideal for enjoying the wonderful Favignana countryside, horseback riding and sightseeing. The luxury Italian villa is a hidden gem and perfect for families or couples looking for the ultimate in privacy and seclusion whilst on holiday.
Getting to the Aegadian Islands is really easy. There are two international airports on Sicily, Palermo Airport and Catania Fontanarossa Airport. Then all you need to do is hop on one of the frequent ferries from Trapani or Marsala and you're there.
For further information or rental enquiries, visit italianrentals4u.com/Villa-Respiro.html
Images courtesy of Italian Rentals 4U
Love Interior Design & Exotic Travel? Follow us..
September 2, 2013 | Europe Italy Sicily Travel | View comments