Luxury London mews in fashionable Marylebone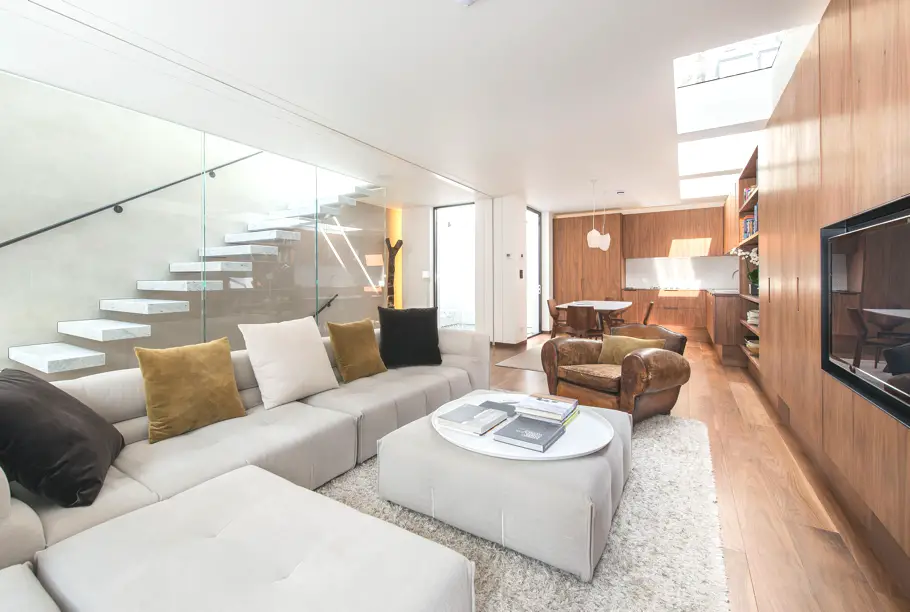 Simon Green, founder of Moho developments has joined teams with David Archer from Archer Humphreys Architects to create a stylish Marylebone mews house.
The two-bedroom, 140 sq m, property follows in the pattern of the 'liveable art' room, recently unveiled by Sir Anthony Gormley at the Mayfair Hotel, as its design has been driven by the artistic process rather than functionality.
This artistic focus is born from Simon's background in advertising. Having worked for years on campaigns for clients like Mercedes Benz and the Guardian, Simon has gone into property development with the same creative mindset.
The building which is located at 7 Harley Place does not conform to the country cottage look most favoured by those dressing mews houses – the plain black walls stand in stark contrast to the flower lined window sills to either side, making a statement on this quiet Marylebone Street. The marble staircase is boarded by glass in the same way as a sculpture in a gallery, the first floor terrace is the glass roof of the bathroom and the light boxes flood the reception room with striking boxes of light.
Simon Green, Moho Developments, said: "Mews houses are challenging because they tend to have small footprints and linking floors is always a real space-eater.  For me that challenge became its design strength. We managed to bring an unusual amount of light via light wells and glass floors on the ground and first floor, but the centre piece of the design was the cantilevered marble stairs, which we presented like artwork behind a glass screen and as something to orient seating towards rather than to hide away."
Simon Hedley, from selling agents Druce, said: "Mews houses benefit from the rare commodity of an integrated car parking space, making them an ideal pied-a-terre for those who spend the majority of their time in the country. Many of our buyers like the prestige and security of a private street entrance, thus offering a suitably secure lock and go. We do see some high-profile clients showing a preference for mews houses as the streets tend to be very quiet with chocolate-box exteriors."
Lochie Rankin, Lichfields, said: "Across prime central London there is a significant shortage of mews houses. Competition is fierce particularly among traditionally minded British buyers, and also Europeans. Generally, Russians and Middle Eastern buyers don't wish to be seen to be buying properties which were previously used for servants or horses, however, as developers consistently improve on the style and finish of mews houses, these perceptions are beginning to change.
"The option of owning a freehold, and not having huge annual service charges are attractive to buyers."
The property is now on the market with Druce, 020 7935 6535 and Knight Frank, 020 7499 1012. 
Love Interior Design & Exotic Travel? Follow us..
August 4, 2014 | Property | View comments