Luxury Lakeside House in Austria by Spado Architects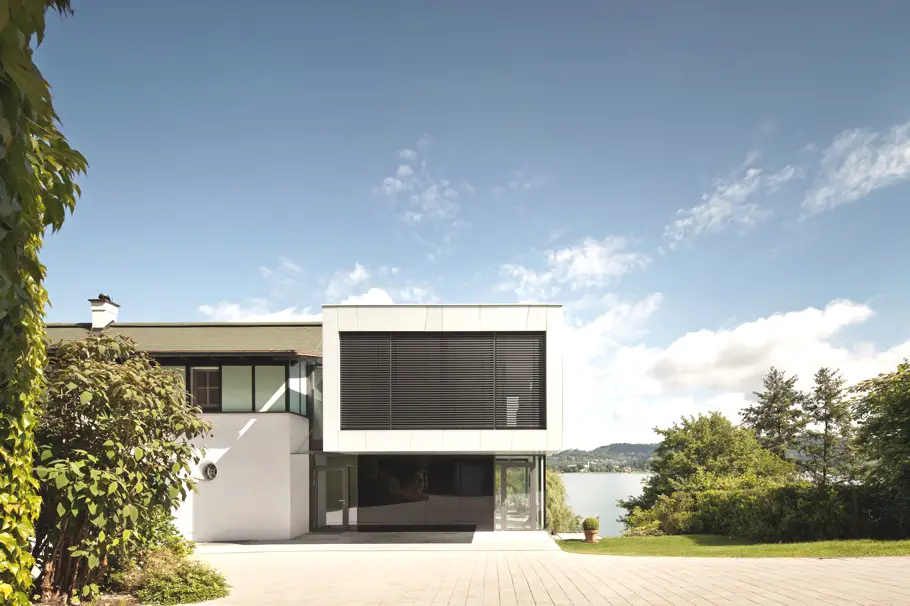 Austrian architectural practice, Spado Architects, has designed the Lakeside House project. Completed in 2012, this modern private property is located in Carinthia, Austria.
According to the architect: "The extension to a lakeside residential house, comprising three storeys in all, plays on the shape of the landscape and nestles into the steep slope that runs from south to north down to the lake.
"The contemporary Austrian property is facing the lake, it creates three all-glass residential storeys with the kitchen enthroned at their centre, like the command bridge of a ship.
"The projections and recesses lend the extension a feeling of lightness, creating roofed outside areas and also making each of the three storeys stand out visually. The kitchen faces east, with its distinctive 'eye', receiving the morning sun.
"The facade is covered with opaque white glass panels, contrasting in places with high-gloss black glass elements.
"A house on a lake is usually aligned with the views of the lake. Although facades which face northwards to the lake may appear unfavourable at first glance, their advantages become obvious in summer. There's no need to install any shades and they never get over-heated. In this context, north-facing walls are ideal when you have all-glass facades. The lake becomes the main protagonist."
Images courtesy of Kurt Kuball
Love Interior Design & Exotic Travel? Follow us..
December 25, 2013 | Property | View comments