London's new contemporary boutique hotel in the heart of South Kensington – Adria Hotel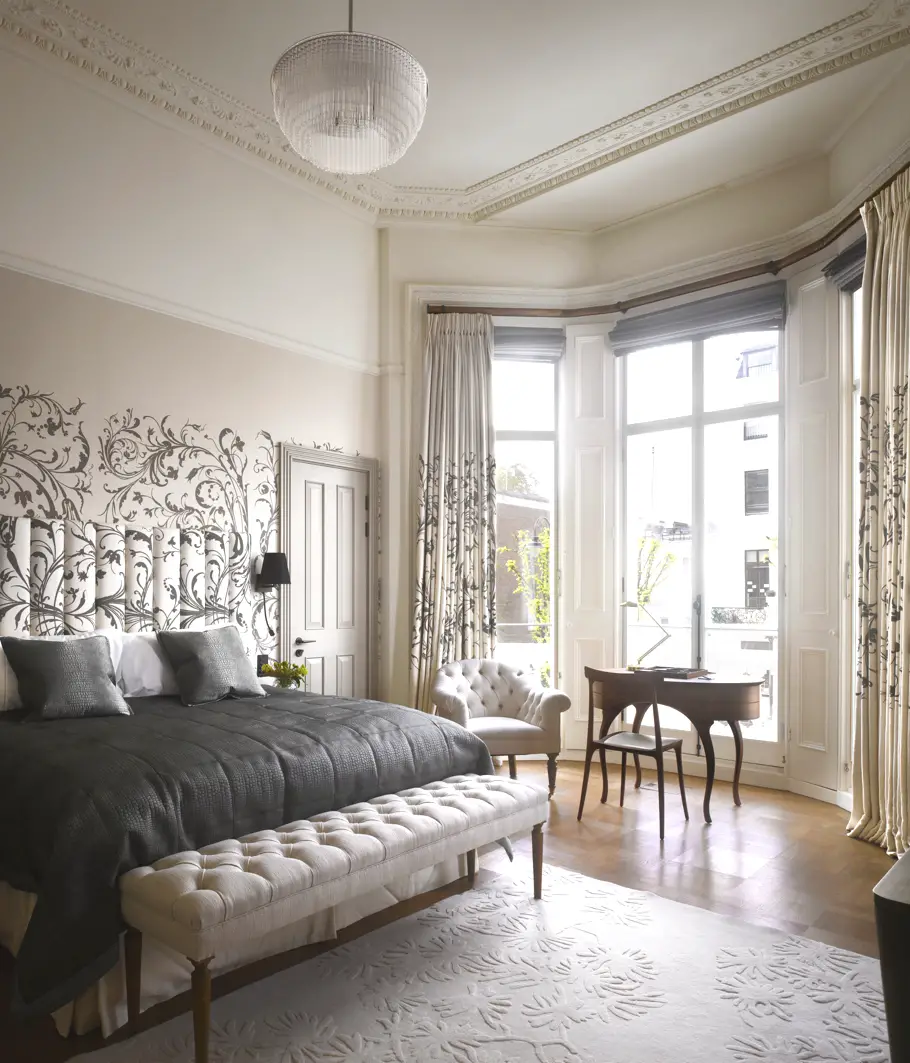 The Adria Hotel is the latest quintessentially British hotel to open its doors in the fashionable South Ken district of London. Award-winning Jestico + Whiles are the practice responsible for the architecture and interior design of the 24-key hotel, working alongside Urban Velvet on behalf of a private client.
Situated in Queen's Gate in the heart of South Kensington, the Adria is housed in a Grade II listed Victorian townhouse. Originally built in 1870s as two individual houses, the building – which was merged into a single building in the 1940s but which had fallen into disrepair – has been completely restored and brought back to its original beauty. The fabric of the building has been carefully considered with remnants of the original retained and others recreated.
The interior design is inspired by the elegance of the mid-1950s, when fine tailoring and service were the epitome of luxury. Jestico + Whiles researched the quality of fabrics, materials and furniture of this period extensively to inform the choice of fixtures and fittings at the hotel. The 24 bedrooms and suites, as well as the public areas, feature a number of handmade, bespoke elements such as the screen printed wallpaper and
fabrics and  a number of  chandeliers and light fittings.
The original dual entrance and grand hallway have been reinstated and crafted materials built by British craftsmen, including traditional parquet flooring, hand cast plasterwork and ornate cast iron balustrading have been used throughout both private and public areas. The grand staircase and the original fireplace in the lounge have been carefully restored. Rich timber and Italian black and white marble have been combined with beautiful fabrics and colours to create a classy yet contemporary environment. This is complemented by carefully selected, hand-crafted furniture and modern complements.
The luxury London hotel is conceived as a "residence with rooms"; each of the bedrooms and suites are different in design to provide individual atmospheres and rooms are not numbered but named after traditional British references. The quality of the design and finishes reflects the level of service provided at the Adria which is personalised and of the highest level. You are provided with a tailor made service and a butler; bespoke food and drink menus are also offered. Two floors are given over to public areas which include a lounge, a spa, gym, treatment room, sauna, and an external/internal garden room which features a bespoke hydraulically controlled frameless opening roof light as well as hand painted tiles with motifs typical of Arabic riad's courtyards.
Adria Hotel, Queen's Gate, South Kensington, London, England, theadria.com
Love Interior Design & Exotic Travel? Follow us..
March 4, 2013 | England London Travel | View comments