Late shophouse style home given 21st-century makeover
Singapore-based architectural practice, ONG&ONG, has designed the 17 Blair Road project. Completed in late 2013, the luxury but contemporary family home is located in Singapore.
Seventeen Blair Road is located within the Blair Plain Conservation area. The Blair Plain Residential Historic District, located to the west of the Downtown Core, is still an attractive residential area with some commercial activities along Kampong Bahru Road. It is a compact cluster of two-and three-storey shophouses and residential terrace houses of the early, transitional, late shophouse and Art Deco styles. This particular unit is of a 'late shophouse' style.
Originally built between 1900 to 1940, the houses are best known for the use of spectacular ornamentation. Many of the houses have changed ownership with most having been restored. Now the area is an exclusive residential enclave. Along with two friends, the current owner won an auction for the combined sale of units 15, 17 and 19 on Blair Road, with him taking ownership of the middle unit. Prior to the auction, the houses had been renovated for office use.
The owners, a French Singaporean family, were deeply involved in numerous aspects of the conservation project. What they wanted was a warm family home that would also display much of its historical character.
This shophouse had been renovated before but no records of the work done from that time exist. However, it was clear that the building had been gutted and drastically altered from its original state to make way for offices. Thus, the house was not adequate for residential use nor had it retained much of its original architecture and materials, save for its traditional-looking façade.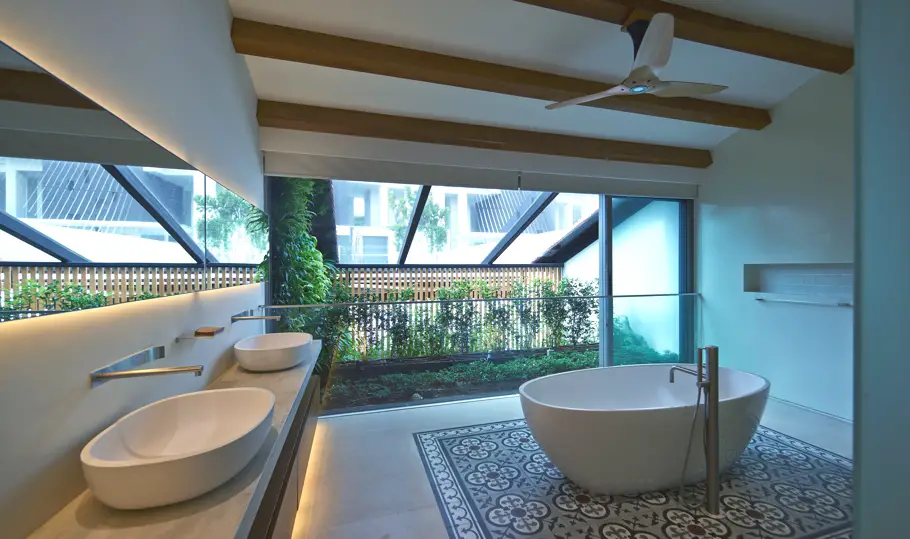 The shophouse had been in a bad state, having been stripped of its historical characteristics and renovated for office use. With much support from the client, the architects made a conscious effort to bring these traditional elements back while also reinstating the shophouse to residential use. Considering the scale of the restorative work required the final product is both a perfect home for the modern family as well as a fitting tribute to the shophouse's history
Images courtesy of Aaron Pocock
Love Interior Design & Exotic Travel? Follow us..
October 21, 2014 | Property | View comments