Interior designing London's Zefi bar by Anna-Grace Davidson
When it comes to designing an interior, I always envision how the space will look and the energy you will feel once it is complete, with Zefi's Bar on London's King's Road this was no different.
The owner wanted his bar to be a comfortable place with a relaxed ambience, where people could have a unique and memorable experience. So I set out to create an inviting and relaxed environment, styled with an elegant vintage feel, but at the same time I wanted to ensure that anyone who entered would have an unforgettable experience.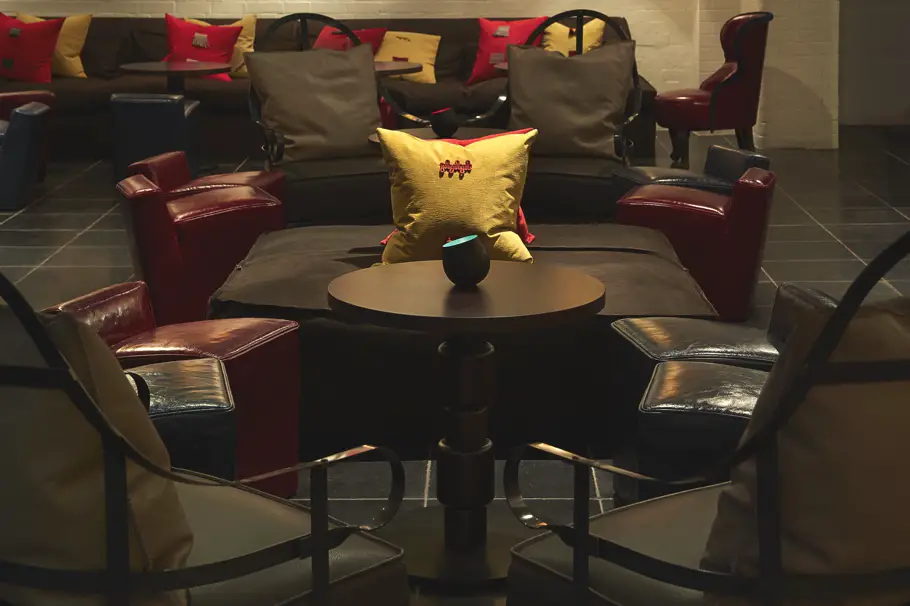 As I began designing the bar, I had to ensure the space met the design requirements of the owner, whilst creating the desired atmosphere for the locals and other discerning clientele. With this in mind, I wanted to pay homage to fashionable King's Road and capture the essence of its local history. I envisioned the bar to be a welcoming place with a gone by era style and furniture that would grow old with character.
The key was to differentiate the design from the typical vintage look, which is often found in bars all over the capital. I achieved character and uniqueness by blending an eclectic fusion of luxury leather furniture and pendant lighting from Baxter, choosing pieces with rich colours to complement the classic Mediterranean bar menu. Baxter's high quality soft leathers were also paired well with the other materials and textures to transform the space; such as blackened steel, soft brushed leather, wood, exposed bricks and antiqued mirror.
I carefully balanced the textures and shades of the furniture, lighting and accessories to ensure all the elements worked in harmony with eachother, so that no individual element was not too overpowering within the space. I used velvet curtains, blinds and pendant lighting to soften the harder surfaces, adding some colour and personality to the subdued atmosphere.
The bar is quite spacious and I wanted to give it a more intimate feel, so I broke up the rectangular space by creating different seating areas, each to suit various moods and different sizes of groups. The bar features a stunning marble counter, so I used tall bar stools to create a buzz at the bar for small parties, and to suit larger gatherings there are steel and leather chairs with smaller stools and large ottomans. Deep sofas were used in other seating areas, suitable for a medium sized group to offer a more relaxed feel.
To complete the décor, I handpicked a selection of original 1940s movie posters to reflect the design of the bar and complement the interiors aesthetic. I used custom made cushions and other curious accessories such as novelty plates and colourful decorative bottles which all contributed to the stylistic atmosphere.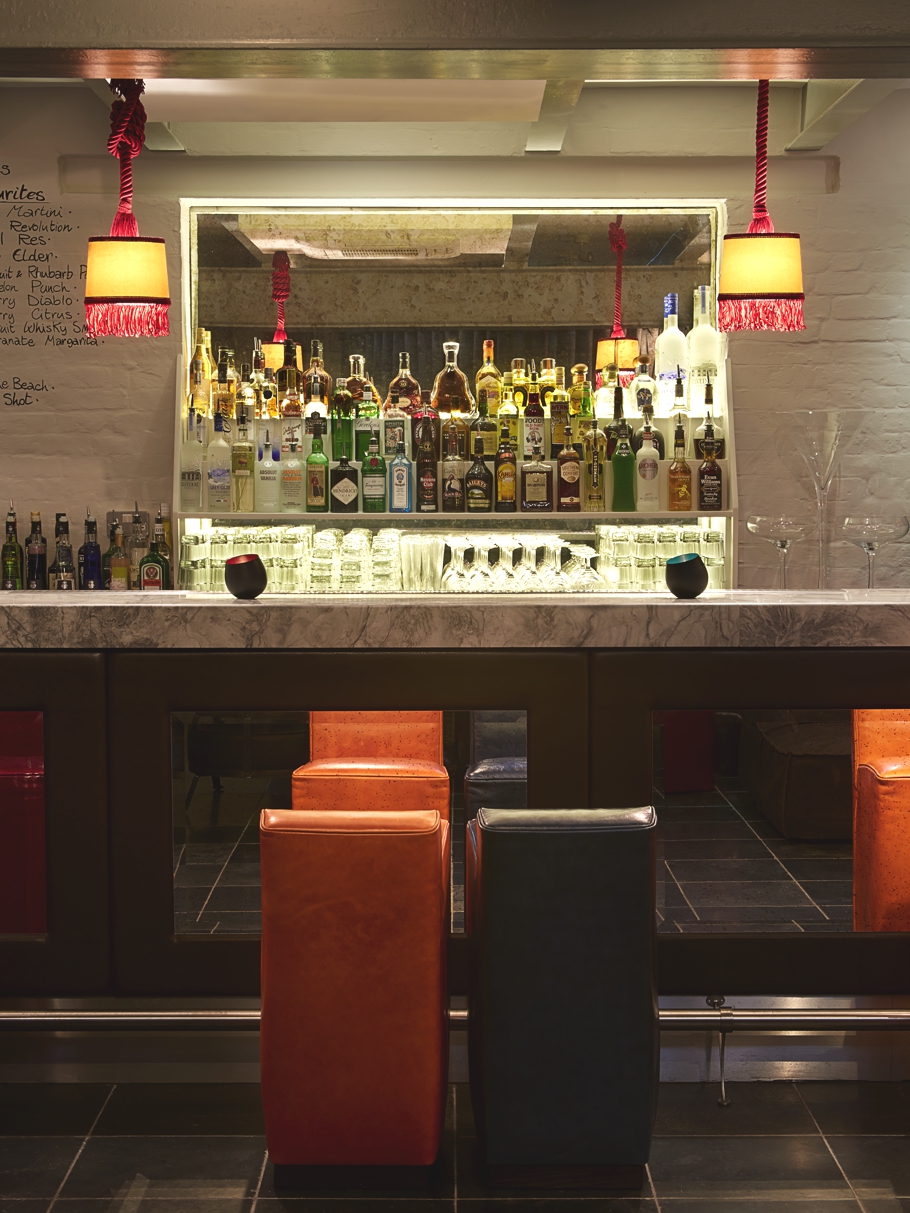 In the bar area, sleek blackened metallic steel beams are used to contrast the pale brick walls.
Roped pendant tassled lighting used to add character to thear area along with bar stools in colourful antiquated leather.
A relaxed seating area featuring steel and leather chairs and carefully selected 1940's Movie poster artwork.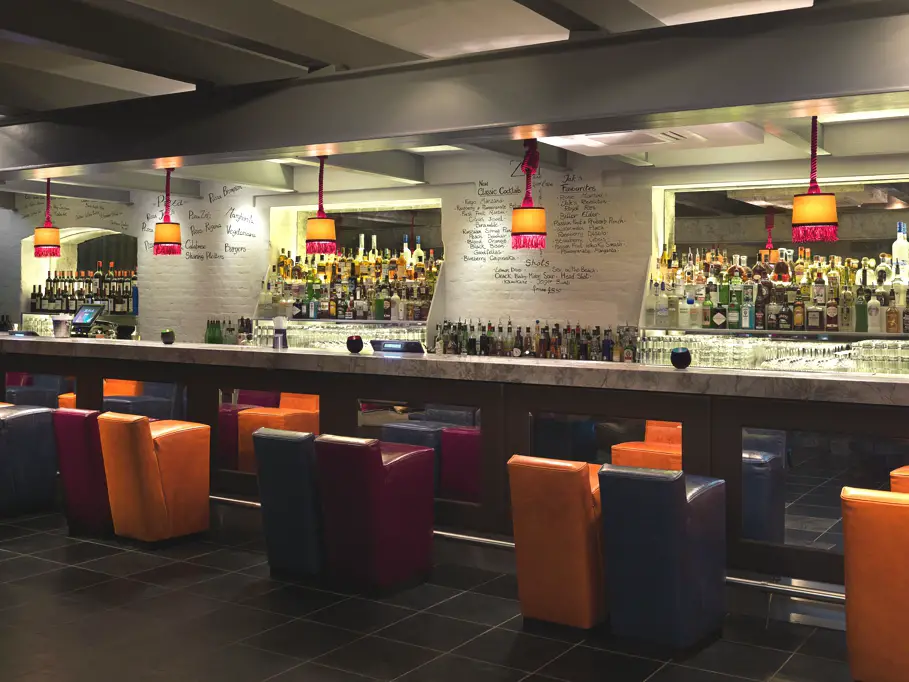 Clusters of leather stools to create a buzz around the bar area, using a rich colours to support the Mediterranean theme.
An eclectic fusion of luxury leather furniture and pedant lighting to create a unique vintage setting
Decor and finishing touches in rich colours and contrasting textures the complimented the interior aesthetic.
Described by the media as "the leading candidate for the most glamorous woman in interior design", Anna-Grace Davidson is a talented international interior designer. Born in Kiev, raised in Berlin and now based in London.

If you would like to guest blog on Adelto, we would love to hear from you. Please contact us.
Love Interior Design & Exotic Travel? Follow us..
July 17, 2014 | Property | View comments