Chess Hotel: A timeless refuge in Paris's 9th arrondissement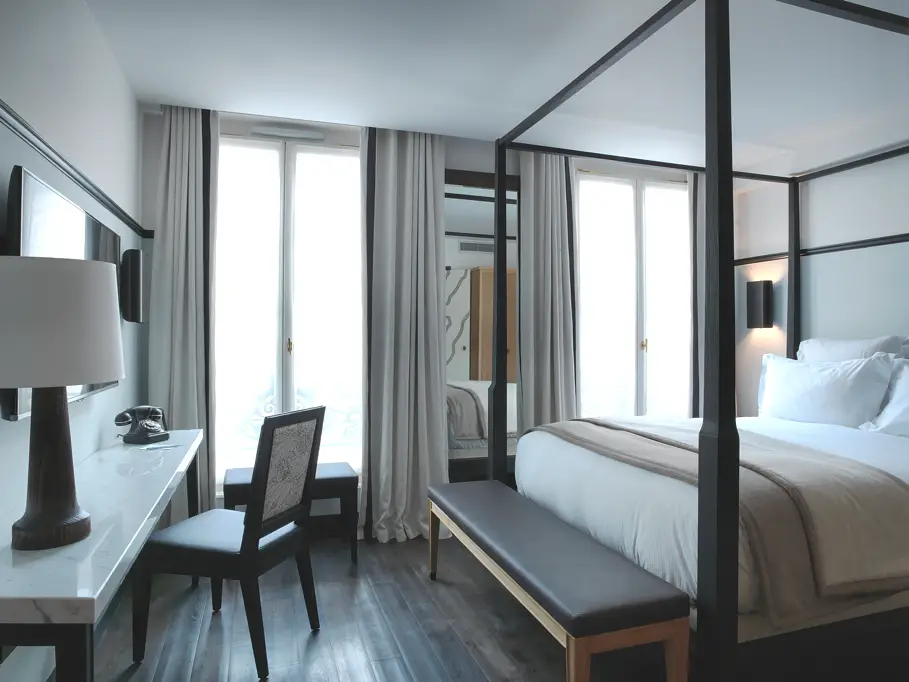 Located in Paris's smallest but most liveliest district, the four-star Chess Hotel is a chic modern hotel that boasts 50 rooms – all  designed by interior designers Patrick Gilles and Dorothée Boissier.
Nestled on a quiet street, it's easy to forget Hotel Chess is slap bang in the centre of the Opera district, right in the heart of Paris. Here you'll find a plethora of excellent cafes, theatres and art galleries as well as iconic department stores, Galeries Lafayette and Printemps. This is where Alexandre Dumas, fierce inhabitant of the 9th district, chose to locate the Morcerf family in The Count of Monte-Cristo.
Neither art-hotel nor gallery-hotel, The Chess Hotel is a very Parisian, juxtaposing the original decor with works by invited contemporary graphic and fine artists to create a modern vibrant atmosphere.
Alix Waline, Victor Ash and Cyprien Chabert were all involved in the decor of the hotel. The Waline decorated the entrance with an all-encompassing mural. Whilst Ash created the owl mural in the first-floor lobby with its black and white tiles up to the molding. And Chabert created the botanical murals of the inner courtyard, the graphics of the carpets in the corridors and her plant life made a very discreet entry into the bathrooms.
The boutique Paris hotel is only a 100 metres from Opéra Metro Station and the Galeries Lafayette are just 150 metres away.
The Chess Hotel, 6 Rue du Helder, Paris, France, thechesshotel.com/en
Love Interior Design & Exotic Travel? Follow us..
January 21, 2015 | Europe France Paris Travel Western Europe | View comments