Yabu Pushelberg designs Lane Crawford's Shanghai flagship
New York and Toronto-based international design firm, Yabu Pushelberg, has designed a new flagship store for luxury clothing retailer Lane Crawford in Times Square, Shanghai, China. 
Lane Crawford Shanghai is known to offer the most extensive luxury and designer brand portfolio in greater China. Yabu Pushelberg completed the store design with a modern, gallery-inspired approach to retail, creating an elegant and dynamic shopping experience.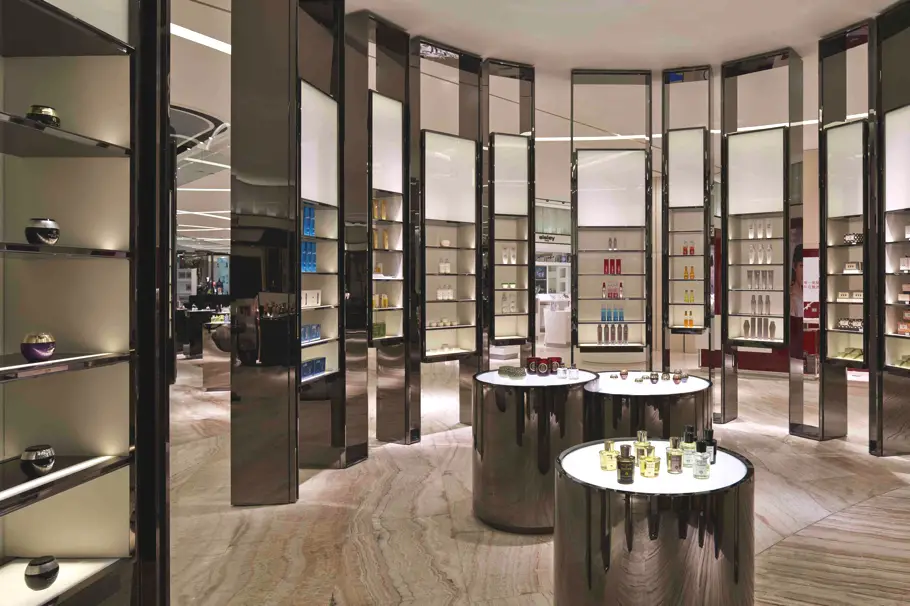 At 150,000 square feet spanning four floors, the store is the luxury retailer's largest space to date. Yabu Pushelberg, who has been creating timeless and artistic interiors for the iconic luxury retailer for nearly 10 years, aimed to animate the large space with a well-choreographed sense of discovery, drawing shoppers through the environment with a series of open rooms and interwoven art within those spaces.
Led by the identity of the Lane Crawford brand and the vision of Yabu Pushelberg, the design concept for the Shanghai store reflects the mood of where luxury is headed; edited and more pared back. The interior design is dominated by a neutral colour scheme, and punctuated by muted blues and purples, eggplant, and bursts of orange. Base materials such as English onyx and limestone, chosen for their beautiful grain and warm tones, carry a common element across all four levels, while champagne coloured chainmail cascades down the walls and voids, unifying the vertical space. This motif is further developed into a rain pattern, rendered in specialty paint and mother of pearl, which evolves in mood and scale from floor to floor.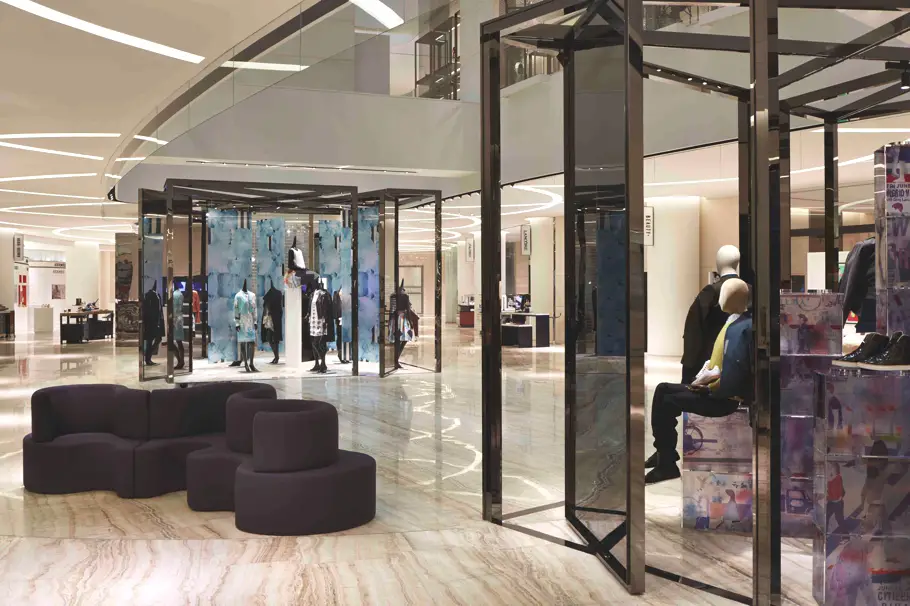 Simply designed vertical circulation guides shoppers upwards as they encounter specially commissioned artwork and elements of surprise throughout the space. The east and west ends of the ground floor are anchored by an installation by artist Hirotoshi Sawada, comprised of two sets of stainless steel rings that hover above the counters at each end. "Art elevates our work," explains George, "commissioned art and custom finishes clearly differentiate this store from any other."
On the second floor, custom fixtures, carpets, and tone-on-tone color define each secondary area, while also keeping the overall space soft and united. Linked rooms on the third level produce interesting sightlines and vistas with visual cues and special treatments to draw visitors through the interconnected spaces.
The third and fourth floors are linked via punctures in the Lab area where custom glass-cube displays connect both levels. The fourth floor is characterized by a more masculine tone in both the design and finishes. Special finishes in gradient tones highlight the watch area and Men's platinum suite vestibule, while the Home area is given a more residential feel, pairing modern materials with warm colours.

What was the biggest challenge during the project?
The Shanghai store is Lane Crawford's largest store to date and spread over four floors, which presented the designers with several challenges: how to stack the product, create vertical circulation that is consumer friendly and logical, etc. A store of this size also requires change, discovery, and surprise to animate it and draw shoppers through the environment. To achieve this, Yabu Pushelberg created a series of open rooms, custom freestanding fixtures, and interwoven art within the space.

What stands out most for you Lane Crawford's Shanghai store?
The design of the Shanghai store is a little less embellished than other Lane Crawford locations, in a conscious effort to create an environment that supports Lane Crawford's ever-evolving installations and reflects the future of luxury design. Interwoven art within the spaces and custom special finishes, artistic in form and feeling, set this store apart.
Images courtesy of Yabu Pushelberg
Love Interior Design & Exotic Travel? Follow us..
January 14, 2014 | Property | View comments