World's Longest House: 150M Weekend House, Thailand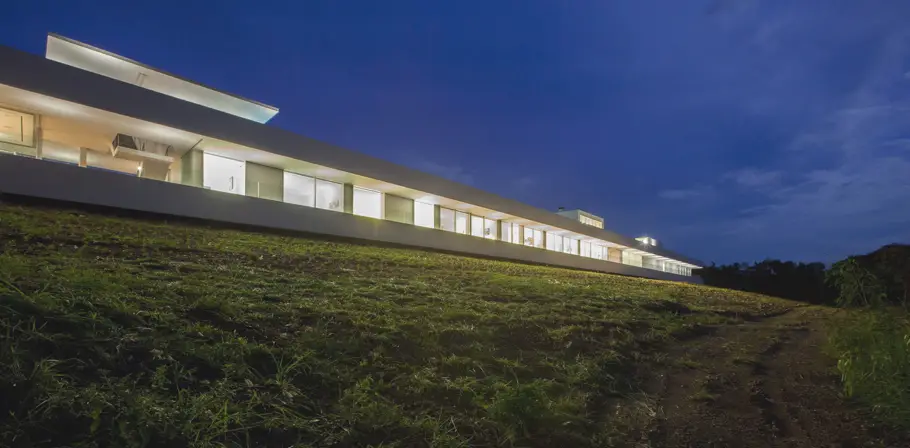 Shinichi Ogawa & Associates a Tokyo-based design practice has completed the 150M Weekend House project. Completed in 2012, the property is said to be the world's longest house. The 1,614 foot length home can be found in Khao yai, Thailand.
According to the architects: "Overlooking the rich natural environment, the world's longest house tops a hill in the Khao yai forest complex.
"Through the water fall as a entrance gate, the road leads you to the main house extending east and west on the left, and on the opposite side, a glass house in the forest as a guest house. The main house is simply composed of a white cube and two horizontal plates of 11m wide by 150m long.
"All rooms are put linearly between the plates, opening to both north corridor and south deck terrace.
"A glazed room for spa and fitness at the east end, six bedrooms with exclusive bathroom and living room, a family living/dining room, and storage or a servants room to the west end.
"This extremely long planning takes advantage of the beautiful landscape, gaining a panoramic view and a dynamic scale space as the very long deck terrace. At the same time, it provides an airy comfortable living environment.
"Above the private rooms, there is a roof top terrace covered with sand and a swimming pool 40m long. It's like a floating beach surrounded by mountains.
"The white cube as formal living/dining room has a 6m high ceiling. The stairs from the hall below divide the large room into a living and dining space.
"The contemporary Thai property – the longest house in this century –  was born by admiring the mountain scenery as a given condition and imagining a seascape as the contrastive view."
Images courtesy of Pirak Anurakawachon.
Love Interior Design & Exotic Travel? Follow us..
November 3, 2012 | Property | View comments