Urca apartment by Studio Arthur Casas, Rio de Janeiro, Brazil
São Paulo-based architectural practice, Studio Arthur Casas, has designed the Urca Apartment project. The luxury apartment is located in Rio de Janeiro, Brazil.
According to the architects: "This penthouse in Rio's Urca neighbourhood has an extraordinary location, between the Sugar Loaf and Guanabara Bay. The client bought an apartment that was in terrible conditions, but with an exceptional potential for transformation. The project was guided by two complementary ideas: to create a pathway of discovery of the landscape on both sides, the bay and the mountain, and to bring as much light as possible to the three floors.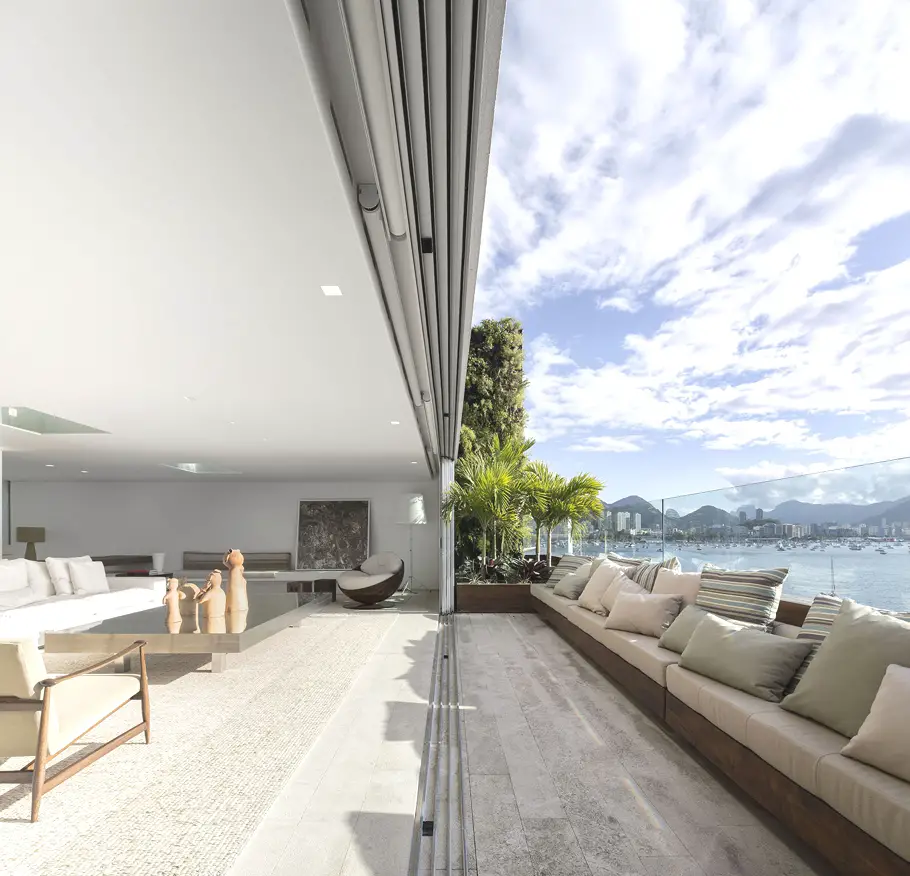 "Undoubtedly the element that translates the better this idea is the main staircase. To add a new floor to the original duplex the whole building had to pass through a structural reinforcement. The section shows clearly the relation of the stairs and the landscape, bringing light through zenithal openings to all the floors and directing the view towards the landscape.
"On the first floor we have placed the guestrooms, allowing the owners to have as much privacy as possible in their suite on the 3rd floor. Next to the guestrooms are all the service areas including kitchen and staff bedrooms.
"The second floor holds the main entrance next to the elevator. Most of the walls were demolished in order to create a space completely open to the Guanabara Bay. The horizontality of the space accentuates the integration with the landscape. The living room is lit by three openings on the water basin of the last floor, sliding glass doors open completely to the side, allowing total integration between the living room and the terrace. On the other side of this floor a gourmet kitchen receives natural light both from the atrium and a bay window that overlooks the sugar loaf. Both spaces can be divided through sliding doors.
"The third floor of this luxury apartment is divided by the master bathroom with the view directed to the Sugar Loaf on one side and the sauna, barbecue area, water basin and Jacuzzi on the other, looking towards the Corcovado and downtown Rio across the bay."
Images courtesy of Fernando Guerra I FG+SG
Love Interior Design & Exotic Travel? Follow us..
January 28, 2015 | Property | View comments