Trendy Polish penthouse in Warsaw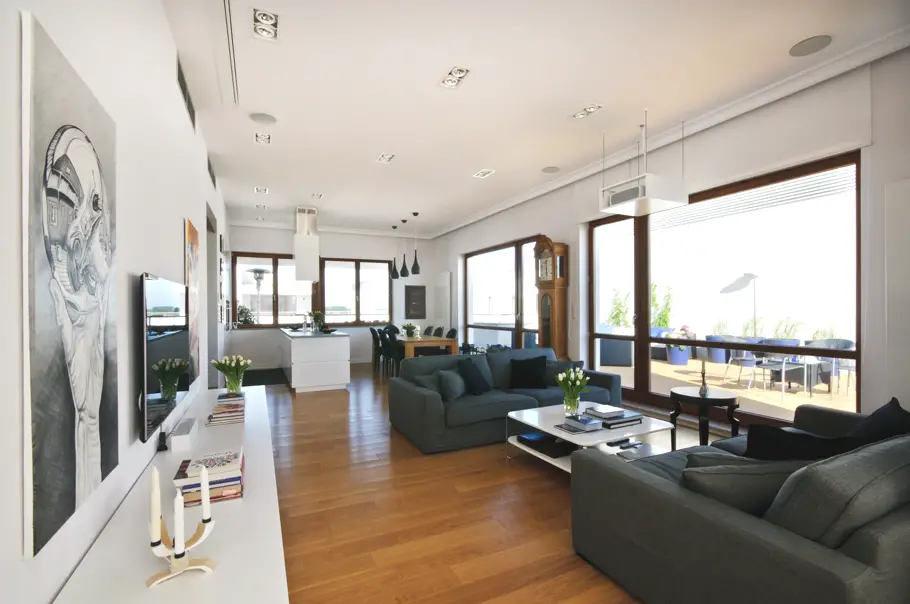 Warsaw-based architects and interior designers Hola Design have renovated this trendy new housing estate. The contemporary airy penthouse can be found in Warsaw, Poland.
According to the designers: "The large terrace in this contemporary property is finished with composite board. Colour of the terrace boards matched to the colour of the wooden floor in the living room. The Scandanavian interior design is bright and complemented by art. A beautiful grandfather clock stands in the living area. The living room is open plan and is joined with the dining and kitchen space. The kitchen peninsula has been finished in concrete, which looks fabulous. A comfortable sofa purchased in the NAP concept store isone of the main highlights in this room.
"The flooring in the bedroom and living room has been finished with natural oak laminates. The en-suite bedroom is spacious with an open, walk-in transitive closet and two separate lockable wardrobes."
Adelto loves the pure white bathrooms in this luxury penthouse. The interior and terrace have all been design by Monika and Adam Bronikowski.
Love Interior Design & Exotic Travel? Follow us..
March 22, 2013 | Property | View comments