The Ultimate In Luxury Viceroy Bali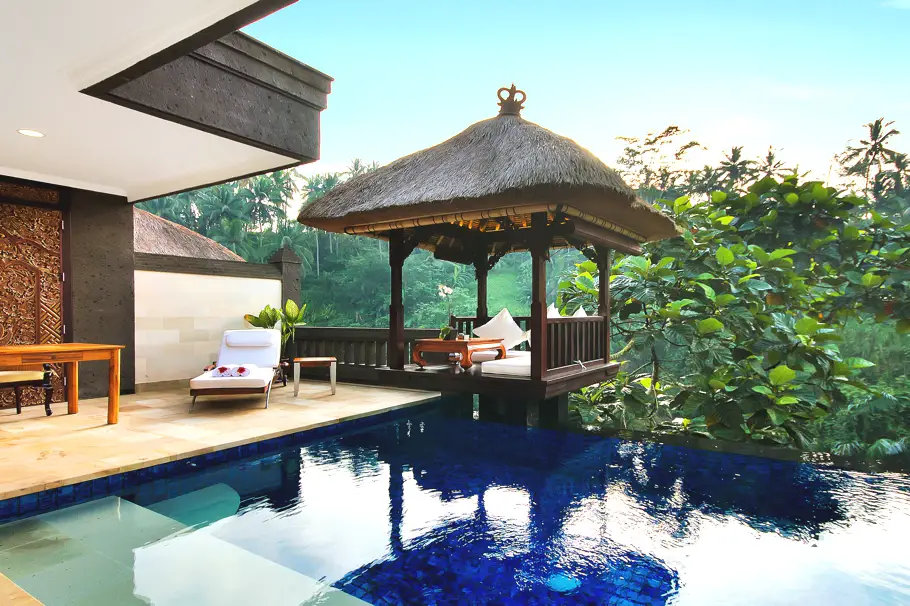 Viceroy Bali is owned and managed by an Australian family with vast worldwide travelling experience who have bestowed the resort with their love of culture and fashion. Guests can expect to experience graceful and caring personal service from the owners and their dedicated professional staff.
Meticulous design and a keen eye for detail from the owners resulted in the provision of very high class villa-style accommodations with stunning rural vistas of the Petanu River valley, all the while ensuring the highest degree of privacy to satisfy the most discerning travellers seeking security, luxury, and seclusion.
Unlike many upscale Ubud hotels, the intimate and friendly ambience is felt through out the resort as all villas are built just a stroll from the supporting facilities like CasCades Restaurant, The Lembah Spa, Viceroy Bar and resort pool, and the meeting and conference facilities.
All Viceroy Bali guests are treated to individual personal service from all staff, with discretion, privacy, and security, being the priority.
It is the luxury Bali hotels philosophy to work closely with the local Balinese people, to respect all of their traditions, and to ensure that wherever possible, our local village people are employed to give all guests that unique Balinese experience.
The luxury Bali hotel guarantees all guests absolute privacy and discretion so that the guest's stay at the hotel remains their own experience, and is not public knowledge.
If you have not stayed at the Viceroy Bali, here is a reason for you to do so — new villas that boast elegant yet clean lines and a vibrant design.
Each of the new villas are luxuriously fitted with an oversized king bed, sectional sofa, 47-inch TV, state-of-the-art iPod docking station, and espresso machine. Completing the in-villa facilities is a private pool and a sheltered pavilion that overlooks the Petanu River gorge.
Yet, should you want to explore Ubud, this member of Small Luxury Hotels of the World provides a complimentary on-call shuttle service to the bustling city centre.
Couples who have chosen Bali for their wedding or honeymoon destination will be delighted with the luxury Bali hotels Royal Honeymoon Package. Besides a stay in these well-appointed villas, the package includes a volcano tour by helicopter, butler serviced in-villa dining and catered by award-winning CasCades restaurant, a couples massage, and a few more surprises.
For reservations or bookings visit viceroybali.com.
Love Interior Design & Exotic Travel? Follow us..
August 1, 2012 | Bali Indonesia Travel | View comments